10 NFL Quarterbacks with a Lot to Prove in 2017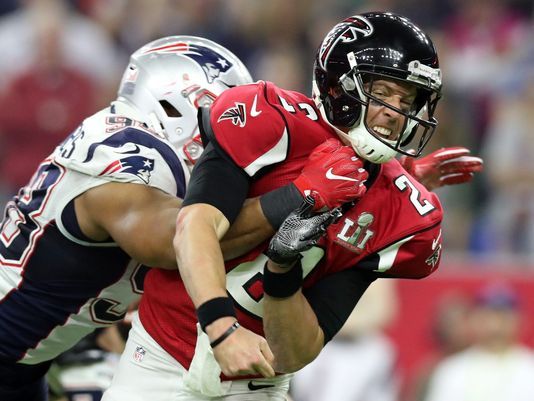 It's been said a million times that quarterback is the NFL's most important position. And this means that QBs have more pressure to perform than any position.
So it doesn't help matters when a quarterback is dealing with added pressure to perform.
This pressure can come from a quality backup looking to take their job, one final chance for a QB to prove himself, or the need to prove that a successful year wasn't a fluke.
Below you'll find 10 quarterbacks that need to prove themselves in 2017 for one or more of these reasons.
1. Blake Bortles
The Jacksonville Jaguars have stuck with Blake Bortles for three seasons. And this only makes sense when considering that they took him third overall in the 2014 NFL Draft.
But Bortles regressed last year following a solid sophomore campaign. His 2016 stats included 3,905 passing yards, 23 touchdowns, 16 interceptions, and a 58.9% completion rate – all good for a 78.8 passer rating.
Things aren't looking too good this preseason either, with head coach Doug Marrone saying that there's an open QB competition between Bortles and Chad Henne.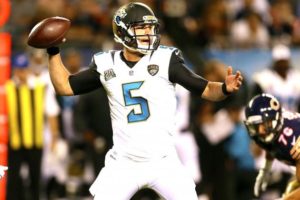 2. Dak Prescott
Dallas Cowboys QB Dak Prescott couldn't have dreamed a better rookie season. He tallied 3,677 passing yards, 29 total TDs, 4 interceptions, and a 67.8% completion rate – all good for a sparkling 104.9 passer rating.
Prescott isn't on this list because he needs to prove that he can play. Instead, he must prove that the 2016 campaign wasn't a fluke.
This will be extra hard when considering that star running back Ezekiel Elliott is set to miss the first 6 regular season games with a suspension.
Can Prescott repeat his stellar rookie year without Elliott balancing out the offense early on?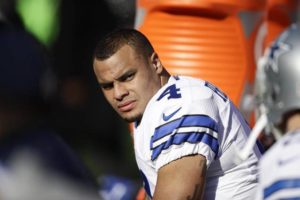 3. Carson Palmer
Arizona Cardinals QB Carson Palmer didn't have a bad season last year. He racked up 4,233 passing yards, 26 TD passes, 14 interceptions, a 61.0% completion rate, and an 87.2 passer rating.
The only problem is that he and the Cardinals didn't live up to the big season they had in 2015 (13-3 record).
At age 37, Palmer has people wondering if he's in the twilight years of his career. So he needs to lead this team to better than last season's 7-8-1 mark.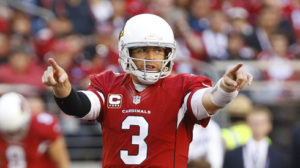 4. Jared Goff
There were definitely some growing pains for Jared Goff in his rookie campaign. The St. Louis Rams quarterback was handed the reigns midway through the year and failed to take off.
He finished with 1,089 passing yards, 5 TD passes, 7 interceptions, and a 54.6% completion rate in 6 games. Worst of all, his passer rating was a dreadful 63.6%.
Goff wasn't helped by Jeff Fisher's offensive scheme nor the O-line. Regarding the latter, he was pressured on 42.7% of his drop-backs.
But the first overall pick in 2016 needs to show some progress to remain the starter all year.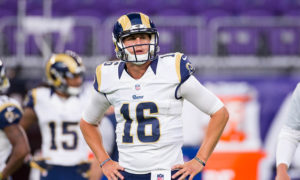 5. Carson Wentz
Drafted second overall behind Goff in 2016, Carson Wentz also went through some growing pains.
The Philadelphia Eagles quarterback started off hot, but faded badly as the season wore on.
His 3,782 passing yards and 62.4% completion rate weren't bad. But he also tallied just 16 touchdown passes against 14 interceptions.
Wentz isn't on a short leash as we enter 2017 – especially with how bad his receiving corp was last year. But fans are hoping to see more of early-season Wentz, as opposed to the late-season struggles.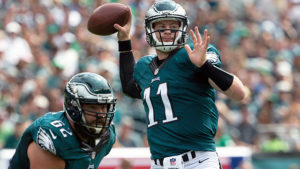 6. Jay Cutler
Former Chicago Bears quarterback Jay Cutler had plans to enter the broadcasting booth this year.
However, he couldn't resist when Miami Dolphins head coach Adam Gase plucked him out of the booth.
Cutler's tenure didn't end well in Chicago last season. But at 34 years old, he still has something left in the tank. Can he revive his career in South Beach?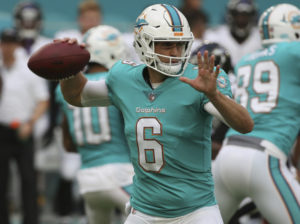 7. Matt Ryan
Atlanta Falcons quarterback Matt Ryan had his finest season as a pro last year. He finished with 4,944 passing yards, 38 touchdowns, 7 interceptions, and a 69.9% completion rate. Ryan also had a 117.1 passer rating, which is the fifth best of all time.
So why is he on this list?
Some don't think that Ryan is capable of repeating this performance. This includes Colin Cowherd, who compared Ryan to the above-average Andy Dalton.
Aside from 2016, Ryan has never finished with better than a 99.1 passer rating in his career. So maybe he does have something to prove this year.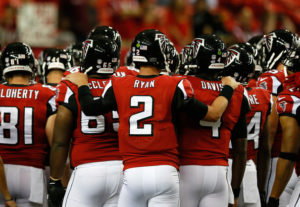 8. Trevor Siemian
Former seventh-round pick Trevor Siemian served as the uninspiring starting QB for Denver last year.
This was by default because his main competition was Paxton Lynch, a first-round pick who's yet to prove himself as a worthy starter.
Siemian is in the lead as we head into the 2017 regular season. But this could be his last chance to prove that he's a worthy long-term option.
If Siemian again fails to show any big play potential, then the Broncos will look harder for an elite QB to pair with their stellar defense.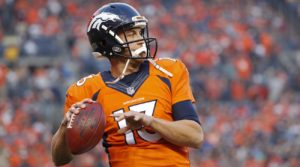 9. Tyrod Taylor
Buffalo Bills QB Tyrod Taylor has played well in his two seasons as a starter. But one big problem is that Bills owners Terry and Kim Pegula have a short leash for any team personnel.
This might not be such a big deal if Taylor had the supporting cast to succeed. But he doesn't in 2017.
Buffalo traded away top receiver Sammy Watkins and also lost Marquise Goodwin, Robert Woods and Justin Hunter through free agency.
Taylor must now bank on new addition Jordan Matthews and second-round pick Zay Jones.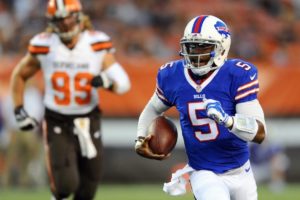 10. Mike Glennon
Nobody expects Mike Glennon to be the Chicago Bears QB of the future. This is especially the case when considering that Chicago drafted North Carolina QB Mitch Trubisky second overall.
But Glennon did sign a 3-year, $45-million contract in the offseason. And if he can prove himself this year, then he might very live another year into his contract.
Even if Chicago cuts him next offseason, Glennon may play well enough to land another starting job.