10 Highlights from Floyd Mayweather, Conor McGregor Press Tour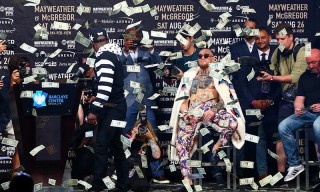 Floyd Mayweather and Conor McGregor had two goals during their press conference tour from LA to London:
Sell Pay-Per-Views
Set McGregor up to seem like a worthy challenger.
Mission accomplished on both fronts. McGregor's loud and outlandish style fooled some people into thinking he can actually compete. It also rattled Mayweather.
But does anybody actually believe deep down inside that the Irishman can beat a 49-0 champion in his first pro boxing match?
No. But the press tour, with stops in LA, New York, Toronto, and London, was definitely entertaining.
Here are the top 10 highlights from the Mayweather-McGregor press conferences.
1. McGregor's Multiple Jokes about Mayweather's Finances
For a guy nicknamed "Money," Floyd Mayweather is struggling to pay his taxes. And McGregor jumped on Money's finances over and over again.
He made multiple jokes about Mayweather owing $22.5 million to the IRS and his choice of dress (tracksuit).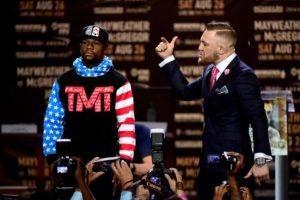 2. McGregor Stealing Mayweather's Backpack
During the Toronto press conference, Mayweather taunted McGregor by wearing an Irish flag. The latter responded by stealing Mayweather's backpack, which drew laughs from the Canadian crowd.
McGregor proceeded to dig into the backpack and find a "measly 5 grand."
3. Mayweather Showing His $100 Million Check
If ever there's a sign that Mayweather is doing good, it's that he still has the $100 million check from his fight with Manny Pacquiao.
He showed this uncashed check in both LA and Toronto, while bragging about how he's the A-side to the fight.
4. McGregor Largely Winning the Press Tour
Many are debating over who "won" the press conferences. But the general consensus is that McGregor reigned supreme.
In LA, Mayweather got the best of the Irishman with his A-side rants, $100 million check, and experience in these type of events.
But McGregor picked up steam in Toronto and never looked back. This was very much needed for Pay-Per-View sales, given how big of an underdog the 28-year-old is.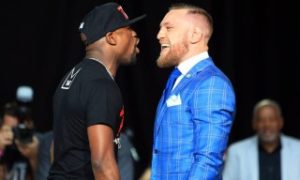 5. McGregor's Racist Remarks
I'm not saying that every press tour highlight was good.
In fact, McGregor ignited plenty of controversy when he called Mayweather "boy," referred to black boxers in Rocky III as "dancing monkeys," and told black women in attendance that he was "black from the waist down."
McGregor may have won the war of words. But somehow he lost the morality battle to a convicted woman beater.
"A lot of media seem to be saying I'm against black people," he said during the Brooklyn conference. "That's absolutely f***ing ridiculous. Do they not know I'm half-black? I'm half-black from the belly button down. Here's a present for my beautiful black female fans [gyrating hips]."
6. Money Causing More Drama
The above point isn't to say that Mayweather came off as a saint. In fact, he spewed his own venom as the London crowd booed him.
"You punk, you fa***t," he called McGregor. "You ho!"
These are pretty common insults in a macho sport like boxing. So I wouldn't say that Mayweather stooped to McGregor's level.
Nevertheless, mainstream TV crowds are unused to hearing misogynistic and gay slurs rolled into one sentence.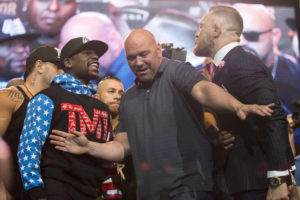 7. Mayweather Adopting the Heel Role
Money was booed in each city. And nowhere was this more apparent than the 15,000-person Toronto booing everything he said.
Again, this isn't a real matchup on paper.
It's a football game between Alabama Crimson Tide and Appalachian State. It's a No. 1 vs. a No. 16 seed in March Madness.
But with Mayweather adopting a heel role, McGregor has something of a dark Cinderella Man charm.
8. McGregor Goes off on Showtime
Conor McGregor's mic was cut while Mayweather spoke during the LA press conference. And he had plenty to say to Showtime Sports vice-president Stephen Espinoza in Toronto.
McGregor stared at Espinoza and delivered a curse-filled rant, as if the Showtime "weasel" executive were his next opponent.
9. McGregor's Mink Coat
Riding high on his Toronto press conference, McGregor showed up to Brooklyn bare-chested, with a mink coat.
It's a reminder of what a showman McGregor is, and the crowd was loving it.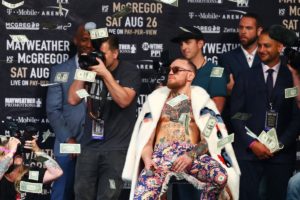 10. Mayweather touting His Perfect Boxing Record
Some of Mayweather's material got old towards the end, including boasts of his high-profile victories, and how rich this fight will make him.
But the first-day LA conference was his best showing – particularly how it ended.
"God only made one thing perfect," he said. "And that's my boxing record."
This is a reminder of the one boast that Mayweather can continually make against McGregor: he's a perfect 49-0…going on 50-0.