10 Fun Notes from Devin Booker's 70-Point Night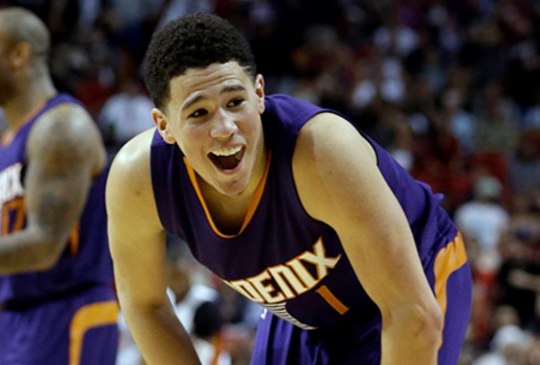 At 20 years old, Phoenix Suns shooting guard Devin Booker is one of the youngest players in the league.
That said, few were expecting him to explode for 70 points against the Boston Celtics recently. In fact, many were shocked to see Booker enter an elite and very small group.
Let's cover who Booker joined along with some other fun notes from his historic 70-point performance.
1. Booker is One of Only 6 Players to Score 70 Points
Prior to Booker, only five different players had scored 70 or more points. Here's a look at the list now:
Wilt Chamberlain
Elgin Baylor
David Thompson
David Robinson
Kobe Bryant
Devin Booker
A night to remember.

Every bucket from Devin Booker's 70 POINT NIGHT!#WeArePHX pic.twitter.com/d4hhQZes0B

— NBA (@NBA) March 25, 2017
2. This is Only the 11th Time in NBA History that Somebody has Scored 70
Wilt Chamberlain owns 6 of the 11 games where somebody has scored 70 or more. Booker and the rest of the list own the other half of this history.
3. His Teammates Loved the Performance
Any 20-year-old who takes enough shots to score 70 points might be labeled a ball hog. But Booker has enough respect from his teammates that they were pumped when he became part of history.
4. Jae Crowder Tried Ripping Booker since the Suns Lost
As SB Nation points out, the Celtics Jae Crowder wasn't happy about the celebration following Booker's big game. And he pointed out that Phoenix lost the game.
But Booker scored yet again when he sent back the perfect diss to Crowder and the rest of the Celtics: "You can't guard me."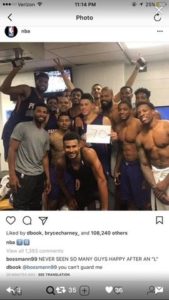 5. Booker Holds the Franchise Record for Most Points in a Game
Phoenix's previous high for points in a game wasn't too shabby. In 1990, Tom Chambers poured in 60 points against the Seattle Supersonics (OKC Thunder).
But Booker beat this record by 10 points.
Devin Booker broke Suns record for points in a game.

Tom Chambers previously held that record with 60 in March 1990 against SuperSonics

— ESPN Stats & Info (@ESPNStatsInfo) March 25, 2017
6. This is the Most Points in a Game since Kobe Bryant in 2006
With his team losing to the Toronto Raptors by 18 at halftime, Kobe Bryant took over, scoring 55 points in the second half en route to 81 points – the second-highest total in NBA history.
This game was on January 22, 2006, making Booker's point total the highest in over 11 years.
7. Booker Credited Kobe for Motivating Him
It's only appropriate that Booker credit Kobe for inspiring him, given the point above.
Booker says he learned from Kobe never to set a limit when you're scoring pic.twitter.com/vEZqY7xIZA

— Adam Himmelsbach (@AdamHimmelsbach) March 25, 2017
Devin Booker (@Suns): 11th 70-point game in NBA history.

First since Kobe Bryant scored 81 points vs Raptors in 2006 pic.twitter.com/GFBq7WTpLl

— ESPN Stats & Info (@ESPNStatsInfo) March 25, 2017
8. Earl Watson Used Timeouts, and He Doesn't Care what You think
Suns coach Earl Watson was full on-board for Booker scoring 70 points, even using fouls and timeouts towards the end to help his player reach the amazing feat. Watson isn't about to apologize for the matter either.
Earl Watson unapologetic about using fouls and timeouts to aid Booker's 70 point night. Watson: "Do something about it."

— Chris Forsberg (@ESPNForsberg) March 25, 2017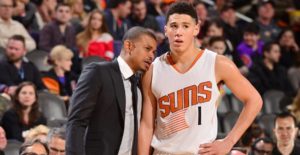 9. This is the Most Points Ever Against the Celtics
Nobody had ever scored 70 points against the Celtics until Booker accomplished the feat – not Michael Jordan, Chamberlain, or Baylor.
Devin Booker's 70 points for @Suns are the most in a game against the Celtics. pic.twitter.com/V4zvkbD7jp

— ESPN Stats & Info (@ESPNStatsInfo) March 25, 2017
10. His Scoring Average Only Increased by 1 Point
When you're already averaging 20 points a game, there's not a lot of room for improvement – even when you score 70 points. Having played 71 games this season, Booker's scoring average went from 20.6 PPG to 21.6 PPG after the outburst.