Yankees Favored to Take Series Finale in Toronto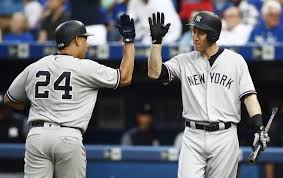 Who: New York Yankees v. Toronto Blue Jays
When: Thursday August 10th, 2017 7:07PM EST
Where: Rogers Centre—Toronto, Ontario
The Yankees may be 4 games off the pace in the NL East, however they are more than 2 games ahead of everyone else in the Wild Card race. Despite this, New York will need to keep an eye over their shoulders as their form is dipping and other AL teams are beginning to pick up their level of play. Teams like Los Angeles and Tampa Bay are threatening to dethrone New York, and if they are not careful they very well might do it.
Thursday's game will be the finale of a 3 game series that has thus far seen each team win one. Last night, the Yankees' bats came alive and powered the Pinstripes to an emphatic 11-5 victory. Being that Toronto is more than 11 games out of first place in the East, and not really considered to be a playoff threat, they are a team the Yankees really should be taking care of, especially at this juncture in the season. With their pitching finally coming along, all eyes are on the Yankees bats. Apart from last night, and the finale with the Indians 2 games ago, the Yankees have had trouble getting runners on base and across the plate. This is a far cry from the Yankees team we saw in the first half of the season, led by Aaron Judge's seemingly nightly homeruns. If they can find this form once more, a playoff berth is all but guaranteed.
As for the Blue Jays, the end of the season really cannot come soon enough. With that being said, their play over the last few weeks has not been very poor at all. Having swept the Athletics as well as taking series from the White Sox, the Blue Jays have showed that they are far from being the worst team in the league. Despite this, it is going to take something special for them to emerge victorious in this last game of the series.
Game Overview and Analysis
The Yankees (-140) will send Sonny Gray (6-6 3.41 ERA) to the mound for his second start since being traded by the Athletics just before the trade deadline. Though he was given the loss in his first start for New York, the loss was less attributable to Gray's play, and much more attributable to a lack of competent fielding and a lack of run production.
Though Sonny Gray did impress in his first outing, he will enter tonight's game with a bit of a chip on his shoulder. The reason this is so is due to the fact that one of his last outings with the Athletics saw him face the Blue Jays, and in that game he did not give up any earned runs (4 unearned), but he was still given a loss. With that in mind, you can rest-assured that Sonny Gray is going to want to get out there and prove his worthy by earning a win and pushing his own record above the .500 mark.
On the mound for Toronto (+120) will be the right-hander Marco Estrada (4-7 5.12 ERA). To put it bluntly, Estrada has not been playing great baseball of late. In his last 10 outings, he has accrued an 0-3 record. While some of his struggles can be attributed to the fact that his offense is not exactly offering him much support, Estrada has only given up less than 3 runs on one occasion over his last 10 starts. What's more, he frequently gets hit around early, causing him to be pulled from the game after just 3 or 4 innings. The Yankees, so long as they bring their bats with them, are going to be a nightmare for Estrada to face.
Betting Prediction
The Yankees (-140) moneyline has to be the best bet in this one. Though Sonny Gray did not win his last time out against the Blue Jays and also did not win in his first start for the Yankees, he has been pitching great in recent weeks. I think Gray will go out and take care of the Jays without too much issue. If he can do that, and the Yankees are able to make contact with the ball, I see no reason why they do not easily win this game.
The over/under for this games is listed at an 8.5 runs (-120/EVEN). Even if the Jays do not get any runners across the plate, I still like the over (-120) in this one. The Yankees managed to score 11 runs on their own last night. Facing a worse pitcher in Estrada tonight, I think we may see similar offensive figures for New York.
The Yankees are -1.5 (+115) favorites on the point spread according to Bovada, and I also think that this is a solid wager to make. After all, they took care of the Jays by 6 runs on Wednesday night.