Why Justify Won't Win The 2018 Belmont Stakes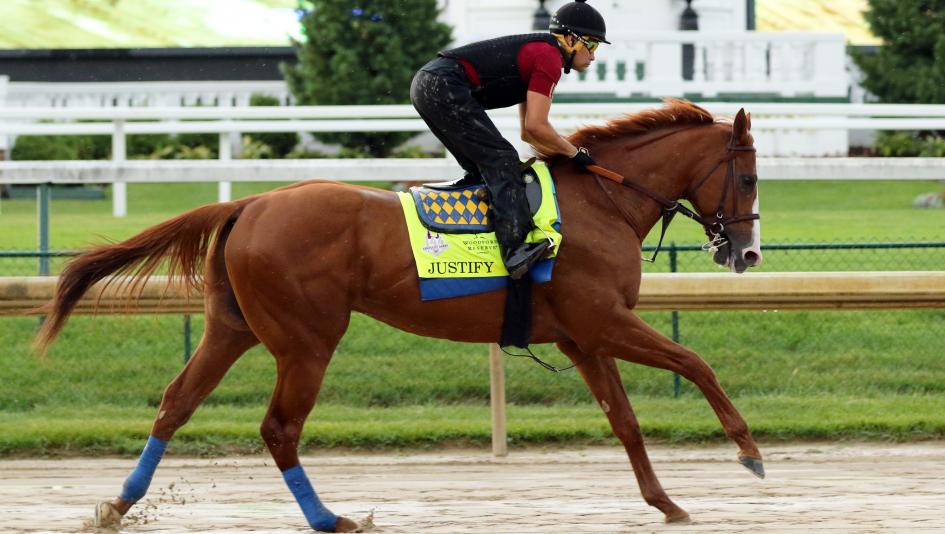 –This is the 150th running of the Belmont Stakes and the 107th run at Belmont Park.
–The race was originally run at the Jerome Park Racetrack in the Bronx
–Race favorite Justify will be trying to become the 13th Triple Crown winner in history
With the eyes of the world on Belmont Stakes favorite Justify as he tries to become only the 13th Triple Crown winner in history I decided to devote an entire post to him. If you want my take on the rest of the field you can get it here:
2018 BELMONT STAKES HORSE RACING BETTING ANALYSIS
I like Justify a lot. I don't like this price in this race and particularly since there's a good chance he'll take money and go off at an even more disadvantageous price. Race horses have a reputation of being high strung creatures that freak out if everything isn't to their liking. That's why I'm a sucker for horses that show an ability to deal with adversity. Justify dominated the Kentucky Derby despite having never been in against more than six other horses, racing outside of California for the first time and facing brutal track conditions. He then gutted out a win at the Preakness when he clearly wasn't at his best in the fog and on another downright brutal track. In many ways, this was more impressive than his Derby victory—he held off a tough challenge from Bravazo down the stretch and 'did what he had to do' to win.
Can he do it again? It's going to be tough. Working against him is the brutal grind of the Triple Crown schedule that will have him making his third start on three different tracks in just over a month. This is where his (in)famous lack of racing experience could work against him. Four months ago he'd not made his debut start and now he's racing for a Triple Crown. So many questions—was the Preakness a 'subpar' performance or is he due for a real clunker on an 'off day'? It's hard to think that he'll revert magically to his Kentucky Derby form in his third race in a month. Another thing I've wondered—how much of his Derby and Preakness victories were due to being better on an 'off track than the rest of his opposition? The current forecast for Saturday is calling for rain all day and possibly more than an inch. Even so, it takes days of torrential rains to produce the mess that faced the field at Churchill Downs and Pimlico. The track should be in fairly decent shape at post time.
STARTING FROM THE RAIL COULD BE A PROBLEM
There's also some concern about his inside post starting position. You'll hear a lot of mainstream sports media chatter about the fact that 23 Belmont winners have started from the rail. Few will give you any context. 23 winners represents 15.4% of all Belmont Stakes winners. One of the #1 post position winners came in 1905 before the race moved to Belmont Park. Another came in 1967 when the race was held at Aqueduct due to Belmont Park's renovation. Five straight came between 1916 and 1920 and eleven of the sixteen races held between 1916 and 1931 inclusive saw the winner start from the inside rail position. Four more came between 1932 and 1950. That makes for six #1 post position starters winning the Belmont Stakes when held at Belmont Park since 1949.
But wait–there's more! Three more horses won the from the rail in 1967, 1969 and 1972. So did Secretariat in 1973 but that was arguably the most dominating performance in the history of *any* sport. 'Big Red' could have started from the parking lot and won that race. It would be eighteen years until the next winner from the rail as A.P. Indy took the 1992 Belmont. There's only been one since–Touch Gold in 1997. That means that a horse hasn't won from the rail in 20 years. Justify's trainer, Bob Baffert, didn't exactly sound enthused at the prospect of starting from the far inside saying: "I never do like to draw the rail. My horses seem to live in it. We have it, can't change it, have to deal with it."
A TOUGH DRAW FOR JUSTIFY IN A VERY TACTICAL RACE
The mile and a half length of the Belmont Stakes makes it a very tactical race. Jockeys have the luxury of 'waiting and seeing what happens' right out of the gate and making tactical adjustments if necessary. The further outside a horse starts, the more the tactical nature of the Belmont Stakes is advantageous. There is a 'point of diminishing returns' if the field gets too large. Only six horses have won from outside the #10 post position, though interestingly five of the six have come since 2002 with three coming since 2013. Even more interesting–only two horses have won from outside the #11 position and both have occurred within the last five years. Palace Malice won from the #12 position in 2013 and in 2016 Creator did him one better winning from the #13 spot.
On the other hand, being on the far inside a)requires Justify to get a good start and b) forces jockey Mike Smith to almost immediately figure out where he goes and what he wants to do. Does he go to the front to avoid traffic and risk having nothing left for the stretch run? If he does, he might quickly have company from Javier Castellano and Noble Indy in the #9 position. Noble Indy was a non-factor in the Kentucky Derby but was the beneficiary of a very intelligent ride from jockey Florent Giroux. Giroux quickly realized that Noble Indy was lost in the slop and instead of forcing the issue did what was best for the horse opting to 'live and fight another day'. By doing everything he could to preserve his horse Giroux likely gave him a chance to win here. Unlike Smith, however, Castellano won't have to make an immediate decision and can see how things are shaping up. If he does decide to go to the front, he won't have to deal with traffic from his outside. There's only one horse starting to his left and Blended Citizen is a closer that has no interest in being aggressive early.
If Smith decides not to go to the front early it gives Justify more for a strong stretch run. Justify has been his best when he's just off the pace early–in both the Kentucky Derby and Preakness he drew outside of the main speed in the race. The speed horses were already at a disadvantage due to track conditions and having Justify putting the pressure on made their day even worse. The problem here is twofold–Noble Indy is the only true speed in his race and jockey Castellano has the option of not cooperating by to the front immediately. More problematic is the risk of getting 'boxed in' late which could make the energy Justify has for a late race push completely irrelevant.
Justify can definitely win this race. He's got a Hall of Fame trainer in Baffert and having a legend like 'Big Money' Mike Smith who has seen it all aboard definitely helps. At 4/5 odds the implied probability of winning is 55.6% and he'll likely take money from the big 'recreational fan' crowd. There's no way to get him at a value price or even a bettable one. If you really want to bet Justify you should do it now at one of the many sportsbooks offering futures odds and you can get a 1/1 price.