Underdog Giants To Upset Cubs in Game 2 of Series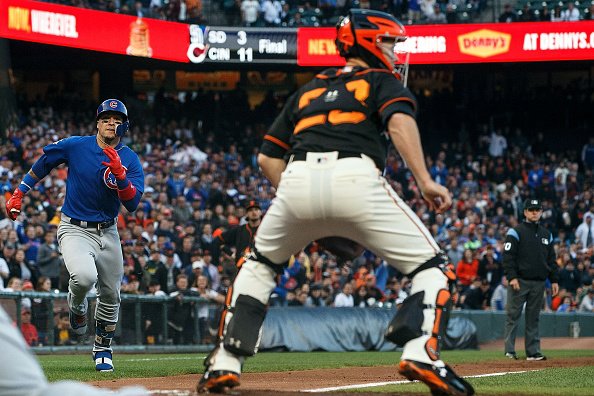 Who: Chicago Cubs v. San Francisco Giants
When: Tuesday August 8th, 2017 10:15PM EST
Where: AT&T Park—San Francisco, California
The Cubs managed to take game 1 of their series with the Giants without too much trouble at all. The 5-3 win, though close on paper, was never really the hard fought match you might have believed it to be. Game 2 will likely yield the same story as the Cubs absolutely need to take care of the Giants in this series. They may be 1.5 games up on the Brewers in the NL Central, but the Cubs still have a lot of work to do not only to repeat as World Series winners, but just to even make the playoffs at all.
The Giants looked mostly unimpressive in their series opener, and have been mostly unimpressive all season long. Sitting North of 35 games out of the division lead, the Giants have been out of playoff contention for some time. With that being said, the more than 30 games off the division lead is a bit of a misnomer because the Dodgers are absolutely crushing everyone. For perspective, the 2nd place team in that division, the Diamondbacks, is more than 15 games off the pace.
Cubs' fans might look to Tuesday's game and think it will be another easy victory, but such will likely prove to not be the case. For all their faults, the Giants do have a few competent pitchers, and they will be sending one of them to the mound on Tuesday. Even with this being the case, the Cubs are favored for good reason. This game and series will be ones that Chicago is fully expected to win, but that does not mean the Giants will avoid attempting to play the role of spoiler.
Game Overview and Analysis
The Chicago Cubs (-180) will be sending Jose Quintana (6-9 4.42 ERA) to the mound. Quintana has had a good season thus far, however his last outing was one he will like to quickly forget. In that outing, Quintana gave up 6 earned runs in 6 innings, including 3 homeruns. Though he was not credited with the loss, his last two outings have seen him go 0-1. Having said this, the news is not completely grim as Quintana preceded this recent dry spell with a 4-game win streak in consecutive outings.
Being that Quintana is 2-1 across his first four starts with the Cubs (was previously with the White Sox before being traded), his early dealings will so far be considered successful. His start against the Giants is a great opportunity to fine tune some things as the season winds its way down. So long as Quintana's offense can contribute some runs, I do not think he will have much trouble earning his 3rd win for his new club.
For the Giants (+155), it will be the left-hander Ty Blach (7-7 4.24 ERA) who will work from the mound. As was briefly touched upon above, Blach is one of the few bright spots in an otherwise bleak season for the Giants. The 26 year old, who is in just his second MLB season, has proven his worth and his longevity. On 6 occasions across his last 10 starts, Blach was able to throw more than 100 pitches while surrendering more than 2 runs only twice. To see a pitcher on a team as bad as the Giants regularly last 6+ innings does not make much sense, but it a testament to the promise this young kid possesses.
The Giants may be heavy underdogs in this one, but I think they have a good chance of stealing one from the Cubs should Blach pitch the way he has all season long. Even still, it is going to take some help from the bats in order for the Giants to really have a chance.
Betting Prediction
As far as who you should be on, I am leaning more and more towards the Giants moneyline (+155). As the +155 odds suggest, they are considered to be fairly heavy underdogs, and while I do not necessarily disagree, I think Ty Blach has been pitching better than Jose Quintana in recent weeks. Based off this alone, I think you have to bet on the Giants moneyline.
As far as the over/under is concerned, Bovada has this listed at an even 8 runs (EVEN/-120). Though this is a bold bet as well, I think the over (EVEN) has got to be your best pick. Despite only combining for 8 runs on Monday night, I think things will be a bit different when the dust settles on Tuesday.
If you are looking at the point spread, you will see that the Giants are +1.5 underdogs (-105). Being that I think they are going to emerge victorious from this one, I see no reason why they would not be able to cover this spread. Of all 3 wagers, I think this has to be the "safest," if that is ever a word that can be used to describe a sports wager.