'The Amazing Race' Season 30 Episode 2 Betting Odds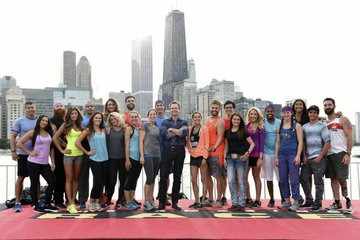 –This is the 30th season for CBS's reality show.
–'The Amazing Race' is one of the most critically acclaimed reality shows.
–Episode 2 airs on Wednesday, January 10 at 8:00 PM Eastern.
Vince McMahon couldn't have done a better job 'booking' the Season 30 premiere of 'The Amazing Race'.The first episode of CBS' critically acclaimed series ended with a dramatic competitive finish that I'll let the good people at Entertainment Weekly describe in detail:

It's the 30th season of The Amazing Race. We're back baby — and with a photo finish, no less. Though they couldn't possibly have planned it as such, having the 30th premiere of The Amazing Race come down to a 30-second race to the mat because of a 30-minute penalty is simply serendipitous numerics. Phil was practically trembling is his cargo pants while proclaiming it the closest TAR finish ever.

And since a 30th anniversary is traditionally the stuff of diamonds and roses, it only makes sense that we would be treated to the most premium, primetime players for this one. Are we talking All-Stars? No. Are we talking all pro athletes? No. Are we talking social media stars? I kid, I kid! Of course not. As it turns out, we're just talking teams who are, like…pretty competitive. But Phil insists throughout the premiere that these 11 duos are "the most competitive racers ever assembled."
Episode 2 set to air on January 10 with the cast heading off to Iceland. Kristi & Jen took the first place finish with Dessie and Kayla eliminated. The bottom tier of competitors is quickly becoming apparent and I expect Cedric & Shawn and April & Sarah to be summarily dismissed in the next couple of weeks. I do expect the duo from Season 19 of 'Big Brother' aka Cody Nickson and Jessica Graf to stay in the competition for awhile and challenge for the $1 million USD grand prize. I'd have to check my notes on this (OK, I don't really have notes on reality show history) but Nickson would likely be the first person to win two different reality shows in the same year with a victory here. There's one thing that I am expecting and I don't even have to check my 'notes' to validate this–I expect that the 'Big Brother' entry will be around for awhile if for no other reason than to attract viewers. I'm not sure if the addition of some formulaic 'tatted up dudes' and their distaff counterparts from 'Big Brother' is what the show needs but if nothing else the CBS 'suits' will want to keep them on the show for at least a month or so.
We'll start with a more in-depth analysis of the show after the first couple of episodes is 'in the books'. For now, here are the odds for Season 30 of 'The Amazing Race' along with proposition odds for Episode 2:
THE AMAZING RACE SEASON 30 BETTING ODDS
TEAM TO WIN SEASON 30 OF 'THE AMAZING RACE'
Cody & Jessica: +250
Trevor & Chris: +500
Lucas & Brittany: +500
Kristi & Jen: +750
Alexander & Conor: +750
Cedric & Shawn: +1000
Eric & Daniel: +1000
Henry & Evan: +1000
April & Sarah: +1500
Joey & Tim: +1500
'THE AMAZING RACE' SEASON 30 EPISODE 2 BETTING ODDS
TEAM TO WIN SECOND LEG OF 'THE AMAZING RACE'
Cody & Jessica: +325
Trevor & Chris: +500
Lucas & Brittany: +500
Kristi & Jen: +750
Alexander & Conor: +750
Cedric & Shawn: +1000
Eric & Daniel: +1000
Henry & Evan: +1000
April & Sarah: +1500
Joey & Tim: +1500
No One Wins Second Leg: +1750
TEAM TO BE ELIMINATED IN EPISODE 2 OF 'THE AMAZING RACE'
April & Sarah: +250
Cedric & Shawn: +500
Eric & Daniel: +500
Henry & Evan: +500
Joey & Tim: +1150
Kristi & Jen: +1150
Alexander & Conor: +1150
Trevor & Chris: +1200
Lucas & Brittany: +1200
Cody & Jessica: +2500
No One Eliminated in Episode 2: +2500
EPISODE 2 KEY DEMO (18-49) RATINGS
Over 1.25: -150
Under 1.25: +130
EPISODE 2 KEY DEMO (18-49) SHARE
Over 5.5: +110
Under 5.5: -130
EPISODE 2 TOTAL VIEWERS
Over 6.5 million: -150
Under 6.5 million: +130