Royals, Angels Evenly Matched in Game 2 of 4 Game Series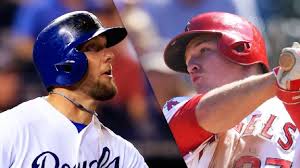 The Los Angeles Angels and Kansas City Royals will meet in LA on Friday night for the 2nd game of a 4 game series. Both these sides find themselves towards the bottom of their respective divisions, but have recently been playing some better ball. In Game 1, which happened on Thursday, the Angels (-110) fell to the Royals by a final score of 7-2. For the Angels, it was much of the same that led them to Thursday's loss. Sub-par pitching in conjunction with an offense that seems incapable of consistently scoring more than 3 runs resulted in an all too familiar loss.
The 7-2 loss (which barely eclipsed the 8.5 over/under) was especially surprising when you consider the starting pitcher for the Royals, Matt Strahm. Strahm is technically a relief pitcher, but was recently put into the starting rotation due to injuries. In his 5 innings of work, Strahm gave up just a few hits and only a single run. At the end of the day, he did more than enough to secure the W for Kansas City.
Another Interesting Pitching Matchup
Ian Kennedy, who will be starting for the Royals (-103) on Friday has historically been a very solid pitcher. This year, however, he is sporting an 0-6 record with a 5.40 ERA. While these stats do not appear anything to write home about, the poor record and ERA are largely being attributed to lingering hamstring and groin problems. He recently spoke about his injury issues and was quoted as saying, "It's been tougher than I thought it would be, and I created some bad habits. I was pitching well before that, which kind of stinks. That is why the numbers are kind of askew. A couple of bad outings can really screw everything up."
Against the Angels this year, however, Kennedy has performed quite well. Earlier this year Kennedy started a game that ended up with him receiving no decision in a 1-0 Royals victory. Despite his solid pitching, the Royals bats did not do enough to secure him the W. When you look at the larger picture, however, Kennedy is 0-4 lifetime against the Angels and has a 4.80 ERA against them. So, really, things may not be as great as they seemed during that 1-0 no decision Royals victory.
Jesse Chavez (5-6 5.06 ERA), who will start for the Angels (-117) on Friday, has been a surprising help to the Angels' starting rotation. Though he was originally in the bullpen, injuries have forced the Angels to put him into the starting rotation and, so far, the experiment seems to be working. What isn't working, however, is the Angels' offense, which can't seem to put much of anything up on the board on a consistent basis. Many of Chavez's otherwise decent performances have been undone by a batting lineup that has consistently underperformed despite holding a lot of potential.
Betting Predictions
As far as the moneyline on this game is concerned, that much is a toss-up. Both the Angels (-117) and the Royals (-103) have very reasonable routes to victory, and no team has a glaring, obvious advantage over the other. If I did have to pick, I would say the Royals' moneyline bet is a safer one to place simply because the Angels' bats have been underwhelming. Having said that, Los Angeles does have the firepower to pop off 5, 7, or 10+ runs on any given night, so it is difficult to say for sure.
Bovada has the game's total over/under listed at 9 runs (-105/-115). For this game, I would place a wager on the under. Both of the starting pitchers have less than stellar ERAs, but as was mentioned above, the Angels flat-out do not get many runs across the plate. If Chavez has even a half-decent night, I imagine this will end up being a low-scoring affair.
A bold bet you can place would be the Angels' team over, which is currently listed at 4.5 runs (+105). There is a lot of potential value in this wager, and like we said above the Angels do have the firepower to get runs in, they just haven't been able to convert as of late. Being that Kennedy is still returning from his injury woes, a rough few first innings could see the Angels' offense be more potent than it has on most average nights.
Finally, an alternate over/under given to us by Bovada sees a total of 10.5 (+160/-205). If this game is as low-scoring as we anticipate, the under 10.5 (-205) is a smart, safe bet to make. The odds may not be the greatest, but neither are the Angels' bats. In the same breath, the Royals' offense hasn't been all that much of a threat either. In fact, out of the 30 MLB teams, the Royals are 27/30 as far as batting is concerned, and the Angels are 19/30. This should help explain why the under seems like the most obvious wager to make.