Rockies Underdogs vs. Struggling Cole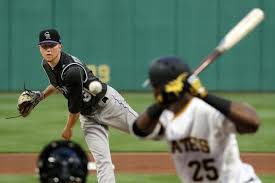 The Pirates and Rockies have gotten this year off to drastically different starts. The Rockies (41-25) are surprise leaders of the NL West, while the Pirates (29-35) find themselves in last place in a particularly weak NL Central. To make matters worse for the men from Pittsburgh, their highly-touted, though struggling star pitcher Gerrit Cole. Despite injury troubles throughout 2015 and 2016, the Pirates' pitcher entered this season with the hope and belief of fans behind him. So far, however, he has accrued a laughable 3-6 record in 13 starts, with his most recent outing resulting in 7 earned runs.
With all of this being said, Cole is looking to turn things around on Tuesday night. Though he is more than capable of doing so, he has a particularly tough Colorado Rockies team standing in his way.
What We Learned in Game 1
Game 1 of this Rockies-Pirates series taught us that even though the Rockies entered the night having won 7 of their last 8, they are not invincible. Jameson Taillon's 5 scoreless innings pitched in his return from cancer treatments (ESPN LINK) showed us that the Rockies bats can be silenced. On the other side of the coin, we also learned that the Pirates' bats are not quite as inept as their dismal record might lead you to believe. 7 different Pirate batters hit their way onto base on Monday night, and the team was able to plate 7 total runs, 4 of which came in the first 3 innings.
The Pirates (-130) might have been favored in the eyes of most bookmakers heading into the 1st game of their homestand, but most people felt—and still feel—as though Colorado was the stronger outfit. That much did not prove to be the case as even 11 hits did not see the Rockies score more than 2 runs. Do not let their weak performance fool you, however, as the Rockies are still a very powerful outfit and one that is in much better form than their Pittsburgh counterparts.
What We Know Heading Into Game 2
Gerrit Cole is Struggling
MyBookie may have the Pirates (-120) listed as moneyline favorites, but Cole's recent performances lead us to believe that perhaps this line is a bit misguided. Pitchers—perhaps more than any other player—are heavily affected by their recent form. In other words, pitchers that have been doing well tend to feed off of that momentum, while pitchers who are performing poorly tend to let it get to their head, causing even more poor performances. The fact that Cole has been performing overly poor recently makes us think that there is a lot of value in a Rockies (EVEN) moneyline wager. The Rockies are a competent hitting team, and Cole has been struggling to find a groove. We expect that much to continue holding true through Tuesday, and think that the Rockies will emerge comfortable victors.
Both Sides Can Score
As if Cole's recent form is not enough, the Colorado Rockies are, according to ESPN, the 3rd-best batting team in MLB. Sporting a team average of .270 and having hit more than 80 homeruns, the Rockies are a potent offensive outfit that can take advantage of any starting pitcher.
Though the Pirates may be near the bottom of the table as far as batting is concerned, they have more recently been putting runs across the plate. So far in June, the Pirates have played 10 games and have been averaging more than 6 runs in each of those games. As such, the over (9 runs at +105) seems like a smart and valuable bet. People would like to think that Cole is going to turn things around tonight, but with shattered confidence I have a difficult time envisioning that being the case. The Rockies team over is listed at 4 runs (-135) and we see value in this as well. You might look to Monday's total run tally of just 2 for the Rockies and think that over 4 runs is ridiculous, but you must take into consideration that the men from Colorado were able to record 11 hits. If they leave just a few less men stranded on Tuesday, they will rack up runs in a hurry.
Rockies Look to Avoid 3 Straight Losses
Coming into Monday night, the Rockies had won 7 of their previous 8. Now, coming into tonight's game, the Rockies run the risk of losing 3 consecutive games. Seeing as how strong Colorado is, and how weak Pittsburgh's pitching has been, the +1.5 spread (-210) seems like a great wager to place. Though the -210 odds might not be the best, I strongly feel as though the Rockies are going to emerge victorious from this one. As such, I truly believe that they will easily cover that spread and earn you some money in the process.
To summarize this piece, Tuesday night is shaping up to be all Colorado so long as Cole does not magically rediscover his form. And through the early parts of the 2017 season, Cole seems as far from the pitcher that was drafted during the first round of the 2011 draft as he possibly can be.