Pirates Look to Take 3 Consecutive from Tigers as Series Moves to Detroit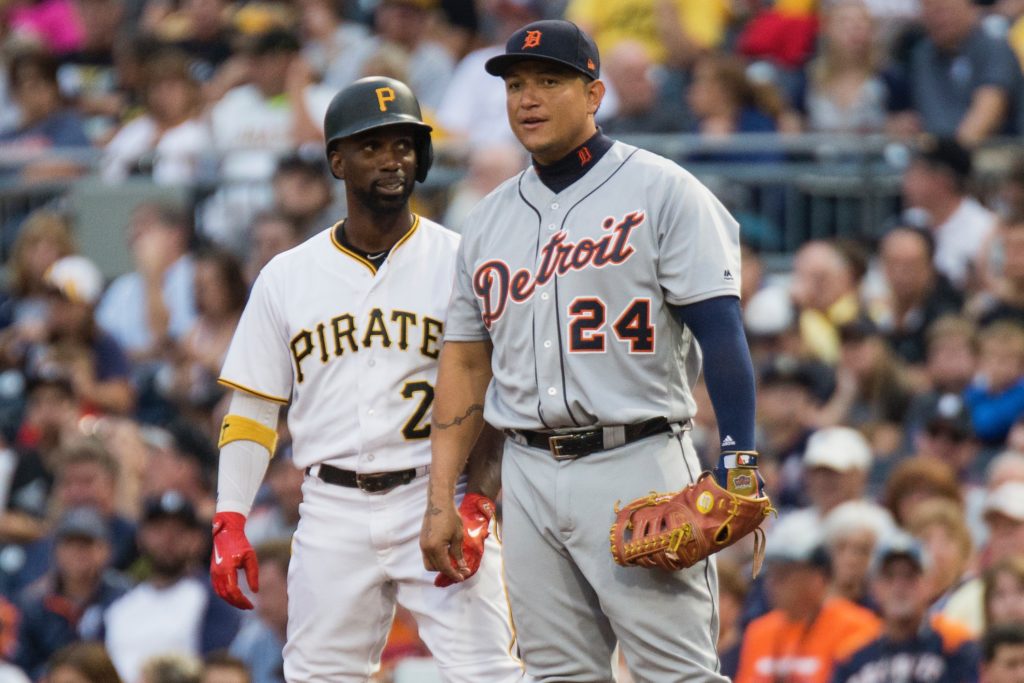 Who: Pittsburgh Pirates v. Detroit Tigers
When: Wednesday August 9th, 2017 7:08PM EST
Where: Comerica Park—Detroit, Michigan
Heading into this 2-home, 2-away series with the Pirates, Detroit knew that they were really up against it as far as making the playoffs was concerned. Despite coming into the 2nd half of the season looking improved, the Tigers have since gone 0-4 in their last 4 games. Now 6 games back of a Wild Card position, things are not exactly looking up for the Tigers. On the other side of the field, we have the Pirates. They too opened up the 2nd half of the season on a tear, but it did not take long for reality to set back in.
Having said that, the Pirates have been playing some attractive baseball over the last week or so, and have already taken 2 in a row from Detroit, in Pittsburgh. As far as a Wild Card berth is concerned, the Pirates have a much more dramatic climb to make than the Tigers as they are currently 8 games out. Being that they are a mere 2.5 games off the pace in the NL Central, it seems as though that winning the division is the Pirates' only method of making the playoffs this season.
The Buccos have now rattled off 3 wins in a row, and have won 5 of their last 6. This seems to be the Pirates' last push to make the playoffs as any winless streak from here on out very well might be a fatal blow. If we are chalking it up to percentages, I would have to say that the Pirates' chances of making it to the post-season are at 50% or maybe a little less. The division has 4 teams that could realistically win the pennant, and right now the Pirates have the worst record of those four teams, even if only by a single game.
Game Overview and Analysis
Starting the game on the mound for the Pirates (+108) will be right-hander Ivan Nova (10-8 3.66 ERA). Up to this point in the season, Nova has been one of the Pirates' best pitchers, even with his bouts with inconsistency. It seems as though he is struggling with some of that aforementioned inconsistency in that he has not won a game in his previous 3 starts. Having gone 0-2 in those games, Nova will be looking to improve and add to his win tally. Signs of improvement were seen in his last outing 5 days ago against the Padres. In that game, Nova gave up just 1 earned run in 7 innings, but was still handed a no-decision.
The Pirates' bats have been getting runners across the plate through this 6 game stretch, and so long as that continues I think Nova will have a successful night on the mound. Nova is not much of a strikeout pitcher, so the Pirates' defense will also need to run a tight ship in order to get their 3rd win from 3 games with the Tigers.
On the mound for Detroit (-128) will be Justin Verlander (7-7 4.20 ERA). Verlander has been somewhat of a shadow of his former self this year, and has fought mightily just to attain a .500 record as a starter. Recently, however, he seems to have found a rhythm as each of his last 2 starts have resulted in wins. In those 2 outings, Verlander gave up a total of 2 runs in 13 complete innings. The Pirates may be hitting better of late, but it seems like it is going to be a bit tougher to succeed against Verlander as he has been playing better.
As far as the Tigers' offense is concerned, there is not much to write home about at the present moment in time. They have been struggling, and that is a major part of the reason why a playoff berth seems all but lost at this point.
Betting Prediction
I think the moneyline wager you have to make in this one is on the Pirates (+108). Right now, their odds are a little better than even, and I think this is somewhat of a value bet. Having won 2 in a row against Detroit already, the Pirates surely have momentum. It will all come down to whether they can connect with Verlander's pitching. That is up in the air at the moment, but I think the Pirates are the stronger of the two teams.
Another bet that presents you with good value is an alternate point spread offered by Bovada. This alternate spread sees the Pirates listed as -1.5 run favorites at +175 odds. Though they were at home during both games, the Pirates have now covered this same exact spread two consecutive times versus the Tigers.
An extremely safe bet, albeit one that does not present a load of value, is an alternate over/under of 11.5 runs (+210/-275). Though a wager on the under (-275) offers some poor odds, these two teams have not come even close to this tally through two games, both of which featured weaker pitchers than we will see on Wednesday. As such, I think this game will stay under 11.5 runs easily.