Nationals Likely to Complete Sweep of Atlanta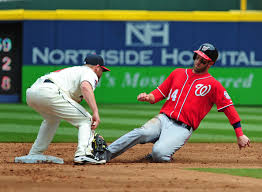 Through the first 2 games of their home series against the Atlanta Braves, the Washington Nationals have accrued 10 runs on both occasions. While the first game saw their 10 runs outdone by Atlanta's 11, Tuesday night saw the Nationals cruise to a 10-5 victory. The Nationals will enter Wednesday's game looking to take 2 wins in a row, and the series as a whole.
On Tuesday, the Nationals (-190) were favored to win, and took care of business. Beyond that, they also covered their -1.5 run spread (EVEN) fairly easily. On top of all of this, the over also hit on Tuesday. A major part of the reason behind the Nationals' success on Tuesday has to do with star first baseman, Ryan Zimmerman's return from injury. In his first game back, Zimmerman had 3 hits, 2 of which were homeruns. If Zimmerman and his teammates can replicate Tuesday's performance on Wednesday, they should have no problems brushing the Braves aside.
Roark and Teheran Face Off
Wednesday's series finale between the Nats and the Braves will see Washington's Tanner Roark (6-3 3.87 ERA) face off against Atlanta's Julio Teheran (5-4 5.08 ERA). Just from the stats mentioned, it is clear to see that Teheran has the biggest task on his hands. In fact, the task grows even more monumental when you consider that he is 0-1 against Washington this season, with a more than 15 ERA stemming from that one performance. Nationals' star Bryce Harper has been particularly potent against Teheran, with a .455 batting average and 7 homeruns against him in his career.
Understanding this, it is easy to see why Bovada lists the Braves as +147 underdogs.
Nationals' Bullpen Called Into Question
Something else that this game is going to very much hinge on is how long Tanner Roark will last. The right-hander has won 3 of his previous 4 starts, lasting at least 6 innings on each of the 4 occasions, but it isn't Roark who should worry prospective bettors; it's the Washington bullpen. Before Tuesday's game, the Washington bullpen had an ERA that was just over 5. This seems to be one of the glaring weaknesses of an otherwise solid team that is favored to win their—admittedly weak—division.
If all goes as planned, Roark will last into the 7th inning and the Nationals will emerge somewhat easy victors. If Roark has an unexpectedly poor outing, however, the Braves' offense is more than competent enough to make the Nats pay for poor pitching. The thinking is that the Nationals will take care of themselves on the offensive side of the ball, but their pitching is a major question mark. This makes this particular matchup a bit more difficult to call.
Analysis and Predictions
Nationals' Bats on Fire
In each of their last 2 games, the Nationals have been able to put 10 runs on the board. If they can replicate those performances on Wednesday, not only should they win, but they should also easily eclipse their team over/under (-145)/+115) of 4.5. With Zimmerman back in the lineup, Bryce Harper continuing to play well, and Washington looking to build on their divisional lead, I think the over 4.5 (-145) is a great bet.
Though the Nationals currently sit on the moneyline on Bovada at -172, we also think that this is the best wager to make. There may not be a ton of value in this pick, but these two teams are drastically mismatched on paper, and the Nats should be able to take care of business no problem.
Roark, the Strikeout Machine
In his last 4 starts, Roark has recorded 22 strikeouts for an average of just under 6 strikeouts per game. Understanding this, a wager on Roark to record more than 4.5 strikeouts (-150) is a Bovada proposition you might want to check out. With that being said, Atlanta has recorded the 4th fewest strikeouts in MLB so far this year, so this wager might not be as straightforward as it looks. Regardless, we like Roark to get at least 5 Ks today.
Value Bet of the Day
As you can clearly see from our picks up to this point, there is not much potential value in any of them. A pick that does have some value potential and has a strong likelihood of coming to fruition is Washington to cover their -1.5 run (+115) spread. The thrashed the Braves last night on the back of a massive Zimmerman performance, and we envision much of the same taking place Wednesday evening.
As far as the game's over/under of 9.5 (-110/-110), this much is a toss-up and should, realistically, be avoided. While I think the Nationals have more than enough to cover their team over, I do not feel as though the Braves' bats are going to have much luck against Roark. To put this in perspective, the Braves have managed to score more than 3 runs on just 2 occasions out of their last 7 games.