'Married At First Sight' Season 6 Betting Odds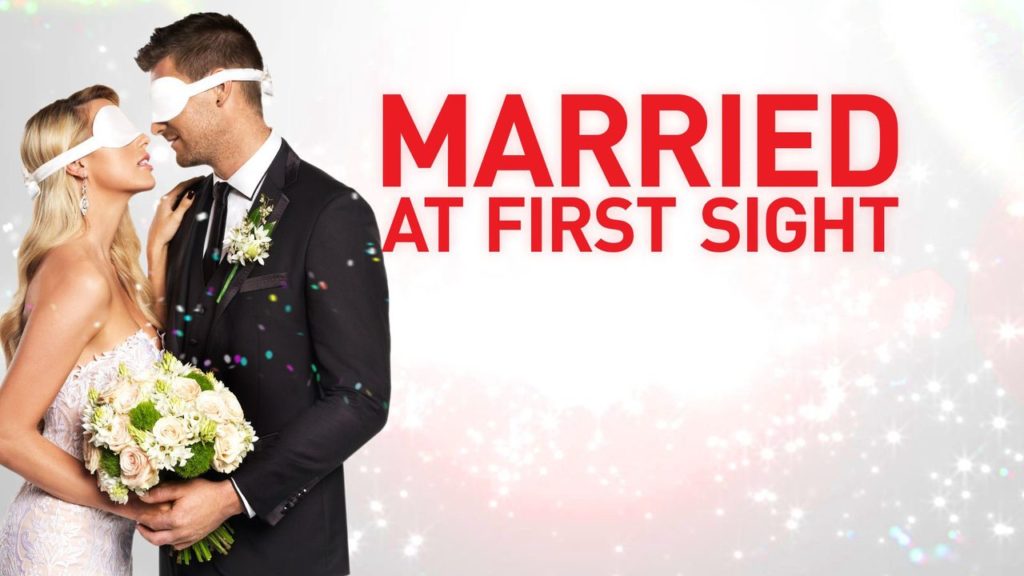 –'Married At First Sight' heads into its 6th season on the Lifetime Network.
–The show follows three couples who have agreed to marry without having previously met.
–'Married At First Sight' Season 6 will premier on January 2, 2018 at 9:00 PM Eastern on Lifetime
Another year and a new reality show–at least as far as setting betting odds is concerned. The Lifetime Network will begin their sixth season of 'Married At First Sight' on January 2 and I've set odds on the full season outcome. My hunch is that it won't lend itself well to weekly odds like we do on many reality shows since there isn't a weekly elimination or other denouement. I'll take a look at the first episode or two and if I'm wrong in this assessment I'll start hanging weekly numbers.
'Married At First Sight' sounds like a lot of nightmares that I've had. I head to Las Vegas, Miami or Ensenada for the weekend and wake up on Monday morning married to a woman I've never met. The only difference between my harrowing nightmare and the Lifetime series is that the participants enter into this willingly and there's no booze involved. At least there's no booze *openly* involved–since Season 6 is filming in Boston I'm guessing that some of the 'Married At First Sight' cast will be stopping at 'The Packie' on their way to get involved in this:
In season six of "Married at First Sight," Boston area singles yearning for a life-long partnership agree to a provocative proposal: getting legally married to a stranger the moment they first meet. The couples will not meet until they walk down the aisle and see each other face-to-face, for the first time, at the altar. The series captures each couple's journey as they go from wedding, to honeymoon, to early nesting, to the daily struggles of working on their marriage. After several weeks together, each couple must make a decision: do they remain together or decide to divorce?
That's from the official 'Lifetime' page for 'Married At First Sight'. The show is given a veneer of legitimacy by virtue of a few 'relationship experts' that help shepherd the newlyweds through their first few weeks of matrimonial 'bliss':
This season, Boston-based psychologist and Professor Dr. Jessica Griffin, joins sociologist Dr. Pepper Schwartz and marriage counselor, Pastor Calvin Roberson on the series' panel of experts. Together they will create what they believe are three compatible couples based on scientific matchmaking and continue to counsel and mentor the couples throughout the season.
Yep–the sociologist is legit named 'Dr. Pepper'.
PUTTING A PRICE ON WHAT IS PRESUMABLY A 'BAD DECISION'
Want to take a quick guess about my oddsmaking process for 'Married At First Sight'. You got it–some basic statistical analysis of 'past performance data'. That, and I got input from my mom who gave me her reaction to each couple and their chances of staying married. I'll keep my mom's input under wraps until after I watch the first episode.
I will, however, share my statistical analysis. In the first five seasons of 'Married At First Sight' 10 of 15 couples have agreed to stay married at the end of the season–a decent 66.6% success rate. A few other interesting facts–admittedly based on a small sample size. Every season has had at least one couple agree to stay married. Season Three saw one couple stay married and two get divorced which is significant since every other season has had at least two couples stick it out. Last season saw all three couples stay married at the end of the season.
You probably won't be surprised to learn that things don't go as well after the cameras stop rolling and reality sets in. You know how I just said that all three couples stayed married at the end of Season 5? The season ended in early August and with the divorce of Cody Knapek and Danielle DeGroot having been finalized in late November only one of the Season 5 couples remain married. Of the 10 couples that stayed married after the season only three are still together–that translates to a 20% success rate overall.
Since all I've had to work with is the Lifetime bio information and the 'past performance' data I'll revise these numbers after the first episode or two:
'MARRIED AT FIRST SIGHT' SEASON 6 BETTING ODDS
WILL MOLLY DUFF AND JONATHAN FRANCETIC CHOOSE TO REMAIN MARRIED AT THE END OF SEASON 6?
Yes: -170
No: +150
WILL SHAWNIECE JACKSON AND JEPHTE PIERRE CHOOSE TO REMAIN MARRIED AT THE END OF SEASON 6?
Yes: -130
No: +110
WILL JACLYN SCHWARTZBERG AND RYAN BUCKLEY CHOOSE TO REMAIN MARRIED AT THE END OF SEASON 6?
Yes: -150
No: +130
NUMBER OF COUPLES TO STAY MARRIED AT THE END OF SEASON 6
Over 0.5: -500
Under 0.5: +425
NUMBER OF COUPLES TO STAY MARRIED AT THE END OF SEASON 6
Over 1.5: -150
Under 1.5: +130
NUMBER OF COUPLES TO STAY MARRIED AT THE END OF SEASON 6
Over 2.5: +300
Under 2.5: -350
NUMBER OF COUPLES FROM SEASON 6 TO REMAIN MARRIED AS OF 12/31/18
Over 0.5: +180
Under 0.5: -210
NUMBER OF COUPLES FROM SEASON 6 TO REMAIN MARRIED AS OF 12/31/18
Over 1.5: +300
Under 1.5: -350
NUMBER OF COUPLES FROM SEASON 6 TO REMAIN MARRIED AS OF 12/31/18
Over 2.5: +600
Under 2.5: -750