LeBron James Aging Like Fine Wine, Passes Moses Malone On NBA Scoring List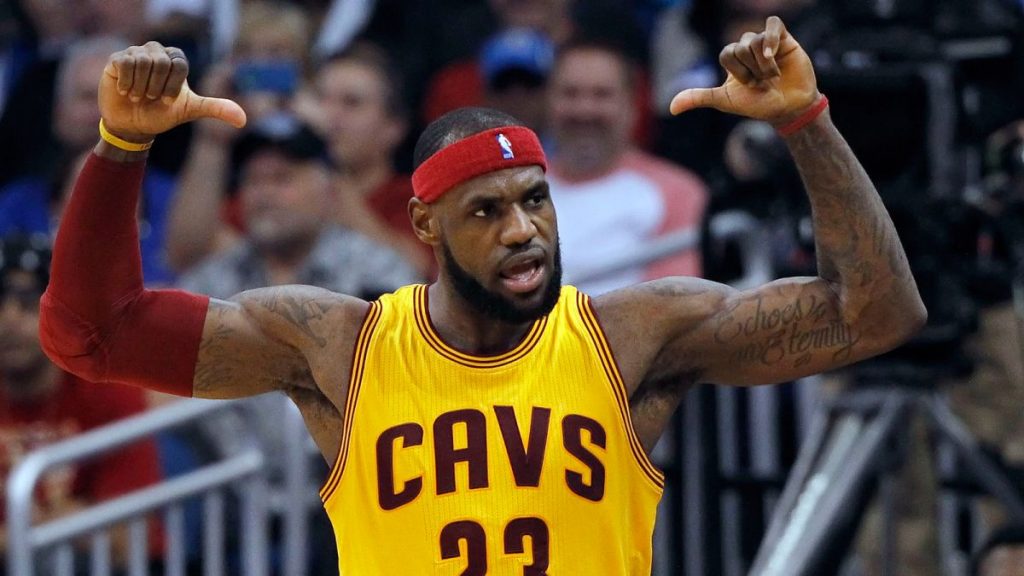 –LeBron James is now in his 14th NBA season.
– At age 31 he's already moving up the NBA scoring list, recently passing Moses Malone for 8th place.
– LeBron is aging like 'fine wine' and should add to his impressive list of accomplishments.
It seems like only yesterday that LeBron James was a heavily hyped high school prodigy entering the NBA straight out of St.Vincent–St.Mary High School in Akron, Ohio. The reality is that LeBron is in his 14th NBA season and already picking off legends as he moves up the NBA's all time scoring list. On December 21, 2017 he scored his 27,410th point as his Cleveland Cavaliers faced the Milwaukee Bucks. That pushed him past the great Moses Malone for 8th place on the NBA's all time scoring register. He's already passed an impressive list of NBA legends–before moving ahead of Malone he also jumped past Elvin Hayes for ninth, Hakeem Olajuwon for 10th, Oscar Robertson for 11th, and Dominique Wilkins for 12th. Next up is LeBron's former teammate, Shaquille O'Neal with 28,596 points.
LeBron is already a 3 time NBA champion, a 4 time NBA MVP and 3 time NBA Finals MVP. Fans have watched as he's gone from a fresh faced and slightly overwhelmed teenager to a 'grown man' playing the best basketball of his career at age 31. This GIF shows LeBron's transformation in a matter of seconds:
LEBRON & THE CAVS LOOKING FOR ANOTHER NBA CROWN
The Cavaliers struggled early in the season last year but that's definitely not the case this season. Cleveland will enter their Christmas Day matchup against the Golden State Warriors carrying a record of 22-6 which has them two games up on the feisty Toronto Raptors atop the Eastern Conference. Out West, the Golden State Warriors are having another great season with a record of 26-4 entering the Christmas Day game.
Every expectation is that we'll see a Golden State vs. Cleveland rematch in the 2016-2017 NBA Finals. The Cavaliers won last year's series after a monumental collapse by the Warriors who entered Game 5 on their home floor with a 3-1 series advantage only to have Cleveland win the next three games to take the title. The Warriors are currently favored to win the 2016-2017 NBA Championship with the Cavaliers a close second:
2016-2017 NBA CHAMPIONSHIP ODDS

2016-2017 NBA Championship–To Win Outright
Golden State Warriors: -130
Cleveland Cavaliers: +300
San Antonio Spurs: +750
Los Angeles Clippers: +1400
Toronto Raptors: +2200
Boston Celtics: +3300
Houston Rockets: +4000
Oklahoma City Thunder: +4500
Chicago Bulls: +4500
Atlanta Hawks: +6000
Utah Jazz: +6000
New York Knicks: +6000
Indiana Pacers: +6600
Memphis Grizzlies: +6600
Charlotte Hornets: +8000
Milwaukee Bucks: +10000
Portland Trailblazers: +10000
Detroit Pistons: +10000
Washington Wizards: +15000
Orlando Magic: +20000
Miami Heat: +20000
Sacramento Kings: +25000
Denver Nuggets: +25000
New Orleans Pelicans: +25000
Los Angeles Lakers: +35000
Minnesota Timberwolves: +75000
Phoenix Suns: +75000
Dallas Mavericks: +100000
Brooklyn Nets: +100000
Philadelphia 76ers: +10000
Conference To Win 2016-2017 NBA Championship
Eastern Conference: +175
Western Conference: -225
Double Chance To Win 2016-2017 NBA Championship
Cleveland Cavaliers or Golden State Warriors: -350
San Antonio Spurs or Golden State Warriors: -195
Golden State Warriors or Los Angeles Clippers: -150
Golden State Warriors or Boston Celtics: -125
Cleveland Cavaliers or San Antonio Spurs: +175
Cleveland Cavaliers or Los Angeles Clippers: +225
Cleveland Cavaliers or Boston Celtics: +275
San Antonio Spurs or Los Angeles Clippers: +450
San Antonio Spurs or Boston Celtics: +600
Los Angeles Clippers or Boston Celtics: +1000

LeBron is currently the #3 choice to win the 2016-2017 NBA Most Valuable Player Award:
2016-2017 NBA MOST VALUABLE PLAYER

2016-2017 NBA Most Valuable Player–To Win Outright
Russell Westbrook: +150
James Harden: +225
LeBron James: +500
Kawhi Leonard: +750
Kevin Durant: +1000
Stephen Curry: +1400
DeMar DeRozan: +2500
Anthony Davis: +3300
Chris Paul: +3300
Blake Griffin: +4000
Damian Lillard: +5000
Kyrie Irving: +5000
Jimmy Butler: +8000
DeMarcus Cousins: +8000
Field: +10000