Entertainment Betting–Chris Brown v. Soulja Boy Celebrity Boxing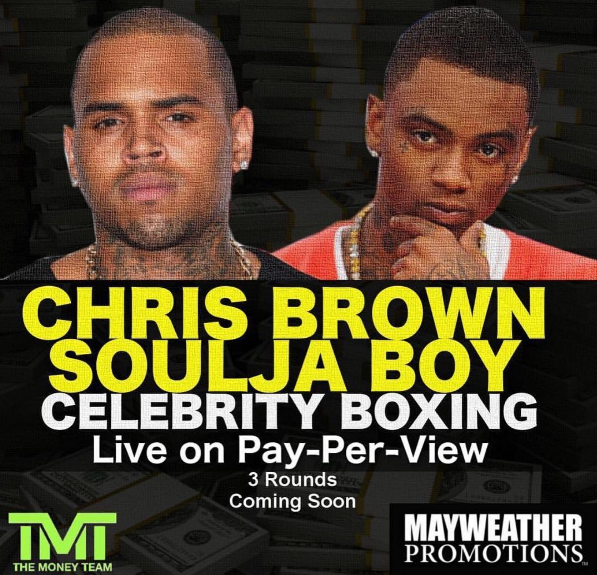 –Rapper Soulja Boy and singer Chris Brown are reportedly going to have a boxing match
–It's unclear whether they have a 'legit beef' or if this is just a PR stunt
–Floyd Mayweather and Mike Tyson will also be involved as trainers
Celebrity boxing is a lot like having sex outdoors. It sounds like it might be harmless fun and potentially very exciting. In reality, it ends up being a miserable experience and more trouble than it's worth. If you know anything about boxing you know that there's nothing worse than watching two untrained combatants try to box each other. The celebrity status of the ersatz pugilists doesn't negate this fact. There's nothing to suggest that the proposed boxing match between Chris Brown and Soulja Boy will change this.
For some inexplicable reason, celebrity boxing became a 'thing' in the early 2000's thanks to two TV specials that featured matches between what can be charitably be referred to as 'C-List' celebrities. The 'fighters' were matched due to some sort of perceived 'heat' or 'rivalry' between them–for example, Danny Bonaduce (who played a kid on the 'Partridge Family' TV show) faced Barry Williams (who played the oldest son Greg on the 'Brady Bunch'). For what it's worth, Bonaduce dominated Williams and knocked him down five times before his corner mercifully threw in the towel. The two shows generated the same type of curiousity as a big traffic accident on the highway but there's little to suggest that they drew any serious interest. The fact that TV Guide rated it #6 on their list of the 'Worst TV Shows of All Time' is really all you need to know. If you're interested in watching this dumpster fire there's plenty of footage online. If you're curious, here's the list of matches from the two 'Celebrity Boxing' specials:
Danny Bonaduce vs. Barry Williams
Todd Bridges vs. Vanilla Ice
Paula Jones vs. Tonya Harding
Darva Conger vs. Olga Korbut
Dustin Diamond vs. Ron Palillo
Manute Bol vs. William Perry
Joey Buttafuoco vs. Joanie "Chyna" Laurer
The first thing you'll notice is that all are *way* down the celebrity food chain. That added a 'desperation vibe' that made the entire fiasco come off as cruel and exploitative. The boxing (assuming it deserves to be called that) was miserable and the participants wore headgear and oversized gloves. That's one of the primary reasons that I don't think this fight will ever happen. Both Soulja Boy and Chris Brown are huge stars making tons of money. They have too much to lose on a number of levels. Besides, the only real draw in the fight is their 'feud' that's being played out in the media. There's much to suggest that it's a PR stunt and without any real animosity the fight has zero appeal. Consider this quote from Soulja Boy over the weekend which doesn't exactly validate their 'beef':
"Soulja Boy versus Chris Brown, the big boxing match going down, MGM Grand Las Vegas in March. Get your tickets right now, it's going to be a sold-out event. I just want everybody to know Chris is my brother. We've been on tour, we got songs together, brothers fight. Sometimes brothers fight. Friends fight. And after they fight, they shake hands and keep it moving. Between me and 50 Cent, it ain't no real beef. That's my big brother. We're just promoting the fight. That's all we're doing, just promoting the fight. Don't nobody get fooled. It's not no real beef with me and 50. 50's my big brother – but when we get into that ring, it ain't no friends. It's just me versus holmes. We're gonna duke it out. Ain't no beef, ain't no violence. Put the guns down, put your hands up. Soulja Boy versus Chris Brown. Biggest boxing match, biggest fight of the century, of the year."
In other words, this is all commerce. And once the parties involved realize that it's not going to be profitable or possibly even financially viable they'll move on to something else. For that reason, I'm only doing a short list of betting odds at this point:
CHRIS BROWN V. SOULJA BOY CELEBRITY BOXING BETTING ODDS
To Win Fight
Chris Brown: 5/6
Soulja Boy: 5/6
Over/Under Rounds
Over 1.5 Rounds: 5/9
Under 1.5 Rounds: 3/2
Will Fight End In A Draw?
Yes, fight is a draw: 18/1
No, fight is not a draw: 1/25
Fight To End In Even/Odd Number Round?
Fight ends in an odd number round: 5/9
Fight ends in an even number round: 3/2
Fight To End Via Decision or Stoppage?
Fight to end via decision: 9/5
Fight ends via stoppage (KO-TKO-DQ): 3/2
These odds are derived from what typically happens when untrained participants try to box. I have no clue who will win and how. The Over/Under rounds prop has the 'Over' as a strong favorite. Knocking out an opponent is a lot tougher than it looks and if they're wearing oversized gloves and headgear even more so. The rest of these odds are similar in their calculation.
Now we'll turn to what I think is the more interesting question–whether this fight happens at all:
CHRIS BROWN V. SOULJA BOY SPECIAL PROPOSITION ODDS
Will Fight Take Place Before 2/1/17?
Yes, fight happens on or before 2/1/17: 3/1
No, fight does not happen on or before 2/1/7: 1/4
Will Fight Take Place Before 12/31/17?
Yes, fight happens on or before 12/31/17: 9/2
No, fight does not happen on or before 12/31/17: 1/7
Everyone involved in this is convinced that this fight is going to happen in Las Vegas at what would be a half empty MGM Grand Gardens Arena. Floyd Mayweather's promotional company is definitely qualified to promote boxing–and that's one of the problems. There's no guarantee that either fighter could get licensed as an amateur in Nevada among countless other logistical issues in making the fight happen. They could always run it as an 'unsanctioned exhibition' but it's the same deal–this could get Mayweather's promotional business in trouble with the Nevada State Athletic Commission and they can't run this risk. They could always promote in another state but that makes the overhead costs of producing and promoting the fight increase due to the additional travel involved. And there's no guarantee they could get all the regulatory issues resolved anywhere else plus given the reciprocity between state athletic commissions this could also potentially cause trouble back in the 'Silver State'.
What I think will eventually happen is a bit of cost/benefit analysis. 'The Money Team's' accountants will realize that this is an event that no one–including fans of Soulja Boy and Chris Brown–will pay to watch on PPV and that it's just a money losing proposition. Don't be surprised if the talk of this fight quietly disappears over the next few weeks. It's significantly more likely that the principals will record an album or go on tour together than it is they'll ever meet in a boxing ring.