Donald Trump Presidential Proposition Betting Odds for February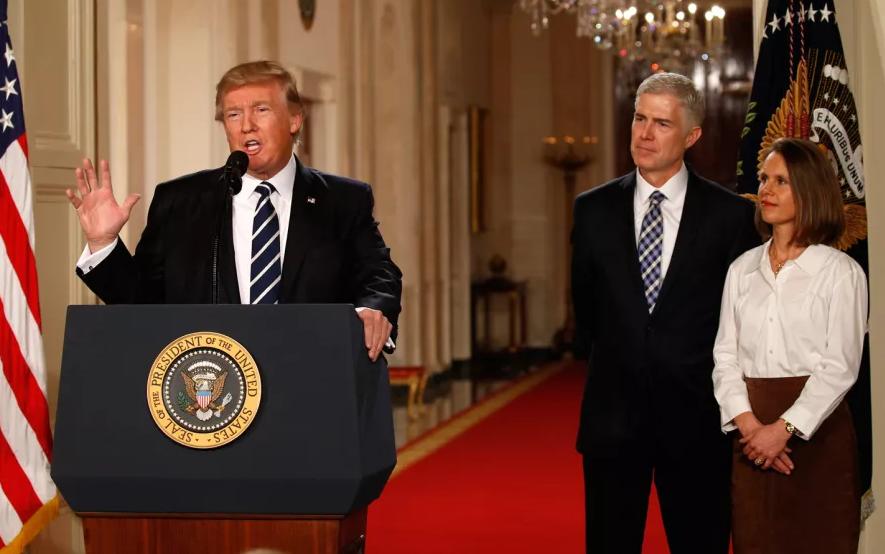 –More so than any other President in recent memory, Donald Trump's is a goldmine for proposition bets.
–Many European sportsbooks offer 'sucker bet' odds to play on anti-Trump sentiment.
–Here's our latest installment of Donald Trump Presidential proposition bets.
Donald Trump is certainly the most divisive US President in recent history but in many ways he's the perfect example to illustrate the flaws in the entire sleazy mess that is American politics. Trump is the 'perfect storm' for both parties in their never ending attempt to foment hatred and division among the citizens of the United States. The best news is that voting participation is at a record low and will keep dropping until the President, Congress and the rest of their sleazy minions have less actual power than the British Royal Family.
Until then, the behavior of both major US political parties will continue to vacillate between comical, completely self aware and beneath contempt. It's really tough to figure out where to start. Trump's supporters are bad enough but they look downright reasonable compared to his antagonists. These are the people that are trying to convince us that the mere presence of Trump in the White House is a grave enough danger that we should take to the streets in protest, yet couldn't be bothered to get out and vote for Hillary Clinton when they could actually have done something about it. If Hillary would have just been able to 'hold serve' with the demographics that Obama won they'd be bowing in her presence as the 'rightful' President of the United States.
The thing that I do like about Trump and his presidency–it's great fodder for betting odds. This started during the debates, extended through the Presidential election and continues to the present date. Not to toot our own horn, but SPORTS BETTING EXPERTS was one of the few media sources that had a clue that the Presidential polling that showed the election as in the bag for Hillary might not be accurate. For example, consider this bit of wisdom from yours truly dated 10/21/16:
There is one scenario I've been considering that could throw the result into at least some degree of doubt. It might be the case that the various polling sources are not accurately modeling Donald Trump's support base. If this were to be true it could serve to underestimate his support. Whether this 'unrepresented support' would be enough to make Trump competitive is a different question. In my estimation, this could have at least some validity. We've already got a clear empirical example of how difficult it is to define Trump's support base and their agenda. The Republican Party and their candidates couldn't do it–if they could, Jeb Bush would be the Republican Candidate now. It's easy to generalize about the nature of Trump's supporters and they're often represented in caricature. They're often defined by their more extreme positions, particularly their anti-immigration stance. None of this leads to polling accuracy. There's also the possibility that Trump's supporters are more enthusiastic than Clinton's supporters. That's certainly an anecdotal opinion on my part but were this the case this would also serve to negate some of Clinton's advantage.
Or this post debate #2 observation:

It's no secret that depending on the methodology of a poll you can make it say just about anything you want. The data from the most recent polls is interesting–Trump is increasing his lead in several of them. That at least anecdotally validates my theory that traditional polling methodology might under represent support for Trump. If Trump's supporters 'played by the rules' that have governed partisan politics in the past we'd be talking about a Hillary Clinton/Jeb Bush race now. If the entire Republican field of well connected and in some cases well financed opponents couldn't figure out the essence of Trump's support it's doubtful that Hillary can either. Nor can the 'traditional' political media doing the polling. You can think what you want about Trump's supporters and their motives but the point is that they've defied what is expected of 'traditional political behavior' to this point. For that reason alone, his support might be greater than polls suggest.
Finally, this after the first debate (9/26/16):
My plan was to come up with some political prop bet odds on who various news outlets would declare the winner. But what's the point? Even 'public opinion polls' are unreliable. Pollsters get paid to find a way to quantify what candidates want them to.
THE POINT OF ALL OF THIS
The point of this isn't to underscore the fact that I had the polling accuracy nailed all along. Well, that's not *completely* the point. The primary reason I caught on so quickly was I didn't use the polls to reinforce a previously held belief. I used the data they presented me in conjunction with the betting lines to try and determine the accuracy of the pricing. And that's where things didn't look right. This isn't necessarily incompetency or anything beneath board on the part of the sports books. Their job is to reflect the public opinion in their betting lines. Bookmakers don't necessarily try to 'make predictions' on the outcome of the event. The general idea is to 'predict' how the public will bet and divide that action.
That's why no matter how seething one might be with anti-Trump hatred they have to 'do the math' if they want to bet 'against the Trump Presidency'. There are several sportsbooks in Europe that are currently offering ridiculous lines on impeachment based on anti-Trump hysterics. For example, one well known UK book has a price that Trump will leave office due to impeachment or resignation by the end of his first term at +110. They offer no way for bettors to take the other side and there's nothing that says 'sucker bet' more than this type of one sided prop bet. At +110 you're looking at 'true odds' of just under 50%! I haven't figured what the 'true odds' should be on a Trump impeachment/resignation (assuming its possible to do accurately) but I *do* have him at -210 that he'll finish his first term and I think that price might be a little low. This isn't an endorsement of Trump–it's a function of reality. The 'founding fathers' intentionally made it very difficult to remove a President from office. Even if the Democratic controlled house were to bring Trump up on impeachment charges it would then take a 2/3 vote of a *Republican controlled Senate* where Vice President Mike Pence gets the deciding vote to remove him from office. Even if some of the Republican Senators were to have personal animus with Trump there's a good chance that he won the state from which they serve. Even if they *personally* wanted Trump out they'd have to weigh that against what would likely be huge collatoral damage with their constituents.
So keep that in mind when evaluating the following list of Donald Trump Presidential Proposition betting odds. Not everyone in the world thinks like you do and that's why you have to do some 'due diligence' before placing any bet. Otherwise, you're betting completely on emotion and that's the quickest way to lose your money. The perfect place to practice the objectivity needed to be a successful handicapper is by evaluating propositions where you have a strong emotional opinion. Once you can compartmentalize your emotions and your analysis you're on the right track. We'll be giving you plenty of fodder for this important exercise in the form of updated Donald Trump odds every couple of weeks or as situations warrant.
DONALD TRUMP PRESIDENTIAL PROPOSITION BETTING ODDS
Will China be labeled a 'currency manipulator' by 7/15/17?
Yes: +300
No: -450
Will the Trump travel ban be reinstated by the Supreme Court before 11:59 PM 5/31/17?
Yes: +300
No: -500
Donald Trump Tweets from 8 AM Eastern 2/15/17 to 7:59 AM Eastern 2/22/17?
Over 47.5: -150
Under 47.5: +130
Will the US move their embassy in Israel from Tel Aviv to Jerusalem by 11:59 PM Eastern on 12/31/17?
Yes: +130
No: -150
Will the US withdraw from the Paris Climate Agreement by 11:59 PM Eastern on 12/31/17?
Yes: +110
No: -130
President Trump's average overall approval rating at RealClearPolitics on 2/28/17 at 11:59 PM Eastern?
Over 45.5%: -120
Under 45.5%: +100
President Trump's average economic issues approval rating at RealClearPolitics on 2/28/17 at 11:59 PM Eastern?
Over 45.5%: -150
Under 45.5%: +130
President Trump's average foreign policy approval rating at RealClearPolitics on 2/28/17 at 11:59 PM Eastern?
Over 40.5%: -120
Under 40.5%: +100
Congressional average job approval rating at RealClearPolitics on 2/28/17 at 11:59 PM Eastern?
Over 18.5%: +110
Under 18.5%: -130
'Direction of Country-right direction' rating at RealClearPolitics on 2/28/17 at 11:59 PM Eastern?
Over 33.5%: +100
Under 33.5%: -120
Will Shaun Spicer be White House Press Secretary on 12/31/17 at 11:59 PM Eastern?
Yes: +120
No: -140
Which of these Donald Trump appointees will be the next to leave their job (fired or resigned)?
Jeff Sessions: +450
Sean Spicer: +450
Rex Tillerson: +750
Betsy DeVoss: +750
Kellyanne Conway: +750
James Mattis: +1000
Rick Perry: +1250
Steve Bannon: +1250
Ben Carson: +1250
Elaine Chao: +1250
Ryan Zinke: +1250
Sonny Purdue: +1250
Steven Mnuchin: +1500
Wilbur Ross: +1650
Tom Price: +1750
John F. Kelly: +1750
Mike Pence: +4500
Will Neil Gorsuch be confirmed to the Supreme Court?
Yes: -450
No: +300
Will the next Supreme Court vacancy occur before 12/31/17 at 11:59 PM Eastern?
Yes: -130
No: +110
Who will be the next Supreme Court Justice to leave the court?
Ruth Bader Ginsburg: +150
Anthony Kennedy: +150
Clarence Thomas: +250
Stephen Breyer: +1500
Elena Kagan: +3000
Sonia Sotamayor: +3000
Samuel Alito: +3000
John Roberts: +3000
President Trump's first international visit?
Slovenia: +190
Canada: +300
England: +500
Mexico: +750
Russia: +750
Italy: +1000
Ireland: +1000
Philippines: +1200
China: +1250
Israel: +1500
India: +2100
France: +2400
Scotland: +2500
Germany: +3000
Brazil: +3500
Iraq: +7500
Venezuela: +7500
Cuba: +10000
North Korea: +25000
President Trump to visit Russia before 12/31/17 at 11:59 PM Eastern?
Yes: +130
No: -150
President Trump to visit the United Kingdom before 12/31/17 at 11:59 PM Eastern?
Yes: -300
No: +250
President Trump to visit Taiwan before 12/31/17 at 11:59 PM Eastern?
Yes: +900
No: -1200
Will President Trump be in office on 12/31/17 at 11:59 PM Eastern?
Yes: -350
No: +300
Will President Trump be in office on 12/31/18 at 11:59 PM Eastern?
Yes: -300
No: +260
Will President Trump serve his entire term?
Yes: -210
No: +170
Will President Trump be the Republican nominee in 2020?
Yes: -150
No: +130
Will President Trump throw a ceremonial first pitch on opening day of the Major League Baseball season (April 2 or 3)?
Yes: -250
No: +210
Next retailer to stop selling Ivanka Trump's clothing line regardless of the reason?
TJ Maxx: +350
Walmart: +500
Amazon: +750
Zappos: +750
Macy's: +1200
Dillards: +1500
Sears: +1500
Bloomingdale's: +1500