Dodgers Look to Snap 11-Game Losing Streak in San Francisco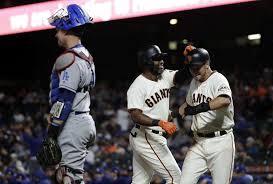 Who: Los Angeles Dodgers v. San Francisco Giants
When: Tuesday September 12th, 2017 10:15PM EST
Where: AT&T Park—San Francisco, California
As difficult as it might be to believe, when the Dodgers and Giants meet on Tuesday night the San Francisco Giants will be the team that is in better form. Though the Giants have no chance of making the post-season, they have been playing some of their best baseball in recent weeks. Of course, by conventional standards the Giants are playing fairly sub-par ball, but compared to their visiting opponents they look like a playoff-worthy side. When you consider that the Giants got this series off to a bright start by winning the opener by a scoreline of 8-6, things are looking up for the team from the Bay Area, at least for the time being.
The Dodgers' recent story is not one their fans will like to dwell on all that much. Entering Tuesday night's matchup, the Dodgers have lost 11 consecutive games and are playing perhaps their worst baseball of the season. While only 2 weeks ago it looked as though the Dodgers would easily surpass the 100-win mark, now there are doubts with regard to how they will finish the season. While their problems are, without a doubt, multi-faceted, the fact of the matter is that they cannot get runs across the plate. Then, on the few nights where they do score runs, their bullpen gives up even more than they score. Something has to give sometime soon, but for now the Dodgers are looking like the worst team in baseball, which is difficult to believe when we are talking about a team that is 40 games above .500.
This game will be one of mental toughness. The Giants are fully aware that the Dodgers are in a slump, and will look to capitalize on that in any way that they can. The Dodgers will be looking, once again, to shake off their poor form and bounce back. If there was ever a team to bounce back against, you would have to think it would be the Giants.
Game Overview and Analysis
The Dodgers (-250) will once again enter this game as the favorite, and this is so because they will be sending their ace Clayton Kershaw (16-3 2.15 ERA) to the mound. Kershaw is arguably the best pitcher in the Majors and nothing proves that better than his 10-game log. In his last 10 starts, Kershaw has gone 8-1. In fact, in his sole no-decision he managed to pitch 2 innings of scoreless ball before being pulled, so he has impressed in 9 of his last 10 outings. For Kershaw, his number one goal, as it always is, will be to keep runs off the board. I think he is more than capable of doing that, but the real question is whether or not his offense can step up to the plate (pun intended).
Speaking of the Dodger offense, it really cannot get much worse than it has been over the past 11 games. In 6 of the 11, the Dodgers were held to 2 or fewer runs. No matter whether you are the best team in baseball or sitting in the basement, you are never going to win consistently if you cannot consistently put up 4 or more runs.
For the Giants (+210), they will be sending Johnny Cueto (7-7 4.43 ERA) to the mound. As far as Giants' pitchers are concerned, there are few better than Cueto, which is kind of sad considering he has a .500 record and an ERA that is inching closer and closer to 5. Normally, I would say that Cueto has absolutely no chance of defeating the Dodgers, but I would have probably also said that about the previous 11 pitchers the Dodgers have faced. Given what we have seen across the last 2 weeks, if Cueto comes out and pitches a solid game, there is a strong likelihood that he gives his team a chance to win.
The Giants offense, if it can hit Kershaw, will give itself a good chance to score runs and earn a victory. Of course, this is a big "if" considering the fact that the Giants have not been known to score a wealth of runs over the course of this season.
Betting Prediction
Though I may regret this, I think the best moneyline is the Dodgers (-250). Being that there is not a lot of value in that bet I would not be opposed to a moneyline bet on the Giants (+210), but the fact of the matter is that few teams have had much of any success against Kershaw.
As far as the over/under is concerned, it is listed by Bovada at 6.5 runs (-115/-105). I think you have to go with the over (-115) in this one simply because I think one of these two teams, if not both, will score runs. On top of that, 6.5 total runs is one of the lowest over/unders you will ever see in a baseball game.