'Dancing with the Stars' Season 25 Episode 7 Betting Odds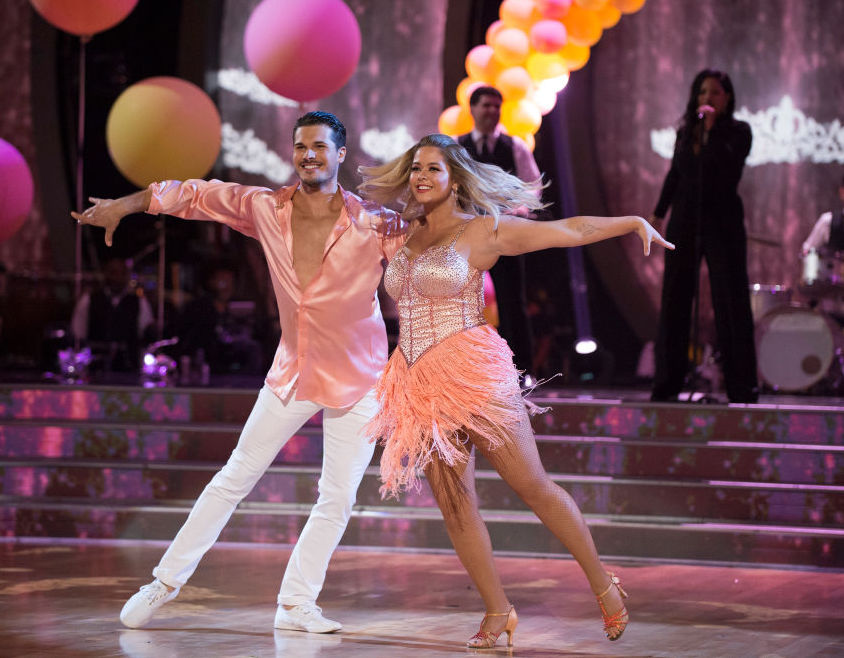 –This is the 25th season for ABC's reality show.
–NFL running back Rashad Jennings was the Season 24 winner.
–'Dancing With The Stars' Episode 7 will air on October 23, 2017.
One of the toughest things about setting odds on 'Dancing with the Stars' is the often inexplicable eliminations. In theory, the rules are easy enough–the judges score the dances and the outcome is determined by a combination of these and audience voting. It's the audience voting that I have a bit of an issue with. The 'serious DWTS media' doesn't have an issue with the judging format but I've always had a suspicion that it was a 'work'. The audience vote results are manipulated to get the result that the producers want or even fabricated all together. Obviously, I shed no tears for the celebrity contestants since they're in on it as well.
This allows the producers to get the results they want and simultaneously gives the contestants the opportunity to 'bow out gracefully' when they decide they're sick of it or a scheduling conflict comes up. The real reason that Debbie Gibson was eliminated second was likely her health–she had been struggling to recover from Lyme Disease for several years and maybe she got into the dance training and figured out that it was too much of a drain on her. Instead of throwing in the towel for that reason, however, the 'controversial elimination' lets her leave with a bit of dignity. My guess is that's why Sasha Pieterse went home in Episode 6. When she started the show she explained that she 'wanted to lose weight for her wedding'. She's dropped 37 pounds since rehearsals began and it could be that she now fits nicely in her wedding dress. She got what she needed out of the show and decided to call it a season. She's been making the rounds in the media saying that she's 'so bummed' by the elimination but doesn't exactly sound gutted.

THE MATH DOESN'T ADD UP (PART 1)
If the audience voting was anything other than a 'work' the producers would have a very tough time convincing celebrities to do the show. More precisely, they would have a tough time getting contestants if they were going into it thinking it was on the 'up and up'. Were I a celebrity operating on the assumption that the competition was legit the big issue would be the audience voting for one simple reason–disparity in contestant fan base size. There's no way to make this an 'even playing field' unless celebrities were chosen from a pool that had similar 'Q scores'. For example, a classical pianist and a NFL football player might both be a star in their chosen vocation but the athlete will have the larger fan base. You can take it a bit further–I'd be willing to wager that if you did the research that the football player's fans would be more likely to vote on a reality show than the classical musician's fans. This year has several examples like this–its hard to think that Barbara Cororan has as many fans anxious to vote for her than does WWE superstar Nikki Bella. In a perfect world, the audience would watch the show to evaluate which dancer had the best performance and vote accordingly. I'm not breaking a huge story when I suggest it doesn't work that way.
Were the voting not a partial or complete 'work' the show producers wouldn't have any control over the outcome. It still wouldn't matter, however, since the season winner would be the most popular celebrity year after year. There would be no reason to go through the motions of rehearsing and performing. Another possible scenario–in some weeks the voting is more or less legit but in some weeks it's a complete fabrication. For example, maybe a contestant like the aforementioned Sasha Pieterse wants a little publicity and exposure but she can't commit to the full season. The producers could work with her schedule and make sure she's 'eliminated' in Week 5 or whenever its necessary to make it work with her plans. Everyone gets something they want–the producers get a bankable contestant, the celebrity gets exposure (and in this case a good opportunity to drop some lbs before a wedding). And think about how self centered and egotistical many celebrities can be–it strikes me as strange that you never hear any put up a serious complaint about an early elimination from the show.
THE MATH DOESN'T ADD UP (PART 2)
The 'DWTS' contestant ranking and eliminations have little correlation with the judge's scores. Sure, the storyline is that it's a combination of the scores and votes but there aren't just a few minor disparities between scores and eliminations–it often makes no sense at all. For example, Sasha Pieterse got a 24 in Episode Six tying her for second lowest score. Nick Lachey had the lowest score with a dismal 22 and he wasn't even the 'last to be called safe' but we'll get to that in a moment. Pieterse had the 7th ranked average score among the 10 remaining contestants so her 'body of work' wasn't what did her in either. In fact, it is 1.5 points higher than Nick Lachey's average of 20.2.
In Episode 6, the last to be called safe was Frankie Muniz. He's got the 3rd highest average score at 23.5. So maybe he laid an egg in Episode 6? Not even–Muniz had the second highest score of the night at 29. He missed tying Jordan Fisher for 'high score' by 1 point and had a score that was 1 point higher than Lindsey Stirling who might end up winning the whole thing. I get that the 'Malcolm in the Middle' fanbase isn't what it once was but this still makes no sense whatsoever.
So does any of this matter? Probably not. No one involved appears to have a problem with the way the show is run including the contestants and media. It's an entertainment show and the audience is presumably entertained since 'DWTS' ratings remain solid. It just makes it exceedingly difficult to handicap and price when the week to week outcomes are so arbitrary and have little to no correlation with the judge's scores.
Here are the betting odds for Season 25 of 'Dancing with the Stars' along with some odds on Episode 7:
TO WIN DANCING WITH THE STARS SEASON 25
Lindsey Stirling: +200
Jordan Fisher: +250
Victoria Arlen: +400
Frankie Muniz: +700
Drew Scott: +900
Terrell Owens: +900
Vanessa Lachey: +2100
Nikki Bella: +2100
Nick Lachey: +5000
TO WIN DANCING WITH THE STARS SEASON 25
Victoria Arlen/Jordan Fisher/Lindsey Sterling: -350
Any other contestant: +300
DANCING WITH THE STARS SEASON 25 EPISODE 7 BETTING ODDS
WHO WILL BE ELIMINATED IN EPISODE 7?
Nick Lachey: +150
Drew Scott: +350
Terrell Owens: +500
Vanessa Lachey: +500
Nikki Bella: +750
Frankie Muniz: +900
Victoria Arlen: +2500
Lindsey Stirling: +5000
Jordan Fisher: +5000
No One Eliminated in Episode 7: +7500
WHO WILL BE ELIMINATED IN EPISODE 7?
Drew Scott/Terrell Owens/Nick Lachey: -210
Any other contestant: +180
JUDGES' HIGHEST SCORE IN EPISODE 7
Jordan Fisher: +150
Lindsey Stirling: +200
Victoria Arlen: +450
Frankie Muniz: +750
Drew Scott: +1250
Terrell Owens: +1250
Nikki Bella: +2500
Vanessa Lachey: +2500
Nick Lachey: +5000
JUDGES' HIGHEST SCORE IN EPISODE 7
Jordan Fisher/Victoria Arlen/Lindsey Stirling: -250
Any other contestant: +180
JUDGES' LOWEST SCORE IN EPISODE 7
Nick Lachey: +100
Vanessa Lachey: +150
Drew Scott: +750
Terrell Owens: +750
Nikki Bella: +2500
Frankie Muniz: +2500
Victoria Arlen: +7500
Lindsey Stirling: +7500
Jordan Fisher: +7500
JUDGES' LOWEST SCORE IN EPISODE 7
Drew Scott/Nick Lachey/Vanessa Lachey: -350
Any other contestant: +300
OVERALL SCORING PROPOSITION ODDS
NUMBER OF '10' SCORES TO BE AWARDED IN EPISODE 7
0: +750
1-3: +500
4-7: -300
8+: +350
NUMBER OF '9' SCORES TO BE AWARDED IN EPISODE 7
0: +2500
1-3: +750
4-7: +210
8+: -350
NUMBER OF '30' COMBINED SCORES TO BE AWARDED IN EPISODE 7
Over 1.5: -130
Under 1.5: +110
OVERALL AVERAGE SCORE FOR EPISODE 7 WILL BE?
Over 26.5: -150
Under 26.5: +130
THE LOWEST SCORE OF EPISODE 7 WILL BE
Over 22.5: -130
Under 22.5: +110
THE HIGHEST SCORE OF EPISODE 7 WILL BE
Over 29.5: -130
Under 29.5: +110
TV RATINGS PROPOSITION ODDS
EPISODE 7 KEY DEMO (18-49) RATINGS
Over 1.35: -150
Under 1.35: +130
EPISODE 7 KEY DEMO (18-49) SHARE
5: -250
Not 5: +210
EPISODE 7 TOTAL VIEWERS
Over 9.25 million: -130
Under 9.25 million: +110
EPISODE 7 NIELSEN RANKING (10/23/17 through 10/29/17)
Over 10.5: -125
Under 10.5: +105