Cubs Favored in AL Central Showdown in Pittsburgh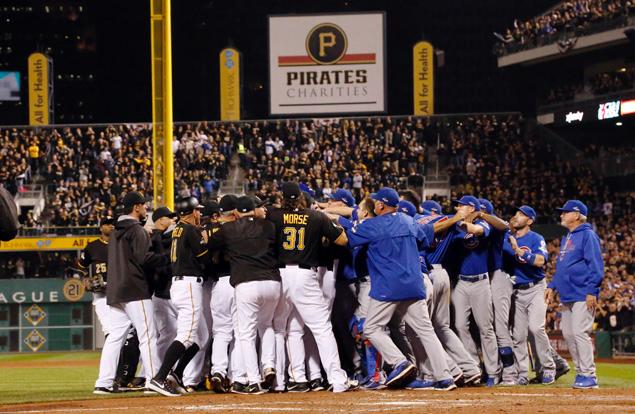 To say that the Pittsburgh Pirates and the Chicago Cubs have gotten the 2017 season off to less than stellar starts would be a gross understatement. After hearing that, you might be surprised to find out that both teams are still very much alive in the AL Central playoff race. As you could have probably deduced from these last two sentences, the AL Central is perhaps the weakest in MLB. Still, when the two meet in Pittsburgh for the first game of the series, they will each be hoping to climb up the divisional ladder.
Pittsburgh will be entering Friday's series opener with some confidence after taking 2 of 3 from Colorado. The Rockies have the 4th best offense in MLB, and the Pirates were able to hold that potent offense (4th best in MLB) to just 9 runs in 3 games. On the other end of the spectrum is the defending World Series Champions, the Chicago Cubs. The Cubbies could not have gotten this season off to a worse start, and currently find themselves sitting 2.5 games back in the AL Central after a May-June run that has helped to undo April's woeful start.
Despite both of these teams sporting a record that is below .500, they are both very much in playoff contention. This game marks the first of 10 AL Central matchups in a row for the Pirates, so it is imperative that they get off to a flying start.
Chicago's Road Woes Called Into Question
A major part of the reason behind the Cubs' less than stellar start to the 2017 season has been the fact that they are downright bad on the road. In fact, the Cubs have not won consecutive road games since the latter part of April, where they won 2 in a row at PNC Park (the Pirates' home stadium). They will be coming off of a series in New York where they dropped 2 of 3 to the Mets, who are quite terrible in their own right.
Looking to right the ship on Friday night, the Cubs, who are 1.5 run (+130) favorites will send Eddie Butler (3-2 4.03 ERA) to the mound. Over the course of his last 4 starts, Butler has managed to last at least 5 innings on each of those 4 occasions. While his work cannot be described as spectacular, he has been solid for a starting rotation that has been anything but. Facing off against one of MLB's weaker hitting teams, Butler may be poised to add to his winning record.
Opposite Butler will be Trevor Williams (3-3 5.13 ERA), who began the season in the bullpen but has since been promoted to the starting rotation. Williams has only gotten one decision (a win) from his last 4 starts, however all of those starts resulted in wins for the Pirates, if that means anything at all. Trevor, like most relief pitchers who are thrust into the starting rotation, has been vying for some consistency, and many are hoping that he will find it Friday night at home.
Betting Predictions
A bold bet that we feel somewhat strong about is the Pirates moneyline, which is currently listed on Bovada at +102. While these two teams are evenly matched on paper, the Cubs have done poorly on the road so far this season and as recently as this week struggled in New York against a particularly weak Mets squad. Though this is far from a "sure thing," the Pirates moneyline seems to be the best choice.
The over/under in this one (9.5 runs at -115/-105) is a wager I would stay away from. Neither of these two teams have the power nor the consistency for us to say it is a likely over wager, but in the same breath, both teams can light up the scoreboard on any given night, seeing as both have recently racked up a few high-scoring wins.
An interesting proposition wager offered by MyBookie lists whether Anthony Rizzo of the Cubs (-130) or David Freese of the Pirates (+100) will record more bases. This is one where we feel comfortable recommending that you take Anthony Rizzo. The Cubs' star is currently riding a 9-game hitting streak and seems the more likely candidate to get on base and get on base often. Of course, propositions like this are always difficult to gauge, but you have to bet on the hitter who has reached base 9 games in a row.
Finally, a bet that we can describe as safe but not very valuable is an alternate spread that sees the Pirates listed at +2.5 (-240). The -240 odds are not the best, but seeing as though we think the Pirates are going to emerge victorious from this one, it seems like a good bet to place. Another way of looking at this is that both these teams are fairly evenly matched, so it only follows that the game will more than likely be a close one.