Cleveland Looks to Battle Back in Game 3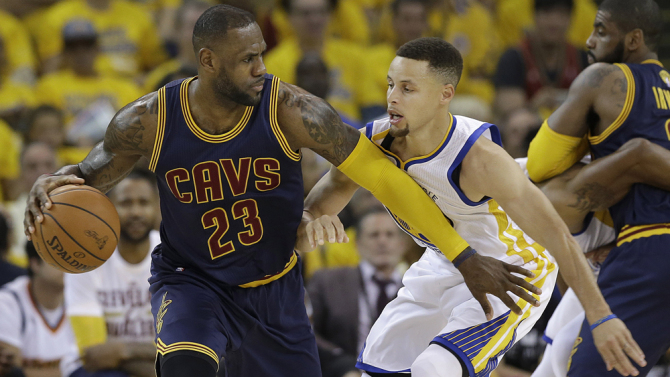 Through 2 games, this year's NBA Finals have left something to be desired. Having won Game 1 by 22 points and Game 2 by 19, it is clear to see that Golden State has been the dominant force thus far. From the looks of it, the Warriors cannot miss a 3 point shot and are playing lights out on the defensive side of the ball as well. This is not the first time the Cavaliers have been in this position, however, as last year saw them turn a 3-1 series deficit into an improbable Finals victory.
This time around, the Warriors have been dominating every facet of the game and are really using the new addition that is Kevin Durant to their advantage.
The Series So Far
At this point, this series has been all about the Golden State Warriors. They have won the first two games by a combined score of more than 40 and the Cavaliers have had no response to their lights-out shooting.
Something you will notice about the first 2 games of the series is that Cleveland has consistently hung tough through the first 2 quarters. In Game 1, the Cavs were down just 8 points at the half, while Game 2 their halftime deficit was 9. Unfortunately, lopsided 3rd and 4th quarters in both games were enough to seal double-digit losses for the Cavs.
Through the first two games, a lot of people want to point out what the Cavaliers have been doing wrong, but so many of them are not talking about what Golden State is doing correctly. One telling stat has everything do with their 3-point shooting. Not only is Golden State shooting at a higher percentage than their Cleveland counterparts, they have made more 3-point shots overall. While this should come as no surprise, it proves that you simply can't trade 2-pointers for 3-pointers and expect to win; and that is exactly what Cleveland is doing. Cleveland has a strong shooting percentage through 2 games, but they cannot keep up with Golden State's overall scoring.
Looking Ahead to Game 3
As we look ahead to what is looking like a pivotal Game 3, it is clear that Cleveland needs to play better defense and will need to prevent Golden State from having a hot night beyond the arc. Of course, therein lies exactly the problem that Cleveland has been dealing with. Even if you shut down players like Klay Thompson and Steph Curry, weapons like Draymond Green and Kevin Durant can still hurt you, both from beyond the arc and from around the basket. What's more, Draymond Green is an insanely good defender, making the Cavs job that much more difficult.
With 29 turnovers through the first 2 games of the series, you would also think that Cleveland would be wise to cut down on this figure. While it may not be the deciding factor, this series is going to come down to which teams can do the little things effectively from here on out. Cleveland might be able to withstand a barrage of Golden State 3s, but if they have more than 10 turnovers and cannot hit 3s themselves, they are as good as done.
Something giving Cleveland a bit of a boost is the fact that they are playing in front of their home crowd. This home court advantage is definitely going to provide a boost of sorts, but it's their play on the court that is going to make the difference. Through 2 games, Kevin Love, Kyrie Irving, and Lebron James have accounted for about 75% of their team points. If they do not receive support from the likes of JR Smith, Deron Williams, and Tristan Thompson, it is going to be an extremely long night, and extremely short series overall.
Our Pick
As far as who we are going to choose as the outright winner of Game 3, I think there is little option besides the Golden State Warriors. Sure, they are playing away from home, but the fact of the matter is that they have been dominant through 2 games. Game 3 is a great time to get value on the Warriors, as Bovada lists them on the moneyline at -165.
As far as other straight bets are concerned, the over is currently listed at 227 (-105), and that seems like a fairly safe bet as well.
Though it does not offer the best value, picking Lebron James to record a double-double is also a solid bet you can make through Bovada. That is currently listed at -350, however James has recorded a double-double through the first two games, quite easily too. In fact, in both games he could have recorded a double-double without ever scoring a point. Through assists and rebounds alone, James has clearly been the engine room for the struggling Cavaliers. Lebron to record a triple-double is currently listed at +150, and we like that pick as well. Though there is no saying how the Cavs are going to perform, we can almost guarantee that Lebron will have a decent night.