Boston Favored Again in Series with Phillies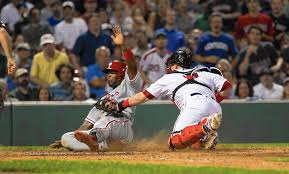 The Philadelphia Phillies will enter the 3rd and final game of their series away to the Boston Red Sox with a sour taste in their mouths. Though they have lost both of the first two games of the series, these losses were each by one run, and thanks to walk-off hits. The Phillies will be looking for revenge come Wednesday night, though it does not seem entirely too likely when you compare the two teams on paper.
The Phillies entered this series the worst team in MLB, while the Red Sox are just 3 games behind the red-hot Yankees for the lead of the tough, strong AL East. On paper, the Red Sox should easily complete the sweep. But with that being said, they also should not have had to rely on two consecutive walk-offs to take a 2-0 series lead, so it is safe to say that anything can happen.
Jeremy Hellickson to Increase Trade Value
On Tuesday, the heavily favored Red Sox (-300) had to squeeze out yet another win against a particularly weak opponent. On Wednesday, a much stronger pitcher than Ben Lively, who started last night, will be on the mound for the Phillies (+110). Jeremy Hellickson, who is 5-4 in 13 starts and sporting a 4.50 ERA will take the mound to deliver what he hopes to be a strong performance. After all, sources close to the Phillies are saying that Hellickson, if his decent form improves, will be dealt to a playoff contender before the trade deadline. In order for him to be a more valuable addition to a prospective playoff team, he is going to need to eek out big performances against teams like the Red Sox (-130).
Red Sox Chasing Streaking Yankees
Entering the game Wednesday night as -1.5 run (+120) favorites against the Phillies, the Red Sox will look to gain even more ground on the AL East leading Yankees. After the Bronx Bombers dropped an extra innings game to the Angels on Tuesday night, Boston managed to pull within 3 of the division leaders, and will hope to pull even closer tonight.
Brian Johnson, a left-hander, will be taking the mound for the BoSox on Wednesday, and though he hasn't played all that much this season, his few performances have been mostly solid outings. In 3 games started, Johnson has accrued a 2-0 record and a 4.37 ERA. What this tells us is that while Johnson, a 2-year veteran, can deal from the mound, he runs the risk of missing his marks. In his 1st and 3rd starts, respectively, Johnson gave up 3 and 4 earned runs in 4 and 5 innings. So, while he has been solid, it is clear to see that there is room for improvement. Luckily for Johnson, the Phillies are the worst team in baseball and haven't exactly been a massive hitting threat.
Analysis and Predictions
On paper, this Red Sox (-130) Phillies (+110) matchup seems to be one of inconsistent pitchers. While that is so, in order to aptly analyze this game you really need to take the pitchers out of it and focus on the offensive side of the game. Boston is the 13th best hitting team in the Majors, while the Phillies are only a few places away from being the worst.
As for what our betting predictions are, we do like Boston's moneyline odds on Bovada, which sit at -130. This is much closer to even money than what you would have gotten on Tuesday, and we feel as though the Red Sox are going to have a generally easier time taking care of the Phillies. So long as they can even come close to the 14 hit tally they recorded on Tuesday, everything else will take care of itself.
In the same breath, a spread bet on Boston (-1.5(+120)) also seems like a smart choice. The BoSox may be riding back to back 1 run victories over the Phillies, however we feel as though they are a much stronger team than their recent performances suggest. What's more, the +120 odds present you with a lot of potential value.
Another bet that might take care of itself is with regard to the total runs scored by the Phillies. On Bovada, the Phillies team over/under is 4.5 (-110/-115). In light of the fact that the Phillies have not been performing well on offense, and the fact that they are facing a young pitcher who has performed decently thus far this season, I would not expect the Phillies to put too many runners past the plate. The Phillies barely scored 5 in the first game of the series, and only put 3 past the plate last night against an admittedly inconsistent David Price. As such, I think there is a strong likelihood that the Phillies will score 4 or fewer runs. All of this has to be taken with a grain of salt, because as inconsistent as Brian Johnson has been, he very well may give the Phillies ample opportunities to score.