Boston Favored to Take Another and Take Series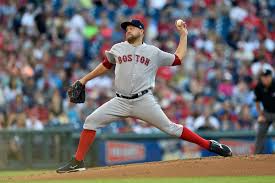 Boston (-130) had no problems taking care of the Phillies (+110) on Wednesday night, and easily brushed them aside by a final score of 7-3. Even though Tuesday's game saw most of the Red Sox team stay up until closer to sunrise, the Sox came out firing and were up 5-0 by the time the game entered the bottom of the 2nd frame. Things did not really change much from there, as the Sox ended up hammering the Phils' starting pitcher, Jeremy Hellickson, for 6 runs over the span of just 5 innings.
Boston's bats continued to be on fire, and Mookie Betts contributed in a major way with 2 homeruns of his own. Perhaps the biggest story of the night was Boston's bullpen, which managed to pitch 7 innings of good baseball after starting pitcher Brian Johnson left the game in the 3rd inning with an arm injury. The Phillies may not be the best offensive team, but when you consider that the Boston bullpen had a huge question mark hanging over it at the beginning of the season, Wednesday night was an all-around positive performance. As far as what Thursday has in store, you can expect more of the same from this series.
Stellar Pitching vs. Not So Stellar Pitching
While, on Wednesday night, we really wanted to ignore the pitching and focus more on the bats, Thursday calls for the exact opposite. On the mound for the struggling Phillies (+210) is Nick Pivetta (1-3 5.52 ERA), while Chris Sale (8-2 2.97 ERA) will be making his 14th start of the season. What's more, Sale will be looking to extend his current 4-game win streak.
Without delving too far into their stats, it is clear to see that Pivetta is having a rough year, while Sale seems to be finding his groove. Pivetta seems to be in particular trouble against the hard-hitting Red Sox too, as he is prone to giving up sizeable tallies of runs in short periods of time. To put that into perspective, Pivetta has given up 3 or more runs in 4 of his 6 starts. In addition to that, the right-hander has yet to last more than 5 whole innings.
Chris Sale, on the other hand, has been giving up fewer runs and lasting deeper into games. As such, he has accrued an acceptable ERA and a stellar record. Against a team like the Philles, who really struggle offensively, Sale is favored to take care of business through 7 innings and then hand the rest off to his surprisingly consistent bullpen.
Analysis
It is our opinion that if Boston (-250) can keep the bats firing, they will have absolutely no problem taking care of the Phillies. Chris Sale, though prone to giving up hits, has kept his ERA low, and that was in outings against teams far tougher than the Phillies. If he can have even an average night, there is little doubt that the 1.5 run favorite (-150) Red Sox will emerge victorious.
On the other side of the spectrum, the Phillies will only have a shot if Pivetta manages to have a performance that he thus far has not had this season. He is prone to giving up a lot of runs early, and that plays right into the hands of the Red Sox.
Prediction
The Red Sox Will Hit Their Team Over
Right now, Bovada has Boston's team over/under listed at 4.5 runs (-140/+110). They have now done that on 2 of 3 occasions—with the third seeing them land on 4 runs exactly—and I think this is the weakest of the 4 starting pitchers the Phillies have thrown at the Sox. -140 offers you decent value for a bet that I truly think will easily come to fruition.
Boston Will Cover Their Point Spread
Boston is listed as 1.5 run favorites (-150) and this is another bet I think you would be wise to make. The Red Sox have only managed to cover this spread once in their 3 matchups with the Phillies so far, but as I mentioned before, I think Pivetta is one of the weakest pitchers from a particularly weak starting rotation. With that way the Boston bats have been hitting the ball lately, a 1.5 run spread seems easy to cover.
This Will Be a High-Scoring Affair
The 8.5 run over (-105) is a good bet to take for this game, but if you are feeling risky you can lay down an over 10.5 run wager at +215 odds on Bovada. While I am not so confident that this will hit, this series has seen the final scores in and around the 10-run mark more times than it has not. Once again, this wager is all hinging on Pivetta being the pitcher we have come to know this year. If he pulls a stellar performance out of nowhere, there is no saying whether or not the Phillies bats can keep up the pace to drive the total over 10.