Arian Foster Suffers Season Ending Achilles Tendon Injury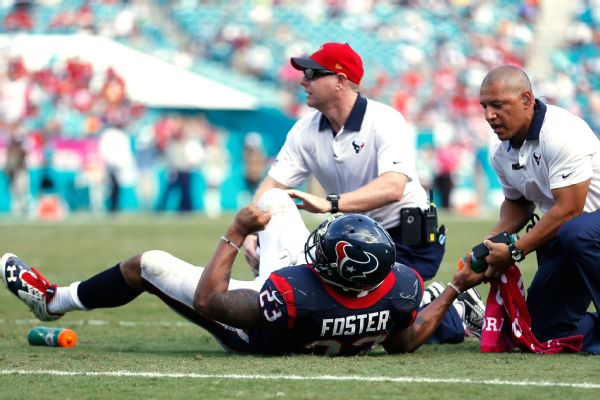 The Houston Texans can't catch a break. More than any team in the NFL they've been devastated by injuries over the past few years. Things aren't getting any better this year–on Sunday, franchise running back Arian Foster suffered a season ending injury.
Foster tore his Achilles tendon with just minutes left in the game and on a routine play. He didn't even have the ball or incur any contact on the play. In other words, he was a 'decoy' or as Foster himself put it: "Just a routine play. Trying to make a cut, gave out on me." Achilles injuries are very common among athletes and particularly those in football and basketball. All of the 'cutting' and lateral movement necessary for both sports takes a unique toll on the Achilles tendon. And since there's no way to strengthen the tendon sometimes it can't handle the pain and ruptures. There's no way to predict it and no real way to prevent it. It's an unforgiving injury and one that makes no distinction between a NFL superstar and an intramural basketball player.
So now Foster is looking at surgery followed by rest and then rehab. He's definitely out for the year though the good news is that treatment and rehab improvements have cut the recovery time in most cases. Of course the severity of Foster's injury still isn't clear. That'll be known after a MRI exam later today. At that point, surgery will be scheduled and the Texans can provide a timeframe on his recovery and return to action.
Houston doesn't really need any more problems at this point. They're 2-5 and the fans and media are getting restless. Head coach Bill O'Brien is in the second year of his tenure and while he's generally been absolved from the mess he inherited he's not really safe either. The local press in Houston is calling for 'heads to roll' in the front office, coaching staff and even among players. Most specifically mention that O'Brien should stay but it's not a good situation for anyone concerned. O'Brien should survive, but that's not the job security a NFL coach likes.