2018 Gashimov Memorial Chess Tournament Betting Odds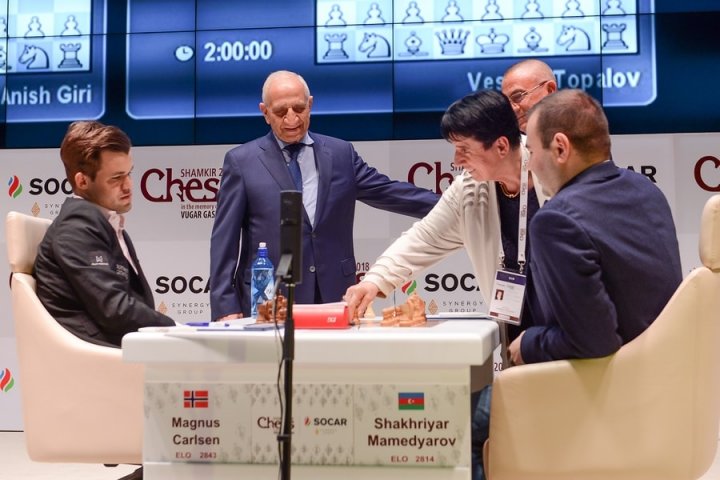 –Chess is a surprisingly popular game among bettors–particularly in Europe.
–The tournament is named in honor of Azerbaijani chess grandmaster Vugar Gashimov who passed away in 2014.
–Shakhriyar Mamedyarov is the defending champion. He also won the 2016 tournament.
The Gashimov Memorial Chess Tournament is being held in Shamkir City, Azerbaijan between April 18 and April 28. Three rounds are already in the books and in a bizarre turn of events every one of the 15 games played thus far has ended in a draw. That is helpful in one regard–it makes setting odds on the rest of the event fairly easy since it's as if we're starting from scratch with Round 4.
Shakhriyar Mamedyarov is not only playing on 'home ice' in Azerbaijan's eighth largest city he's the defending back to back champion with victories in 2016 and 2017. In the only two previous Gashimov Memorial Tournaments it was all Magnus Carlsen who prevailed in 2014 and 2015. Carlsen and Mamedyarov are the favorites here and I've deviated from typical chess oddsmaking and have made the defending champion a slight favorite to defend his crown. Carlsen is the #1 player in the world with a FIDE rating of 2843 though Mamedyarov is ranked second with a FIDE rating of 2814. In a hypothetical head to head matchup a player with a 2843 rating (eg: Carlsen) should defeat a player with a 2814 rating (eg: Mamedyarov) 54.2% of the time. In 7 head to head classical matchups Carlsen has 2 wins over Mamedyarov with five draws. The two faced one another in Round 1 of this tournament with both men showing little interest in challenging the other. The game ended in a draw after 41 moves.
This tournament is named after Azerbaijani grandmaster Vugar Hashimov. Hashimov, who reached a high of #6 in the world rankings, battled health problems all his life. He was diagnosed with epilepsy in 2000 and later found to have a brain tumor. He continued to play chess as he battled his health issues but would eventually succumb to them on January 11, 2014 at the age of 27.
Here are the odds to win the 2018 Gashimov Memorial Chess Tournament:
2018 GASHIMOV MEMORIAL CHESS TOURNAMENT BETTING ODDS
TO WIN 2018 GASHIMOV MEMORIAL CHESS TOURNAMENT (APRIL 18-28, 2018)
Shakhriyar Mamedyarov: +200
Magnus Carlsen: +300
Liren Ding: +600
Sergey Karjakin: +600
Anish Giri: +750
Radosław Wojtaszek: +1500
Teimour Radjabov: +1500
David Navara: +2000
Rauf Mamedov: +2000
Veselin Topalov: +2000