2018 Belmont Stakes Horse Racing Betting Analysis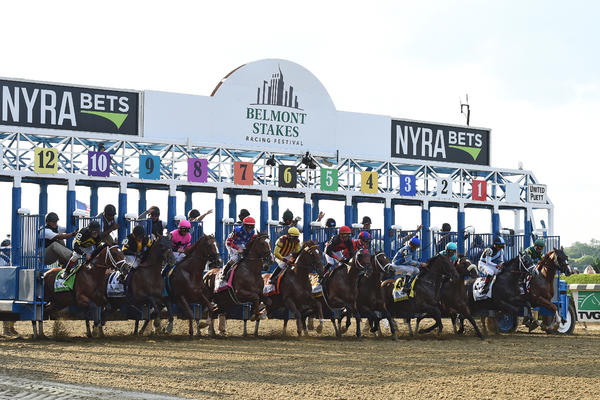 –This is the 150th running of the Belmont Stakes and the 107th run at Belmont Park.
–The race was originally run at the Jerome Park Racetrack in the Bronx
–Race favorite Justify will be trying to become the 13th Triple Crown winner in history
The final race of the Triple Crown is slated for Saturday at New York's Belmont Park. The Belmont Stakes is the 11th race on a huge card that includes 9 graded stakes races with 6 Grade 1 events. The Belmont Stakes is the 'main event' of all of these Grade 1 races every year but it's an even bigger deal this year as Justify looks to become the 13th Triple Crown winner in history and the second in four years on the heels of American Pharoah in 2015. Belmont Park is expecting a sellout crowd for the event despite a weather forecast that calls for up to an inch of rain. The race will be broadcast live on NBC with coverage starting at 4:00 PM Eastern and post time scheduled for 6:46 PM. Before that, NBCSN will provide live coverage from 2:00 PM until 4:00 PM.
Here's a full field rundown of the ten horses entered in the 2018 Belmont Stakes:
2018 BELMONT STAKES FULL FIELD RUNDOWN
JUSTIFY (Post Position 1—Morning Line Odds 4-5): I like Justify a lot. I don't like this price in this race and particularly since there's a good chance he'll take money and go off at an even more disadvantageous price. Since Justify is the focal point of this race I figured I should devote an entire post to the Belmont Stakes favorite. You can read all about Justify's Belmont Stakes prospects here:
WHY JUSTIFY WON'T WIN THE BELMONT STAKES
FREE DROP BILLY (Post Position 2—Morning Line Odds 30-1): No interest in this horse. Ran his career best race in February's Holy Bull Stakes and has been regressing ever since. Finished 3rd in the Blue Grass Stakes due to disqualification, looked awful in the Kentucky Derby getting off to a bad start and never recovering. We may have already seen the best of Free Drop Billy and that's not going to get it done against this class of opposition at a mile and a half. No complaints with his connections trainer Dale Romans and jockey Robby Albarado but they're not enough.
BRAVAZO (Post Position 3—Morning Line Odds 8-1): The only horse other than Justify to compete in both previous Triple Crown races. A capable 6th (91 Beyer) in the Derby and gave Justify everything he could handle at the Preakness before finishing second (96 Beyer). Trained by D. Wayne Lukas, Jockey Luis Saez who will be making his second start aboard Bravazo after taking over the mount for the Preakness. Shouldn't have problems with the distance and you've got to love his tenacity. Hard to understand his 8-1 morning line price but he'll likely go off at a much shorter price.
HOFBERG (Post Position 4—Morning Line Odds 9-2): Plenty of 'wise guys' all over Hofberg—that's evident in his price of 9-2 after going off at 27-1 in the Kentucky Derby. Ran a better race at Churchill Downs than his 7th place finish suggests—he ran into some traffic problems on the far turn and was never able to become a threat. That'll happen in a 20 horse field. It won't happen in a 10 horse field. Sired by Tapit who has become the strongest breeding stallion in the game over the past decade. Skipped the Preakness which was a smart move by trainer Bill Mott. Great jockey in Irad Ortiz, Jr. who has been aboard for all of Hofberg's career starts. My personal take—he might have been undervalued in Kentucky but this price might be an 'overcompensation'. If he attracts the betting I anticipate he will he'll go off at a much shorter price (3-1?). I won't be surprised if he wins but unlike many 'sharps' and wanna-be 'sharps' I'm just not sold.
RESTORING HOPE (Post Position 5—Morning Line Odds 30-1): His name notwithstanding, he's not a horse I have much 'hope' in. Looked horrible in the Pat Day Mile (G3) at Churchill Downs in mid May though that can be chalked up to the nasty track conditions, managed to hit the board with a third place finish in the Wood Memorial. Not sure he's ready for a monumental step up in class, let alone the jump in distance. Bob Baffert trained, Florent Geroux aboard.
GRONKOWSKI (Post Position 6—Morning Line Odds 12-1): Do you think that a massive crowd of recreational bettors will bet a horse based on his name alone? I do. So does NYRA oddsmaker David Aragona who installed Gronkowski as a 12-1 choice. He's going to make New England Patriots' fans pay for their 'souvenir tickets'. 'True odds' on the 'Equine Gronk' should be 50-1 or higher. So where do we start? Hasn't raced since a win in the Burradon Stakes at England's Newcastle Racecourse in late March. Before that, won the Conditions Stakes at Kempton Park. Scratched from the Kentucky Derby after spiking a fever. This will be a massive step up in class, a massive step up in distance (has never gone more than a mile), his first race with jockey Jose Ortiz, his first race on dirt (his meaningful victories were on all weather Tapeta tracks) and his first race outside of Europe. Chad Brown is a decent trainer and word is that he's looked decent in his workouts since arriving in New York. An 'in the money' finish would be a monumental upset.
TENFOLD (Post Position 7—Morning Line Odds 12-1): Tenfold put in a strong effort in the Preakness Stakes, finishing third and posting a solid 97 Beyer in the process. Steve Asmussen trains, Ricardo Santana Jr the jockey. Has improved every time out and the fact that his morning line price was the same as Gronkowski's is mind boggling. Definitely worth a look.
VINO ROSSO (Post Position 8—Morning Line Odds 8-1): Trainer Todd Pletcher has made a career out of skipping the Preakness to set his horses up for a strong run in the Belmont. Not sure that Vino Rosso can get it done. John Velazquez is as good of a jockey as you'll find anywhere but he couldn't keep Vino Rosso from going wide in the Derby. A bigger issue—the horse looked completely gassed in the stretch run at a mile and a quarter which doesn't bode well here. Looks overvalued at the opening price—if I want to get involved with a horse in this range I'd much rather have Bravazo on my ticket.
NOBLE INDY (Post Position 9—Morning Line Odds 30-1): Another Todd Pletcher trained horse. Look completely inept in the slop at Churchill Downs finishing 17th in the Kentucky Derby. Florent Giroux was aboard in the Derby and he's such an excellent jockey—if Noble Indy does anything here it'll be due to Giroux taking such good care of him at Churchill Downs and deciding the right move was to preserve the horse to fight another day. Javier Castellano is aboard here and he's also a hell of a jockey. The bad news—just don't see anything in the horse suggesting he can win. Based on his Derby 'performance' I have no interest in him on an off track and there's a 70% of rain forecast for Saturday.
BLENDED CITIZEN (Post Position 10—Morning Line Odds 15-1): Blended Citizen is a very interesting horse. He's trained by Doug O'Neill who has a reputation for not entering horses in races they can't win but he's very bullish on Blended Citizen coming off a victory in the May 12 Peter Pan Stakes (G3). Hard to believe but this is actually O'Neill's first Belmont Stakes entry. He came to New York in 2012 with a horse named I'll Have Another who was expected to have a good shot at winning the Triple Crown after victories in the Kentucky Derby and Preakness. I'll Have Another was opened as a 4-5 morning line favorite after drawing post position 11 but was retired two days before the race due to a tendon injury.
Nice to see jockey Kyle Frey get a break—Frey was considered a future superstar early in his career and won the Eclipse Award as the leading apprentice rider in 2011. Unfortunately, he's had to deal with an abundance of injuries and lengthy rehab periods. He broke a femur in a race at Parx in 2012 that required metal rods to fuse the bone back together. The aforementioned metal rods caused a life threatening infection, however, and eventually an abscess under his right thigh that required surgery in July 2017. At the time of his return to racing in late 2017 at Santa Anita his agent Mark North noted that "he has never been as good as he is now because he was basically riding on one leg, so with two he should be better." Sadly, North—whom Frey considered among his most important mentors—died earlier this year after being diagnosed with lung disease. Frey has been aboard Blended Citizen for all of his 2018 starts and big props to O'Neill for giving him the Belmont mount when he easily could have gone to a 'bigger name' jockey. As it turns out, Frey will get his first Grade 1 start after 4,100 career races.
So what do I like about Blended Citizen here? He's the only horse with a start at Belmont under his belt and some railbirds have suggested that his racing style is 'made to order' for the track's wide turns. It sure looked like it in the Peter Pan when he went six wide at one point en route to the victory. The potential for rain could make for an 'off track' and 'BC' has won on both turf and polytrack as well as dirt. That's often suggestive of a horse that will be able to handle a wet or sloppy track. Most significantly, he's something of an 'under the radar' horse and might actually be underbet here. He could go off at an even higher price than the 15-1 he's getting on the morning line. I've mentioned a couple of horses as being 'wise guy darlings'. You won't hear Blended Citizen described as such but I know at least a half dozen legit 'wise guys' that have won a ridiculous amount of money at the track who think he offers the best combination of ability, strong connections and betting value on the Belmont Stakes board. I'll definitely be along for the ride betting Blended Citizen across the board and using him in exotics.