10 Reasons why Jimmer Fredette Deserves Another Chance
As we near the 2017 NBA Playoffs, competitive teams are looking for ways to improve through available free agents.
And the most-interesting name to arise from the free-agent scrap heap is Jimmer Fredette.
After being drafted 10th overall in the 2011 NBA Draft, Fredette has failed to develop a meaningful pro career. But after an outstanding year in China, news reports have surfaced that NBA teams are at least considering him.
Some writers have been quick to dismiss the idea of Fredette getting another NBA shot, including CBS' Matt Moore.
But we feel that he deserves at least one more real chance, even if he's 28 and has yet to produce any true NBA success yet.
1. Jimmer Dominated China and Won the MVP
Playing for the Yao Ming-owned Shanghai Sharks, Fredette obliterated the Chinese Basketball Association (CBA).
He averaged 37.6 points, 8.2 rebounds, 4.2 assists, and 1.6 steals in 41 games. He also made 52.5% of his shots, including 39.6% from beyond the three-point line.
Sure, this is far from crushing the NBA. But it's still a very good stat line.
2. He Scored 73 Points in a CBA Game
This may not be Kobe hanging 81 on the Toronto Raptors, but it's impressive nonetheless.
Fredette's 73-point outburst came in a 135-132 double OT loss to the Zhejiang Guangsha Lions, where he hit 25-of-49 shots, including 10-of-18 beyond the arc.
3. His Chinese Nickname Translates to "God"
Okay, one more thing on this thread…his nickname in China is "Jimo." This is both a play on his name, and the meaning, which is "loneliness god."
Based on how he's basically become a Chinese deity, Jimmer could at least be an NBA rotation player.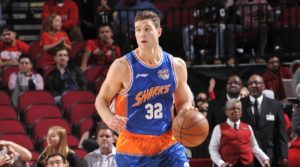 4. He's Never had a Great NBA Coach
Excluding Tom Thibodeau, who only coached Fredette on the Chicago Bulls for eight games, and a training camp stint with the San Antonio Spurs' Gregg Popovich, Fredette has never played under a really good coach.
Here's what he's had to work with so far: Paul Westphal (318-279), Keith Smart (93-170), Mike Malone (72-116), Monty Williams (173-221), and Kurt Rambis (65-164).
It'd be nice to see what Fredette could do on a successful team with a good culture.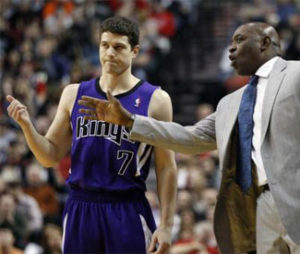 5. Jimmer Scored 33 Points against the Houston Rockets
Although it was a non-competitive game in the 2016-17 NBA preseason, Jimmer did put up 33 points against the Rockets.
It's proof that, given the chance, he can put up numbers in a semi-competitive environment.
6. His Chinese Numbers Compare to J.R. Smith
J.R. Smith has become the gold standard for NBAers who play in China, given that he's the most talented player to grace the CBA.
As GrizzlyBearBlues points out, Fredette's numbers and advanced stats are almost identical to what Smith produced when playing for the Zheijang Golden Bulls.
You can argue that Smith could've played better had he actually attended practices, but it's an interesting comparison nonetheless.
7. Jimmer Isn't as Slow as People Think
Fredette has the classic whiteboy look, and some believe that this holds him back, almost to the point of reverse racism. This has furthered the perception that Jimmer is a non-athletic player who can't defend quality NBA guards.
Going back to his 2011 Combine results, Jimmer scored very well in strength and agility. He also did good in the bench press (14 lifts) and vertical leap (33 inches). At the very least, he possesses above-average athleticism for a point guard.
8. He's 28 and Entering His Prime
At 28 years old, Jimmer Fredette is at an age when many players are starting to reach their peak.
While he may not have been impressive in early pro career, this is the perfect time to give Fredette one more shot.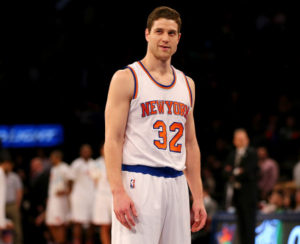 9. Fredette has Received Lots of Praise
Ever since he was dominating college opponents, Fredette has received lots of respect from his peers and coaches.
Some of the nice comments that he's received include:
Villanova's Jay Wright saying he's reminiscent of "Pistol" Pete Maravich.
Golden State forward Kevin Durant once tweeted "Jimmer Fredette is the best scorer in the world!"
Pistons forward Marcus Morris once said, "He's got heart. You can see he has a feel for the game, and he can shoot it from anywhere. Even if you try to box-and-one the guy, he brings it up and just pulls up from the hashmark. That's tough to guard."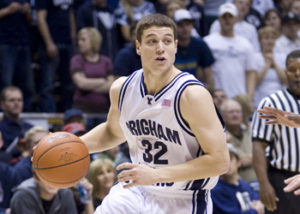 10. He Draws Headlines and Sells Jerseys
Thanks to his outstanding college career and lottery status, Jimmer Fredette has always generated headlines wherever he goes.
"Jimmermania" was at an all-time high before his rookie year in Sacramento, where Fredette's #7 jersey caused a massive boost in the Kings' jersey sales.
He even drew heavy interest with the Westchester Knicks of the D-League in 2016. That said, any NBA team who adds him to their roster will get an increase in popularity.