10 Funniest Pat McAfee Moments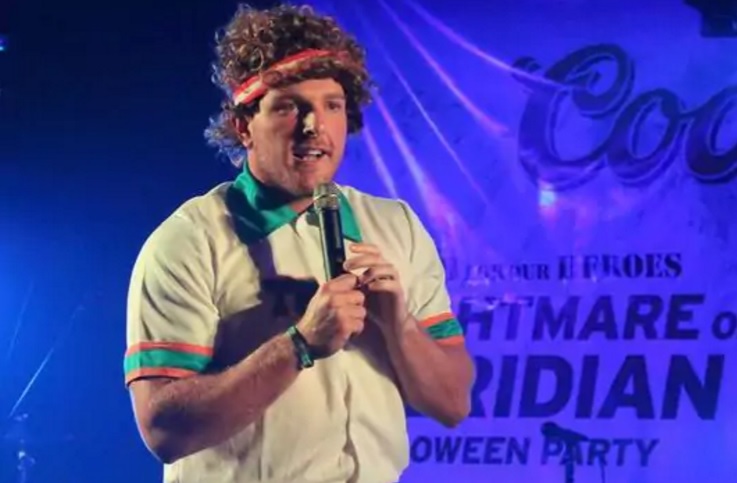 After leading the NFL with a 49-yard punting average, Indianapolis colts punter Pat McAfree was at the top of his game in 2016.
Unfortunately, the 29-year-old made an abrupt retirement just before the Super Bowl. The reasons why include:
1) He got a job working for the satirical sports site Barstool Sports.
2) He's had three knee surgeries in the past four years and would like to continue walking in the future.
Given that few NFL punters are ever recognizable – let alone among the league's most-entertaining players – McAfee will be missed. As he rides off into the sunset to pursue another opportunity, let's look at 10 of McAfee's funniest moments.
1. McAfee Tweets 4/20 Jokes – Asked to Take Drug Test the Next Day
Being a jokester, McAfee found it hard to resist making a few 4/20 cracks. Check out the series of jokes he made on April 20, 216, which the NFL took notice of.
I imagine Colorado being a bit foggy today.

— Pat McAfee (@PatMcAfeeShow) April 20, 2016
I can't celebrate this particular day..But I know a large % of my followers are..So happy laughter day 2 those of u snacking at a hefty rate

— Pat McAfee (@PatMcAfeeShow) April 20, 2016
April 21st… Piss testing paradise

— Pat McAfee (@PatMcAfeeShow) April 20, 2016
April 21st: National Drug Test Day

— anthony CHARLES (@TonyThePilot_) April 21, 2016
https://twitter.com/PatMcAfeeShow/status/723143819613601792?ref_src=twsrc%5Etfw
2. His Stand-Up Routine
If ever there were a sign that McAfee would get into a funny profession, it's that he does stand-up comedy. While not quite Louis C.K., he does a pretty damn good job for a guy who's spent his life playing football.
3. McAfee Tries Adderall His First Day into Retirement
The first thing that many football players do upon retirement is take a vacation or lounge around. Not McAfee, though, who decided to use Adderall the first day after retiring.
Adderall is on the NFL's banned substances list because it masks pain, increases concentration, and is an intense stimulant. McAfee just might need it for his desk-based work at Barstool and to mask the pain of three knee surgeries.
First day of retirement I tried adderal for my first time… completely understand why it's considered a PED in the league.. #Limitless

— Pat McAfee (@PatMcAfeeShow) February 3, 2017
4. Antonio Brown Sends McAfee a Retirement Farewell
This funny moment doesn't directly come from McAfree, but rather Pittsburgh Steelers receiver Antonio Brown. The Pro Bowler trolled McAfree with the time he juked the punter out of his shoes on a return TD.
https://twitter.com/AntonioBrown/status/827339763090866177?ref_src=twsrc%5Etfw
5. McAfee Got Another Random Drug Test after a 67-Yard Punt
After booting three balls over 60 yards – including one that went 67 yards – in a 2016 game, McAfee was asked to deliver yet another "random" pee test.
He had some fun with this incident, tweeting about it and adding his own explanation. Fortunately, he wasn't taking Adderall just yet.
Guys… pic.twitter.com/dpqLhzqBDa

— Pat McAfee (@PatMcAfeeShow) August 15, 2016
6. He Had Hilarious Celebrations
Punting isn't like scoring a running or receiving touchdown, where players have some great celebrations cooked up.
Nevertheless, McAfee broke the mold with some of his celebrations after great punts, including this Razor Ramon bit.
https://twitter.com/NFLBrasil/status/805958674929696768?ref_src=twsrc%5Etfw
7. When He Broke the Guinness World Record for a Blindfolded Kick
In perhaps what was made into the funniest Guinness World Record attempt ever, McAfee got some enjoyment out of his 40-yard, blindfolded field goal.
8. McAfee Asked Brown Not to Kick Him in the Face
McAfee was the one initiating this funny incident with Brown, asking him not to kick him in the face when running any punts back.
This was during the 2014 season, when Brown famously booted Cleveland Browns punter Spencer Lanning in the face while trying to hurdle him.
Can you leave this particular move at home this weekend boss? @AntonioBrown84 pic.twitter.com/FyeLdwJk0P

— Pat McAfee (@PatMcAfeeShow) October 20, 2014
9. McAfee Critiques His Hit on Trindon Holiday
One of the most-notable moments of McAfee's career is when he laid a big hit on former Denver Broncos return man Trindon Holiday. Here's McAfee breaking down the hit in spectacular fashion.
10. When He was Arrested for Drunken Swimming – "I Am Drunk"
In 2010, McAfee was caught taking a predawn swim in Indianapolis' Broad Ripple neighborhood. When questioned about it by police, he admitted "I am drunk." He tested with a 0.15 blood-alcohol level – twice the legal limit in Indiana.