10 Biggest Ring Chasers in NBA History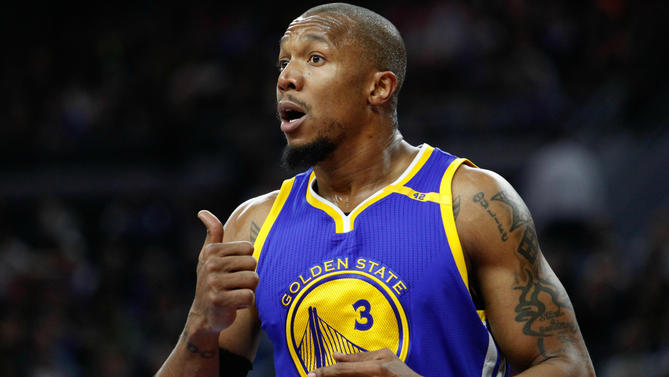 Outside of the rare breed who cares more about their scoring average than winning, every NBA player dreams of earning a ring.
Of course, players' chances of winning diminish as they grow older. And this is when certain pros become desperate and turn into ring chasers.
Who are the worst ring chasers ever? Find out as we cover 10 of the worst in NBA history.
1. Kevin Durant – Golden State Warriors
Kevin Durant has been one of the league's most-dynamic scorers ever since entering the league. But he also became a huge ring chaser when he bolted the Oklahoma City Thunder for the Warriors.
Here are a few reasons why this move ranks tops among chasers:
Durant joined the team that beat him in the Western Conference Finals.
The Warriors won 73 games the year prior to Durant joining.
Golden State lost the NBA Championship by four points in Game 7.
KD already had a championship-caliber squad in Oklahoma.
Durant got his elusive ring in 2017. But it somehow feels a little hollow.
Kevin Durant, Stone Cold Steve Austin beer smash attempt. pic.twitter.com/BzbpcHRAJP

— ⓂarcusD (@_MarcusD2_) June 13, 2017
2. Ray Allen – Miami Heat
In a move that still burns former Boston Celtics players and fans, Ray Allen left his old team for the Miami Heat in 2012.
Allen left more money on the table in Boston, but picked up a couple more rings in Miami.
One thing that convinced Allen to leave is that he was battling for playing time with shooting guard Avery Bradley. But ultimately, he left to pursue more titles.
"It was more than basketball for us… It felt like a sour breakup."

Pierce, KG, Rondo, Big Baby & Perk share their thoughts on Ray Allen. pic.twitter.com/8JYRWmxm0i

— KG's Area 21 (@KGArea21) May 9, 2017
3. Gary Payton – LA Lakers, Miami Heat
After spending most of his career starting for the Seattle Supersonics (OKC Thunder), Gary Payton made his first big move for a ring in the 2003-04 season.
This was supposed to be a super team with Shaquille O'Neal, Kobe Bryant, and Karl Malone. But it turned out to be a disappointment as the Lakers lost in the championship to the Detroit Pistons.
Two years later, Payton would hop on the Miami Heat and finally win his title in 2006.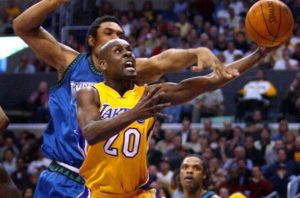 4. David West – Golden State Warriors
West joined KD on the successful ring hunt in 2017. After spending the bulk of his career with the New Orleans Pelicans/Hornets and Indiana Pacers, West got ring-happy at age 34.
He turned down $12 million from the Pacers to join the San Antonio Spurs in 2015-16. This would ultimately be an unsuccessful bid as the Spurs lost in the conference semi-finals.
West proved to be an ultimate ring chaser when he then bolted for the Warriors the following season.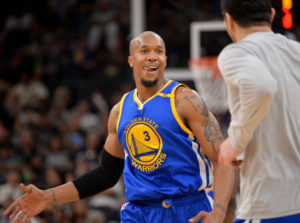 5. Charles Barkley – Houston Rockets
Most of Charles Barkley's career was split up between the Philadelphia 76ers and Phoenix Suns. But in 1996, he bolted for the Houston Rockets in hopes of getting his first championship.
The hope was that teaming up with Hakeem Olajuwon and Clyde Drexler would result in a championship.
Barkley's best shot came in his first season with the Rockets. But they lost in the Western Conference Finals to the Utah Jazz.
Even if they'd beaten the Jazz, it's doubtful that Houston could've gotten by Michael Jordan and the Chicago Bulls.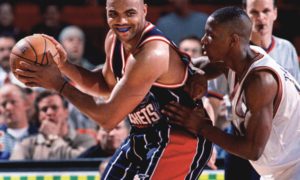 6. Steve Nash – LA Lakers
Steve Nash spent 16 seasons with a combination of the Dallas Mavericks and Phoenix Suns before he decided to join the Lakers in 2012-13.
Together with Kobe Bryant, Pau Gasol, Metta World Peace, and Dwight Howard, this team was supposed to dominate.
But Nash was befallen by injuries immediately and played in just 65 games over the next three seasons. Despite 18 seasons and 2 MVP awards, Nash retired without a ring.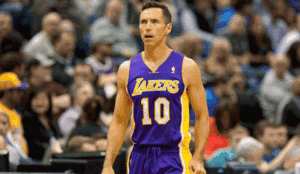 7. Karl Malone – LA Lakers
As mentioned before, Malone formed what was supposed to be a super team in 2004.
And the Lakers were pretty great…that is until Malone got injured and missed half the season.
The Mailman made it back in time for the playoffs, but he didn't look like the same player. Unfortunately, after nearly two decades in the league – including 18 years with the Utah Jazz – Malone was never able to win a championship.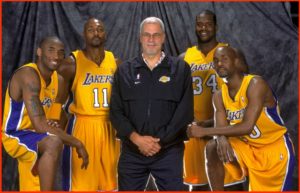 8. Robert Horry – LA Lakers, San Antonio Spurs
Robert Horry realized early on that he could get the most fame out of his marginal talents by playing on great teams.
After winning two championships with the Rockets – the team that drafted him – he signed with the Lakers and won three titles from 2000-2002.
He then joined the Spurs and won championships in 2005 and 2007.
Sadly, despite having 7 rings, Horry is bitter at Manu Ginobili for allegedly costing him a chance at more (see video below).
9. Dwight Howard – LA Lakers
In 2012, Dwight Howard tried several times to force a trade to the (seemingly) contending Brooklyn Nets.
Howard didn't get this trade, but got something that seemed better at the time.
He teamed up with Nash, Kobe, Gasol, and World Peace in what could have been another Lakers dynasty. But Bryant and Nash's injured plagued the team, and they never reached their potential.
10. Tracy McGrady – San Antonio Spurs
After playing with the Qingdao DoubleStar Eagles in the 2012-13 season, Tracy McGrady joined the Spurs for a brief playoff stint in hopes of collecting a ring.
But this wasn't to be as San Antonio was defeated in the 2013 NBA Finals by the Miami Heat.