MLS LA Galaxy Announce Partnership With Tech Startup Honey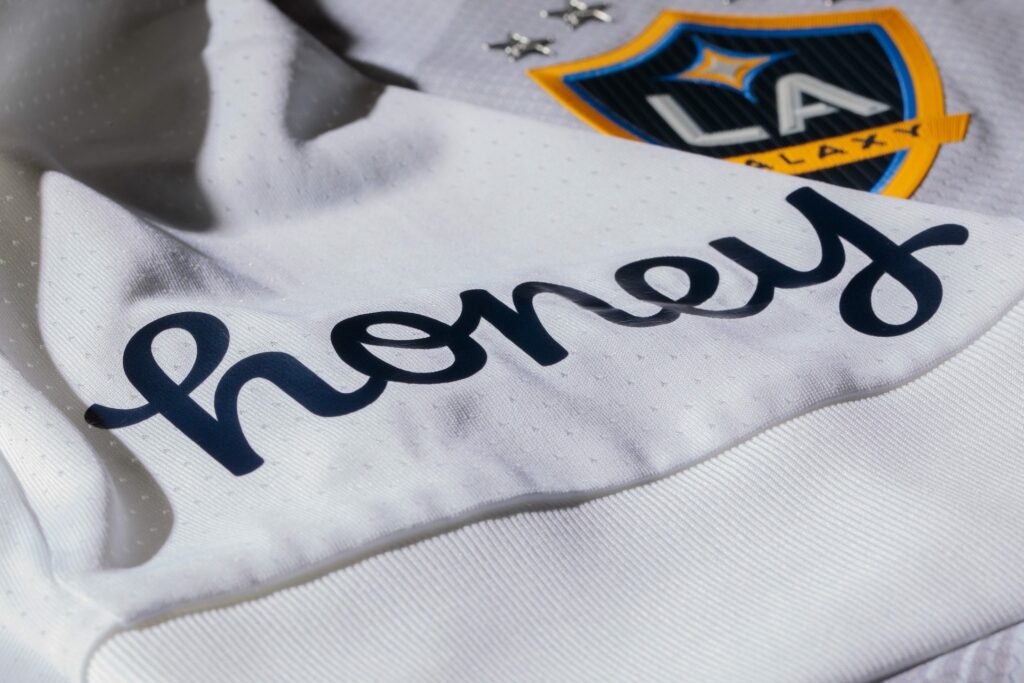 The United States might be a few years behind Europe when it comes to on-jersey branding but they're catching up fast. This is particularly true in soccer which arguably has leveraged branding and sponsorship worldwide better than any other sport. The US Major League Soccer circuit is starting to emulate European leagues and sign on with sponsors for their jersey. Most recently, five time MLS Cup Champions the LA Galaxy have announced a new partnership with LA based tech startup Honey.
The new partnership will have Honey become the official jersey sleeve partner of the Galaxy as well as the team's official 'online deals partner'. The logo will be displayed on the right sleeve of the LA Galaxy home and away jerseys starting with the 2021 MLS season. The team's secondary jerseys will also feature a Honey sleeve patch. In addition, the brand will receive placement across a variety of LA Galaxy properties both in stadium and through social media.
LA Galaxy President Chris Klein is happy to work with a company based in Southern California:
"We are thrilled that Honey will be represented on the LA Galaxy jersey as our official sleeve partner. We represent our Los Angeles community and are proud that an LA-based company committed to bettering the consumer experience will now be a part of the storied jersey worn by our players and fans. We look forward to this exciting partnership and aligning with this one-of-a-kind online platform for years to come."
Robert Vartan, vice president, AEG Global Partnerships–the company which brokered the deal–has this to say about the partnership:
"This partnership between the LA Galaxy and Honey, cultivated by Kala Polman-Tuin on the Global Partnerships team, represents a synergy of missions and we are proud to be partnering with an innovative leader in the technology space that values the greater Los Angeles community just as much as we do. As we head into the 2021 MLS season and begin to see the return of live sporting events, we look forward to seeing this partnership flourish and to sharing Honey's cutting-edge platform for the benefit of all of our fans."
Here's a description of the Honey product from the press release announcing the deal:
Honey started as a browser extension and has grown into a suite of free tools that help consumers shop with confidence. From notifying users when a price drops, to helping shoppers find deals and savings, Honey has empowered millions of members to make better decisions with their money.
Honey co-founder George Ruan had these comments about the sponsorship deal with the LA Galaxy:
"As an LA-based company, we have always valued and built relationships within our local community and supported the organizations that help make our city great. Being deeply rooted in the history and culture of Los Angeles, the LA Galaxy has one of the most fervent fanbases in the MLS, and as a result, this partnership is an exciting way to reach this passionate group of Angelenos."
The Galaxy's secondary jerseys debuted on February 24. The main jersey will be unveiled at the start of the 2021 MLS season on Saturday, April 17.