WWE Women's Royal Rumble 2018 Pro Wrestling Betting Odds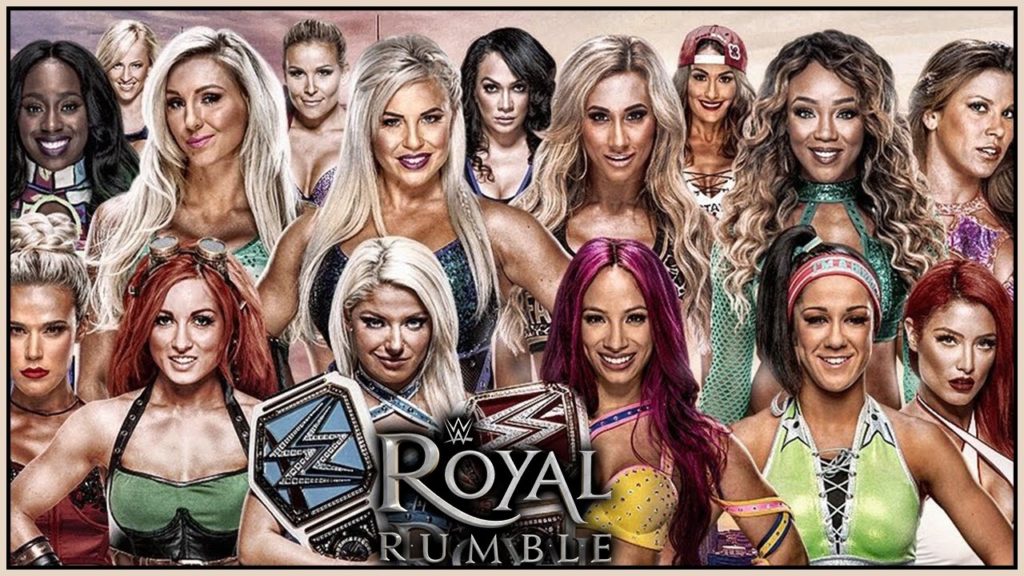 –The first WWE 'Royal Rumble' PPV was in 1988
–The 'Royal Rumble' is a big set up show for Wrestlemania
–The 'Royal Rumble' match is a 30 man timed entry battle royal
There's a new addition to the WWE 'Royal Rumble' PPV this year–for the first time there will be a separate 'Royal Rumble' timed entry battle royal match for female competitors. The match will have the same rules as the men's 'Royal Rumble' match and is facilitated by the WWE's commitment to women's wrestling over the past few years. There have been a few exceptions, but until recently pro wrestling in the United States has featured women more as 'eye candy' and 'divas' than as legit competitors. Now, they're given the same competitive treatment as male wrestlers.
This is a long overdue change for US wrestling but on an international level is nothing new. Wrestling promotions in Japan have treated women's wrestling as a seriously competitive environment for decades. During the late 1980's and early 1990's the now defunct All Japan Women (AJW) promotion was considered the best in the world in terms of the quality of their in-ring product. It's not that many of the female wrestlers weren't considered 'sex symbols' by Japanese fans at the time but they could do more than just stand around and look good.
The strong tradition of women's wrestling has now come full circle. The top female star on the WWE roster is a Japanese competitor whom the organization re-named as 'Asuka'. She had already become a huge superstar in her native country under the ring name 'Kana' (her real name is Urai Kanako) and is a perfect example of the new era of female wrestlers. She's a very attractive woman and became extremely popular in Japan as a gravure idol featured in sexy videos and magazines. All similarities to the silicon enhanced WWE 'divas' ends here. In the ring, she's always been booked as seriously as the proverbial heart attack. The Japanese wrestling industry played her up as a shoot fighter and she's always thrown some of the stiffest kicks in women's wrestling. To their credit, the WWE has changed little else besides her ring name as has booked her as an unbeatable 'monster' similar to Brock Lesnar.
Asuka/Kana is definitely at the top of the WWE female wrestler food chain at the moment but there's a good chance that she's about to get some very tough competition. Former UFC champion Ronda Rousey has been training to make the move to pro wrestling. There's a very strong possibility that she'll make her in-ring debut as the 'Royal Rumble'. If that's the case, they'll likely book her as a dominant 'shootfighter' as well. For that reason she's the second favorite to win the inaugural 'distaff' Royal Rumble behind Asuka. The WWE has done a good job 'working' much of the mainstream media and suggesting that the process of Rousey coming to pro wrestling isn't as far a long as it really is. Actually, it's more symptomatic of a media that can't bother to do a little background research before they print a story.
Here's the Sports Betting Experts betting odds on the Women's 'Royal Rumble' including 'to win' odds and an assortment of prop bets. You'll find the odds on the Men's Royal Rumble in a previous post:
WWE ROYAL RUMBLE 2018 PRO WRESTLING BETTING ODDS
TO WIN WWE WOMEN'S ROYAL RUMBLE 2018
Asuka: +150
Ronda Rousey: +350
Nikki Bella: +700
Becky Lynch: +700
Charlotte Flair: +1250
Nia Jax: +1250
Sasha Banks: +1250
Alexa Bliss: +1250
Bayley: +2500
Shayna Baszler: +2500
Carmella: +2500
Sonya Deville: +2500
Stephanie McMahon: +5000
Brie Bella: +5000
Kairi Sane: +5000
Naomi: +5000
Natalya: +5000
Any Other Wrestler: +10000
TO FINISH TOP 4 WWE WOMEN'S ROYAL RUMBLE 2018
Asuka: -1500
Ronda Rousey: -1000
Nikki Bella: -500
Becky Lynch: -500
Charlotte Flair: +125
Nia Jax: +125
Sasha Banks: +125
Alexa Bliss: +125
Bayley: +250
Shayna Baszler: +250
Carmella: +250
Sonya Deville: +250
Stephanie McMahon: +500
Brie Bella: +500
Kairi Sane: +500
Naomi: +500
Natalya: +500
Any Other Wrestler: +1000
THE ENTRY NUMBER OF THE WOMEN'S ROYAL RUMBLE WINNER WILL BE?
1-20: +125
21-25: +175
26-30: -150
THE ENTRY NUMBER OF THE WOMEN'S ROYAL RUMBLE WINNER WILL BE?
Odd: +110
Even: -130
TIME OF WOMEN'S ROYAL RUMBLE WILL BE?
55:30 or Over: -150
Under 55:30: +130
WILL THE WOMEN'S ROYAL RUMBLE WINNER BE FEATURED IN A WWE RAW WOMEN'S CHAMPIONSHIP MATCH AT WRESTLEMANIA?
Yes: -750
No: +500
WILL THE WOMEN'S ROYAL RUMBLE WINNER BE FEATURED IN A WWE SMACKDOWN WOMEN'S CHAMPIONSHIP MATCH AT WRESTLEMANIA?
Yes: +180
No: -210
THE WRESTLING OBSERVER/DAVE MELTZER'S STAR RATING FOR 2018 WOMEN'S ROYAL RUMBLE?
3 Stars or higher: -180
Under 3 Stars: +150
THE HIGHEST WRESTLING OBSERVER/DAVE MELTZER STAR RATING ON THE 2018 WWE ROYAL RUMBLE CARD WILL BE?
Any other match on the card: -250
Men or Women's Royal Rumble: +210
WHICH WILL BE HIGHER?
Combined star rating of Men and Women's Royal Rumble -1 star: +110
AJ Styles vs. Kevin Owens vs. Sami Zayn +1 star: -130