'Top Chef Colorado'– Episode 10 Betting Odds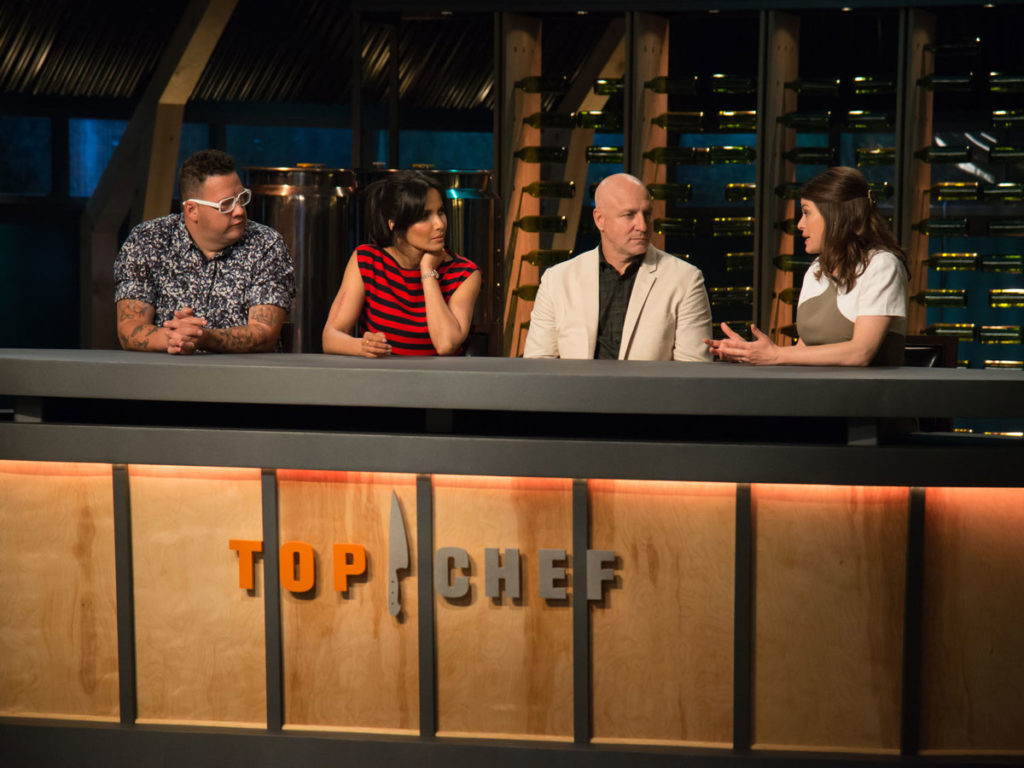 –'Top Chef Colorado' is the title of the 15th season of the 'Top Chef' franchise.
–The finale of 'Top Chef Colorado' was filmed in Aspen during the Food and Wine Classic.
–Episode 10 of 'Top Chef Colorado' will air on February 8, 2018 at 10:00 PM Eastern on Bravo
Two somewhat shocking eliminations for the price of one on Episode 9 of 'Top Chef Colorado'. In the 'Sudden Death Quickfire Challenge' Joseph Flamm was eliminated and in the main Elimination Challenge it was Fatima Ali getting the heave ho. Ali had been at or near the top of the odds table to win Season 15 since it began while Flamm was the most likable of the show's contestants.
That shakes things up considerably. As noted above, Fatima Ali had been the favorite all season long and entered Week 9 as a +150 choice to win. Flamm was only +2500 but had been one of the hottest contestants during the past month. From a qualitative standpoint, hard to rationalize these two getting eliminated but as Carolyn Lipka wrote in Food and Wine's weekly coverage of the show: "that's the nature of Top Chef: Someone who has been in the top the entire time and clearly is one of the best, most creative chefs in the bunch can be sent home for one bad dish."
Week 10's episode preview doesn't give us much information on the upcoming show. The episode description is downright pithy saying only that: "Tom Colicchio wants the chefs to step it up." An interesting subplot is taking place on 'Last Chance Kitchen'–Episode 10 of the Bravo web series saw Fatima Ali eliminated for good but still in the competition is the aforementioned Joseph Fiamm and Brother Luck. Fiamm won the Week 10 'LCK' so we might not have seen the last of him for this year.
Which brings us to the 'Top Chef Colorado' power ratings through Week 10. Here's the points format for the power ratings:
WIN = +2
HIGH = +1
IN = 0
LOW = -1
'TOP CHEF' POWER RATINGS THROUGH EPISODE 10
Carrie Baird: +4
Joe Sasto: +1
Christopher Scott: +1
Bruce Kalman: 0
Adrienne Cheatham: -4
'TOP CHEF' POWER RATINGS EPISODES 5 THROUGH 10
Bruce Kalman: +4
Carrie Baird: +3
Adrienne Cheatham: -1
Joe Sasto: -1
Christopher Scott: -1
Here are the odds to win the overall season competition along with odds for Episode Ten:
'TOP CHEF COLORADO' TOP CHEF SEASON 15 BETTING ODDS
TO WIN 'TOP CHEF COLORADO'
Carrie Baird: +125
Bruce Kalman: +200
Joe Sasto: +350
Christopher Scott: +350
Adrienne Cheatham: +2500
GENDER OF 'TOP CHEF COLORADO' WINNER
Male: -120
Female: +100
WILL ANY CHEF WITHDRAW FROM THE 'TOP CHEF COLORADO' COMPETITION?
Yes: +600
No: -750
'TOP CHEF COLORADO' EPISODE 10 BETTING ODDS
TO BE ELIMINATED IN EPISODE 10
Adrienne Cheatham: +125
Joe Sasto: +300
Christopher Scott: +300
Bruce Kalman: +500
Carrie Baird: +750
No One Eliminated in Episode 10: +3500
TO BE AMONG THE 'LOW ENTRIES' BUT SAFE IN EPISODE 10
Joe Sasto: +175
Christopher Scott: +175
Adrienne Cheatham: +300
Bruce Kalman: +700
Carrie Baird: +700
No 'Low Entries' in Episode 10: +3500
WHO WILL WIN MAIN CHALLENGE?
Joe Sasto: +200
Carrie Baird: +200
Christopher Scott: +450
Bruce Kalman: +450
Adrienne Cheatham: +1500
No main challenge winner in Episode 10: +2500
WHO WILL WIN QUICKFIRE CHALLENGE?
Carrie Baird: +115
Bruce Kalman: +200
Joe Sasto: +500
Christopher Scott: +500
Adrienne Cheatham: +1500
No quickfire challenge winner in Episode 10: +1500
'TOP CHEF COLORADO' EPISODE 10 RATING (Adults 18-49)
Over 0.3: -150
Under 0.3: +130
'TOP CHEF COLORADO' EPISODE 10 TOTAL VIEWERSHIP
Over 0.85 million: -150
Under 0.85 million: +130
'TOP CHEF COLORADO' EPISODE 10 NIGHTLY RANKING AMONG TOP 150 ORIGINAL CABLE PROGRAMS FOR THURSDAY,FEBRUARY 8
Over 14.5: +150
Under 14.5: -170
The previous three props will be graded from information published on ShowBuzzDaily