Top 10 LaVar Ball Interviews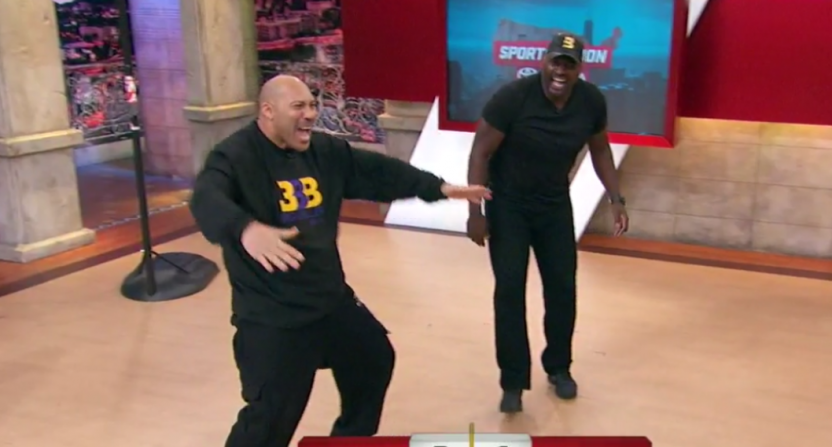 It seems that the internet can't get enough of LaVar Ball, father of future NBA Lottery pick Lonzo Ball, and future UCLA Bruins LiAngelo (Gelo) and LaMelo Ball.
When I first wrote about his best quotes, it seemed that LaVar was a fad who was experiencing his 15 minutes of fame.
But he has staying power thanks to his talented sons, and an ability to command attention with his antics.
That said, let's look at some of the best interviews from the man who appears at #2 on our craziest sports dads list.
1. Lonzo Ball Is Better than Steph Curry, Jason Kidd
This started on the sidelines of a UCLA-USC game – which we covered in the quotes article – and has continued up until now.
LaVar continues to insist that his son is better than Steph Curry. When asked about comparisons to retired NBA All-Star Jason Kidd, LaVar said that his son does everything better than Kidd.
I can't wait to see how the Curry-vs-Ball matchup plays out when they meet on the floor.
2. Beating Michael Jordan One-on-One
LaVar Ball has said a lot of wild things. But the craziest of them all is that he'd beat Michael Jordan one-on-one.
It's been pointed out that Jordan was averaging 35 points per game in the NBA, while Ball was only scoring 2 points for the Washington State Cougars in college. Nevertheless, he claims that one-on-one would be a different situation.
3. Charles Barkley Better Stick to Krispy Kreme Donuts
Hall-of-Famer and TNT analyst Charles Barkley is another target of LaVar, with the latter saying that he'd kill Barkley in one-on-one.
It's at least possible that this is the case because Sir Charles walks with a slight limp these days. Still, it's made for some funny back-and-forth between the two outspoken men.
4. Guaranteeing UCLA will Win the National Title
This one still has to play out at the time of this writing. UCLA entered the tournament as a No. 3 seed and won their first game against Kent State.
But there are still 5 wins to go until they earn a national championship.
LaVar Ball is life!!! pic.twitter.com/iQdLhGKPKi

— Legends (@LegendsofCH) November 25, 2016
5. Beating Marcellus Wiley in One-on-One
After boasting that he can beat Jordan, LaVar got a tune-up by playing retired NFL player Marcellus Wiley.
Wiley isn't exactly Jordan, but Ball did win 3-1.
6. NBA will be Easier for Lonzo Ball than College Basketball
Lonzo Ball has had an outstanding season at UCLA, averaging 14.6 points, 6.1 rebounds, 1.9 steals, and a nation-leading 7.6 assists.
College basketball has been pretty easy for Lonzo. But his dad claims that the NBA will be an even bigger cakewalk for his son due to the improved supporting cast.
7. LaVar Ball on The Herd
Ball's interview with Colin Cowherd didn't produce any headline grabbing quotes.
But it was interesting nonetheless, giving some real insight into LaVar's process of putting his sons in public high school, his own playing days at Washington State, and the back-and-forth with Charles Barkley.
8. Lonzo should be the Top Pick because He's Earned It
Many NBA mock drafts have Washington's Markelle Fultz going No. 1 overall, followed by Lonzo at No. 2.
Serving as a quasi agent/father, LaVar says that his boy should be picked first because he wins. Fultz on the other hand, just puts up "40 points" a game.
Fultz actually averaged 23.2 points, but LaVar is right in that the winning wasn't there, with the Huskies going just 9-22.
9. Dissing LeBron James Jr.
Current NBA players aren't LaVar's only target. He also took aim at LeBron James' son, saying he was soft.
We couldn't find actual footage of this, but we did find news on it.
10. Steph Curry Isn't the Goal, Michael Jordan Is
Ball was at it again with the Steph Curry-Michael Jordan stuff when speaking with CBS.
LaVar said that Steph Curry and his single championship aren't the goal – guys with multiple championships like Michael Jordan are.