Re-Grading the Vegas Golden Knights and Updated Season Odds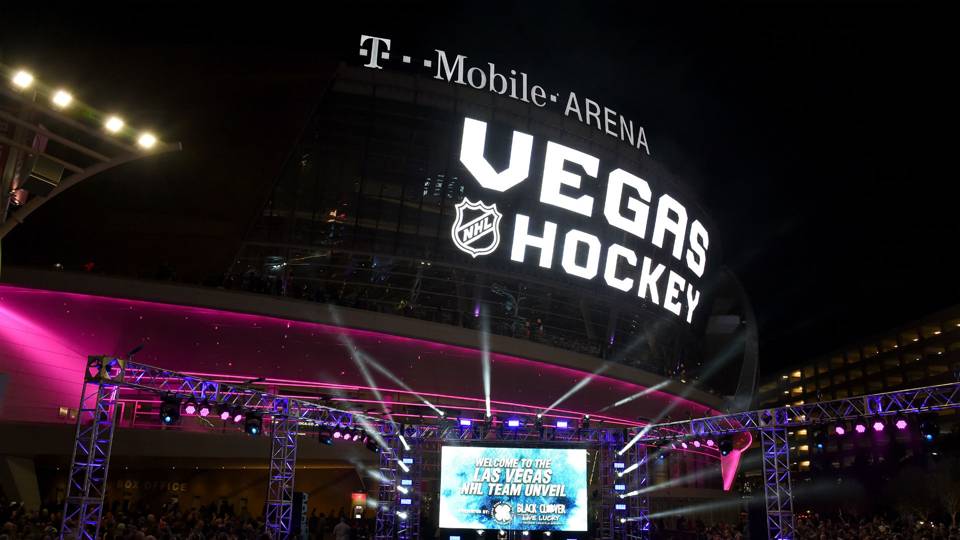 –The Vegas Golden Knights have completed their initial expansion and entry draft.
–The expansion Vegas Golden Knights will be the 31st team in the National Hockey League.
–The Golden Knights will play their home games in the brand new T-Mobile Arena.
The Vegas Golden Knights have a team now. Sure, I wish they had gone with *Silver* Knights (Nevada being the Silver State and all) and with all due respect to owner William P. Foley III it's *not* the locals that most frequently use the 'Vegas' nomenclature. In fact, when I first started spending a lot of time in the city I was corrected by some of the oldest of old timers and the wisest of wise guys that I need to a) pronounce the name of the state correctly (Ne-VAD-duh and not Ne-VOD-da) and b) refer to the city of my residence by its proper name of 'Las Vegas' and not the mainstream media creation 'Vegas'.
For a long time the perceived frontrunners for a name were the 'Desert Knights' (Nevada being in the desert and all) and the 'Silver Knights' (see above). Foley rejected the notion of making the team the 'Nevada' whatevers insisting that the name would pay homage to the franchise's home town of Las Vegas. That strongly suggested that they would call the team by its proper name of 'Las Vegas'. Instead, the name of the team landed with a thud as the 'Vegas Golden Knights'. To be fair, Nevada does produce the overwhelming majority of the gold mined in the United States (78%) an a sizable chunk of the world production (5.4%). That doesn't matter and there's plenty of precedent. South Carolina produces 3 times as many peaches as the 'Peach State' of Georgia (and California produces more than both combined many times over). That notwithstanding, Georgia is and always will be the 'Peach State'. Calfornia is the 'Golden State' and Nevada *should* be the 'Silver State'.
A NEW FRANCHISE STARTS TO GROW AN IDENTITY
I've made peace with the franchise name and I'm looking forward to the product that Las Vegas…er…Vegas will put on the ice. I set some Season 1 betting odds for the Golden Knights in mid June and now that they've got some semblance of a roster I figured I should update my numbers. Here's how I'll do this–I'll go down the main components of a NHL team and assess the Golden Knights' performance in the Expansion and Entry Draft. I'll then post my updated numbers including season win total.
It's important to keep in mind that this roster could look drastically different by the opening faceoff of the 2017-2018 season. Some teams use the expansion draft to stockpile resources for trades. From the looks of it, however, the Vegas Golden Knights appear to be making their expansion and entry draft picks with some direction.
GOALTENDING
The Golden Knights did a good job with their goaltending but easily could have done a great job had it not been for some curious draft strategy. The first goaltender selected was a no-brainer and the best available at the position–longtime Pittsburgh Penguins' netminder Marc-Andre Fleury. Fleury reportedly had an attitude problem early in his career but has matured into what is by all accounts a great teammate and locker room presence. He's also pretty good in net with 3 Stanley Cups and an Olympic Gold Medal for Canada to show for his efforts. It's something of a surprise that he was still with Pittsburgh at this juncture since the Penguins have made clear that Matt Murray is their goaltender of the future. Thanks to the timing of injuries to Murray the Penguins never made the move to send Fleury packing. He reportedly maintained a great attitude despite his tenuous longterm status which is clear validation of his maturity and class. A great pick for Vegas. The Golden Knights could always turn around and send Fleury elsewhere but with the media already anointing him as the 'face of the franchise' that's unlikely.
The problem is what happened next. Fleury is a good name to have as your starting goalie in your debut season but teams also need a backup. At one point, NHL teams would make do with whatever their minor league affiliate sent them but that just doesn't work any more. You'll notice that the most successful teams have very capable backup goaltenders. And despite leaving him unprotected the Washington Capitals still have the very capable Philipp Grubauer as backup to Braden Holtby. Remember how Martin Jones flourished when he went to San Jose after being Jonathan Quick's backup in Los Angeles? That could have been Philipp Grubauer in a Vegas uniform doing the same thing. At age 26, Grubauer had the perfect blend of youth and experience as well as a long apprenticeship behind one of the best goalies in hockey in Holtby. Grubauer was such a no-brainer some legitimate media sources said that it was 'hard to imagine' that he wouldn't be a Golden Knight next year. He would have at worst been excellent trade bait and will very likely be traded by the Caps.
Also on the board and shunned by the Golden Knights was the New York Rangers' #2 goalie Antti Raanta. Raanta has played extremely well during Henrik Lundqvist's injuries during the past few years. Raanta was almost immediately shipped to Arizona after Vegas gave him a pass. Instead, Vegas took Colorado backup Calvin Pickard who very likely will have a better team around him as a Golden Knight than he did with the Avs. Pickard is talented but erratic though the big question is how much of his struggles last year was due to the lousy team in front of him? Vegas has also picked up Jean-Francois Berube from the Islanders. Their goaltending moves could pan out but it's hard to forget that they could have had a tandem of Grubauer and Raanta. You'd have to go back to the 1972 Atlanta Flames with Dan Bouchard and Phil Myre to find an expansion team with such a strong 1-2 presence in net.
DEFENSE
The marquee name in the Golden Knights blueline corps is former Ottawa Senator Mark Methot. Methot has size and skill but is 32 years old. Were it me I would have gone younger (like 26 year old Buffalo defenseman Dmitry Kulikov) but Vegas' defense should be very capable to excellent. They also drafted Alexi Emelin from Montreal–he's a rugged, hard hitting 'old school' blueliner–and acquired the second best defenseman named 'Shea' in the NHL, former Anaheim Duck Shea Theodore. There's also a lot of unproven but talented defensemen who could shine when given the chance. At the very least, there's decent size and a lot of left hand shots.
FORWARDS
Offense will very likely be hard to come by for Vegas. That's not uncommon for expansion teams but just looking over the roster it's hard not to ask 'where will the goals come from?'. To be fair, they did the right thing emphasizing defense and netminding but they've still got to score. On the plus size, they nabbed James Neal from Nashville. Neal is not only a class act but has scored 20+ goals for six straight seasons. The Predators were hesitant to lose him but simply had too much young talent they had to protect. Oscar Lindberg was buried deep on the New York Rangers' depth chart but managed to put up 20+ points over the past two seasons. He should do well with a big increase in ice time. Versatile Cody Eakin was drafted from Dallas–if he could stay healthy he'd be a must have fantasy hockey player with his two way play. If he can avoid injury he might be the unsung hero of the Golden Knights' first season. It's just hard to put a positive spin on the Vegas offense which will almost certainly be the lowest scoring team in the league.
CONCLUSION
Offensive issues will be a problem but the Golden Knights should be very solid on defense and if Pickard's form improves could be equally as strong in net. You can make a case that they should have set themselves up better for the future with younger goalies (actually, I made that case earlier in this article) but Fleury has a few good years left. The big question–how he'll perform without the considerably more talented team in front of him that he had in Pittsburgh.
Overall, I've been impressed by what the Golden Knights have done so far and have adjusted the following proposition odds accordingly. They could be as good as the 1993-94 Florida Panthers who finished 33-34-17 and missed the playoffs by a single point. It'll be tough to make the postseason in the Pacific–Edmonton, San Jose, Los Angeles and Anaheim are just on another level–but there's a good chance they won't finish in last place as Calgary and Vancouver are both vulnerable.
VEGAS GOLDEN KNIGHTS 2017-2018 POST DRAFT REVISED NHL SEASON PROPOSITION BETTING ODDS (UPDATED JUNE 24, 2017)
VEGAS GOLDEN KNIGHTS 2017-2018 WIN TOTAL?
Over 30.5 wins: +110
Under 30.5 wins: -130
WHEN WILL THE VEGAS GOLDEN KNIGHTS WIN THEIR FIRST REGULAR SEASON GAME?
Before or on October 25, 2017: -150
After October 25, 2017: +130
WHERE WILL THE VEGAS GOLDEN KNIGHTS WIN THEIR FIRST REGULAR SEASON GAME?
Home: -200
Away: +180
NUMBER OF PLAYERS FROM THE VEGAS GOLDEN KNIGHTS TO MAKE THE 2017-2018 NHL ALL STAR GAME?
Over 1.5: -130
Under 1.5: +100
NATIONAL WEATHER SERVICE TEMPERATURE AT MCCARRAN INTERNATIONAL AIRPORT AT THE TIME OF OPENING FACEOFF PUCK DROP FOR THE VEGAS GOLDEN KNIGHTS FIRST REGULAR SEASON HOME GAME?
Over 74.5 degrees F: -130
Under 74.5 degrees F: +110
WILL THE VEGAS GOLDEN KNIGHTS MAKE THE 2017-2018 STANLEY CUP PLAYOFFS?
Yes: +700
No: -1400
WILL THE VEGAS GOLDEN KNIGHTS FINISH 2017-2018 WITH THE BEST RECORD IN THE PACIFIC DIVISION?
Yes: +3750
No: -7500
WILL THE VEGAS GOLDEN KNIGHTS FINISH 2017-2018 WITH THE WORST RECORD IN THE PACIFIC DIVISION?
Yes: +130
No: -150
WILL THE VEGAS GOLDEN KNIGHTS FINISH 2017-2018 WITH THE BEST RECORD IN THE WESTERN CONFERENCE?
Yes: +7500
No: -15000
WILL THE VEGAS GOLDEN KNIGHTS WIN THE WESTERN CONFERENCE PLAYOFF CHAMPIONSHIP AND ADVANCE TO THE STANLEY CUP FINALS?
Yes: +7500
No: -15000
WILL THE VEGAS GOLDEN KNIGHTS WIN THE 2017-2018 STANLEY CUP?
Yes: +15000
No: -30000
2017-2018 AVERAGE ATTENDANCE AT VEGAS GOLDEN KNIGHTS HOME GAMES?
Over 16,500: -130
Under 16,500: +110
2017-2018 AVERAGE ATTENDANCE AT VEGAS GOLDEN KNIGHTS HOME GAMES?
Over 15,500: -170
Under 15,500: +150
2017-2018 AVERAGE PERCENTAGE OF CAPACITY AT VEGAS GOLDEN KNIGHTS HOME GAMES?
Over 96.5%: -130
Under 96.5%: +110
WILL THE VEGAS GOLDEN KNIGHTS SELL OUT THEIR FIRST REGULAR SEASON HOME GAME AT T-MOBILE ARENA?
Yes: -250
No: +210
WHICH WILL BE HIGHER?
UNLV men's basketball average attendance +4000 per game: +130
Vegas Golden Knights average attendance: -150