Proposition Odds on Names and Gender of Beyonce's Twins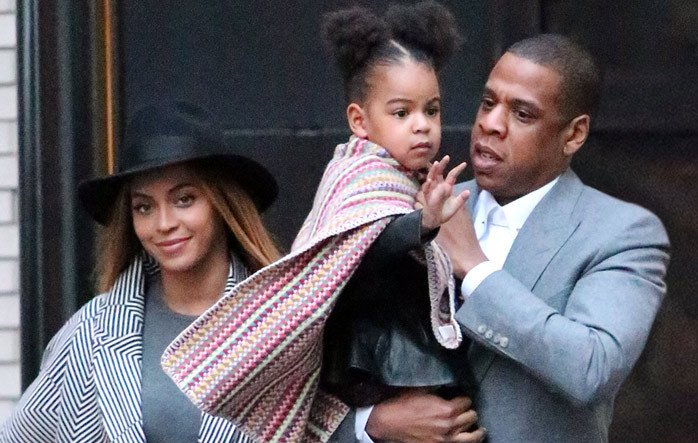 –Beyonce announced last week that she is pregnant with twins.
–The twins will be the second and third children for her and husband Jay-Z.
–The couple have a five year old daughter named Blue Ivy Carter.
Beyonce and her husband Jay-Z always 'do things big' and last week's announcement that she is pregnant was no exception. Not only is Beyonce 'with child' she's..uh…'with children'. Yep, she's expecting twins.
The announcement lit up social media–a picture of her and her pregnant tummy that accompanied the announcement quickly became one of the most 'liked' status updates in Twitter and Instagram history. And why not? She and Jay-Z are by all accounts great parents for their five year old daughter Blue Ivy Carter (Jay-Z's 'real name' is Shawn Carter). Obviously, they've got the financial resources to give their children the best of everything yet both parents seem surprisingly well 'grounded' for such huge stars. Unlike many celebrity parents (baby dangling Michael Jackson comes immediately to mind as does the fact he named his kid 'Blanket') you just don't worry about a child's well being with Beyonce and Jay-Z as their parents. To the contrary, all children should be so fortunate to have such committed, caring parents regardless of how many zeros they have on the end of their ATM balance.
Soon after the announcement speculation began on several fronts. From a practical standpoint, the pregnancy puts the status of Beyonce's performance at April's Coachella Festival in jeopardy. I posted odds on whether or not she'd be able to perform a few days ago and if my numbers are correct she won't make the Coachella gig:
Will Beyonce perform at the Coachella Festival on April 15 and 22?
Yes: +250
No: -300
According to reports based on 'well placed sources' in the Beyonce camp she's planning to perform at Coachella if the pregnancy goes well. The same sources speculated that she could perform from the same throne like chair designed by Foo Fighters' vocalist Dave Grohl after suffering a broken leg a couple of years back. The chair was later used by a similarly injured Axl Rose so it should be up to Beyonce's exacting standards. Obviously, neither Grohl nor Rose were pregnant with twins at the time of their 'chair' performances. Beyonce had some complications with her previous pregnancy and at age 35 the difficulty of this pregnancy is compounded. The pictures she's released clearly show that she's more than just a little pregnant so it's hard to see how she could safely perform in the California desert two months down the road.
NAMING TWINS IS TWICE THE CHALLENGE
Aside from practical considerations about Beyonce's schedule the other big questions were the ones you'd expect about any expectant mother: Will she have a girl or boy (or in this case boys, girls or both) and what will they be named? The first half of this equation is easy enough to work with. In fact, the gender probabilities of twins has been established–there's a 25% chance of two boys, a 25% chance of two girls and a 50% chance of a boy and a girl. Add a little bit of 'vig' to these percentages and we've got the first 'Beyonce's Twins' prop bet:
Beyonce's Twins will be?
Boy/Boy: +250
Girl/Girl: +250
Boy/Girl: -150
If you're interested in the math behind the gender probability of twins you can read more about it on the linked math forum.
Now the tough part–trying to set odds on what Beyonce and Jay-Z will name their twins. The fact that we don't know the gender(s) of the twins makes it all the more difficult. If we knew that it was going to be two boys or two girls that would cut the name options in half (more or less). Do you have any idea how many names there are in the English Language alone? Me either. The best guess I could find was the 'Over 6,000 names' referenced in the Oxford Dictionary of First Names.
BETTING ON BABY NAMES
Betting on baby names has considerable precedent in Europe. In fact, the British love betting on the name of a new baby in the royal family. If you were to go into a bookmaking parlor in England at this moment there's a very good chance that they'd be taking action on the sex and name of Prince William and Kate Middleton's third-born child. She's not currently pregnant, mind you, but there's no reason to let that get in the way of some speculation. 'Alice' and 'Victoria' are the among the favorite girls names at +800 each while 'Arthur', 'Henry' and 'Phillip' are at the top of the list of boys names at +800 to +1000.
It's hard enough to set prices on royal baby names even though the tradition minded British monarchy tries to makes it easy on us. The British royal family doesn't exactly go for unique or unusual names. For example–Prince William's parents are the Prince of Wales aka Prince Charles and the late Princess Diana. His grandparents are Queen Elizabeth and her husband Prince Phillip. Sure, Prince William was affectionately called 'Wombat' by his family when he was a child but that's not the name on his birth certificate. His children have similarly 'traditional' names–Princess Charlotte and Prince George. As long as you have a working knowledge of European history and a copy of Burke's Peerage you've got all the information you need to come up with a fairly comprehensive list of names.
Outside of the 'old money' New England bluebloods and the British royal family baby names have become extremely eclectic and now include foreign names, names from classical literature and pop culture and just about everything else. Celebrities have long 'pushed the envelope' in giving their kids unusual names–it's reached the point that the once 'controversial' name of Mick's daughter Jade Jagger seems downright dull. She quickly gave way to David's son Zowie Bowie (mercifully renamed 'Duncan') and the children of the great Frank Zappa–Moon Unit and Dweezil Zappa (along with the less famous Diva and Ahmet Zappa). Magician Penn Jillette might be the reigning champion of unusual baby names with daughter Moxie CrimeFighter Jillette and son Zoltan Jillette.
In other words, there's not really any parameters that circumscribe what Jay-Z and Beyonce could name their twins. We know Jay-Z's real name (Shawn Corey Carter) and the name of his beloved mother (Gloria). Highly unlikely that he'd want to name a kid after his father (Adness Reeves) being as he abandoned his family. He's cited legends like Marvin Gaye and Donny Hathaway as early influences. Beyonce's full name is Beyoncé Giselle Knowles. Her mom is Celestine "Tina" Knowles and she named her megastar daughter as a riff on her maiden name of 'Beyince'. Her dad is Matthew Knowles. That's not much to work with and since the couple's first child is named 'Blue Ivy Carter' there's little to suggest that they'll be looking to their family for naming ideas.
Realistically, you can take just about any name you can think of at this point and it would have at least a fractional chance of being right. That's essentially what I've done with the odds below. Based on 'Blue Ivy' I thought up some color names and some plant names, added in the most popular 30 or so names for new babies as well as a few random names I came up with. Some of these are obvious goofs as are most all of the 'double name odds' where I've set prices on the names of *both* twins. As amusing as I'd find it were the Carters to name their twins 'Axl and Rose' or 'Rick and Morty' that's unlikely to happen and they've been priced accordingly. Assuming that the gender(s) of the twins becomes public knowledge in the months ahead we'll revisit these names and odds when we know more:
BEYONCE TWINS PROPOSITION BETS
Beyonce's Twins will be?
Boy/Boy: +250
Girl/Girl: +250
Boy/Girl: -150
Name of one of Beyonce and Jay-Z's twins:
Aaliyah: +4000
Abigail: +4000
Adam: +4000
Adalyn: +4000
Aiden: +4000
Alexander: +4000
Alyssa: +4000
Amber: +4000
Amelia: +4000
Angelina: +4000
Anise: +4000
Aria: +4000
Aubrey: +4000
Ava: +4000
Avery: +4000
Bailey: +4000
Basil: +4000
Benjamin: +4000
Billy: +4000
Blake: +4000
Bobby: +4000
Boomer: +4000
Brianna: +4000
Caden: +4000
Caleb: +4000
Carson: +4000
Carter: +4000
Charlotte: +4000
Chloe: +4000
Connor: +4000
Daniel: +4000
Dave: +4000
Donald: +4000
East: +4000
Ella: +4000
Ellie: +4000
Elijah: +4000
Elton: +4000
Emily: +4000
Emma: +4000
Eric: +4000
Ethan: +4000
Eve: +4000
Evelyn: +4000
Freddie: +4000
Gabriel: +4000
George: +4000
Giselle: +4000
Gracie: +4000
Grayson: +4000
Harper: +4000
Helena: +4000
Hunter: +4000
Isabella: +4000
Jack: +4000
Jackson: +4000
Jacob: +4000
James: +4000
Jayce: +4000
Jayden: +4000
Jesus: +4000
Jimmy: +4000
John: +4000
Julian: +4000
Kaleb: +4000
Kayla: +4000
Kaylee: +4000
Keith: +4000
Kenny: +4000
Layla: +4000
Lebron: +4000
Liam: +4000
Lily: +4000
Logan: +4000
Lucas: +4000
Luke: +4000
Lynda: +4000
Madelyn: +4000
Madison: +4000
Mary: +4000
Mason: +4000
Matthew: +4000
Mia: +4000
Michael: +4000
Mick: +4000
Morty: +4000
Noah: +4000
Olivia: +4000
Oliver: +4000
Opal: +4000
Owen: +4000
Red: +4000
Richard: +4000
Rick: +4000
Riley: +4000
Rose: +4000
Ryan: +4000
Scarlett: +4000
Sophia: +4000
Star: +4000
Summer: +4000
Tac: +4000
Tic: +4000
West: +4000
William: +4000
Winter: +4000
Zac: +4000
Zoe: +4000
Amethyst Cactus: +5000
Amethyst Grass: +5000
Beige Parsley: +5000
Black Hibiscus: +5000
Burgundy Iris: +5000
Burgundy Zinnia: +5000
Cerulean Basil: +5000
Chartreuse Aloe: +5000
Chartreuse Cactus: +5000
Chartreuse Flax: +5000
Chili Garlic: +5000
Cobalt Parsley: +5000
Copper Pea: +5000
Coral Bamboo: +5000
Coral Lichen: +5000
Corinthian Leather: +5000
Ecru Blossom: +5000
Ecru Hibiscus: +5000
Ecru Mustard: +5000
Emerald Azalea: +5000
English Ivy: +5000
Fushia Cactus: +5000
Fushia Milkweed: +5000
Fushia Peony: +5000
Fushia Willow: +5000
Gold Petunia: +5000
Indigo Mulberry: +5000
Jade Moss: +5000
Opal Basil: +5000
Orange Arborvitae: +5000
Peridot Arborvitae: +5000
Peridot Lilac: +5000
Periwinkle Lily: +5000
Periwinkle Petunia: +5000
Persimmon Juniper: +5000
Persimmon Lemon: +5000
Persimmon Oak: +5000
Pink Bamboo: +5000
Pink Basil: +5000
Purple Dill: +5000
Red Poppy: +5000
Red Walnut: +5000
Salmon Bonsai: +5000
Salmon Ivy: +5000
Salmon Leek: +5000
Sapphire Arborvitae: +5000
Scarlet Juniper: +5000
Tangerine Squash: +5000
Taupe Catnip: +5000
Teal Lilac: +5000
Turquoise Bamboo: +5000
Turquoise Basil: +5000
White Lily: +6600
Axl: +6600
Chili: +6600
Get: +6600
Ginger: +6600
Kayne: +6600
Kim: +6600
Pepper: +6600
Rolls: +6600
Royce: +6600
Zag: +6600
Zig: +6600
Name of both of Beyonce and Jay'Z's Twins:
Adam & Eve: +10000
Axl & Rose: +10000
Batman & Robin: +10000
Butch & Sundance: +10000
Charles & Camilla: +10000
Chili & Pepper: +10000
Dallas & Texas: +10000
Duke & Duchess: +10000
East & West: +10000
Fred & Ginger: +10000
Harvard & Yale: +10000
Kim & Kanye: +10000
King & Queen: +10000
Lord & Lady: +10000
Mick & Keith: +10000
Opal & Basil: +10000
Pride & Prejudice: +10000
Red & Rose: +10000
Rick & Morty: +10000
Rolls & Royce: +10000
Star & Anise: +10000
Summer & Morty: +10000
Thelma & Louise: +10000
Tic & Tac: +10000
Wallace & Gromit: +10000
White & Lily: +10000
Yogi & Bear: +10000
Zig & Zag: +10000