NHL Hockey 2017-2018 Regular Season Individual Assists Proposition Odds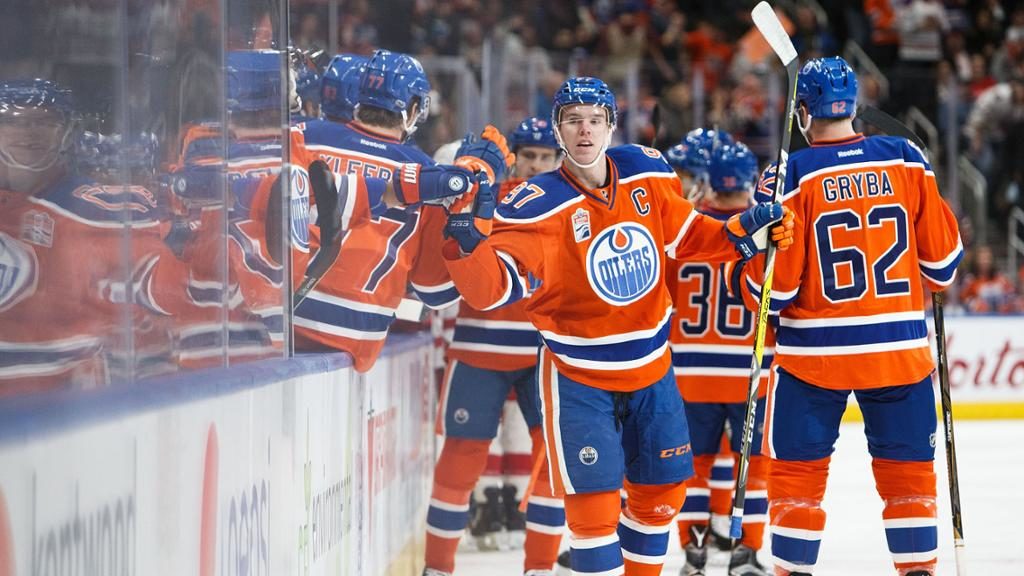 –The National Hockey League 2017-2018 regular season begins on October 4.
–The grueling 82 game regular season sets the stage for the Stanley Cup playoffs.
–The defending champion Pittsburgh Penguins are the favorite to win the 2017-2018 Stanley Cup.
You've no doubt heard the old adage that great players make 'the players around them better'. In hockey, there's no better validation of that quality than the assist. In 2016-2017, there was no better facilitator than Connor McDavid who had 70 assists to go along with 30 goals en route to winning the Hart Memorial Trophy for the NHL's most valuable player. Not bad for a 20 year old in his second NHL season.
The frightening thing is that 'McJesus' is only going to get better over the next few years. That's why he's the favorite to repeat as the league's assists leader. If anyone has a shot to catch him it might be Anaheim's Ryan Getzlaf, Washington's Nicklas Backstrom or Tampa Bay's Victor Hedman. Below, you'll find the official SPORTS BETTING EXPERTS odds to lead the NHL in assists as well as some head to head player matchups.
2017-2018 NHL STANLEY CUP INDIVIDUAL ASSISTS PROPOSITION ODDS
PLAYER TO HAVE THE MOST ASSISTS IN THE 2017-2018 NHL REGULAR SEASON
Connor McDavid: +350
Sidney Crosby: +950
Niklas Backstrom: +950
Patrick Kane +1500
Ryan Getzlaf: +1500
Erik Karlsson: +1700
Victor Hedman: +1700
Jamie Benn: +2500
Yevgeni Malkin: +2500
Claude Giroux: +2500
Ryan Johansen: +2500
Evgeny Kuznetsov: +2500
Leon Draisaitl: +2500
Tyler Seguin: +2500
Mark Scheifele: +2500
Joe Thornton: +2500
Blake Wheeler: +3500
Phil Kessel: +3500
Johnny Gaudreau: +3500
Brent Burns: +3500
Jakub Voracek: +3500
Anze Kopitar: +3500
Henrik Zetterberg: +3500
Brad Marchand: +4500
John Tavares: +4500
Nikita Kucherov: +4500
Alexander Wennberg: +4500
Artemy Panarin: +5000
William Nylander: +5000
Steven Stamkos: +5000
Jack Eichel: +5000
Duncan Keith: +5000
Mikael Granlund: +5000
Joe Pavelski: +5000
Auston Matthews: +5000
Vladimir Tarasenko: +5000
Any other player: +7500
2017-2018 NHL REGULAR SEASON HEAD TO HEAD ASSISTS MATCHUPS
Connor McDavid: -180
Nicklas Backstrom: +150
Connor McDavid: -210
Ryan Getzlaf: +180
Conor McDavid: -250
Sidney Crosby: +210
Ryan Getzlaf: -120
Victor Hedman: +100
Ryan Getzlaf: -130
Patrick Kane: +110
Patrick Kane: -130
Erik Karlsson: +110
Patrick Kane: -150
Henrik Zetterberg: +130
Leon Draisaitl: -120
Ryan Johansen: +100
Leon Draisaitl: -170
Jack Eichel: +150
Erik Karlsson: -180
Duncan Keith: +150
Blake Wheeler: -130
Phil Kessel: +110
Sidney Crosby: -150
Nikita Kucherov: +130
Brad Marchand: -150
Claude Giroux: +130
Tyler Seguin: -145
Nikita Kucherov: +125
Player with the most regular season assists wins matchup. If either player in matchup is not on his team's opening game roster bet is 'no action'. Otherwise, all bets are action regardless of injuries, suspensions, etc.