NHL Awards Ceremony Betting Odds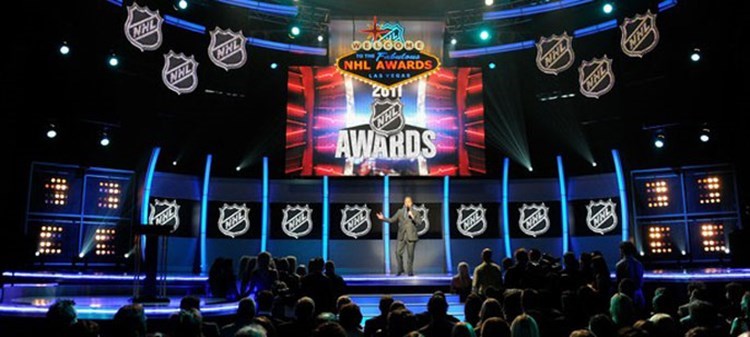 –The National Hockey League recognizes the winners of individual awards at a year end ceremony.
–The 2017 ceremony will be held at the brand new T Mobile Arena in Las Vegas.
–The most prestigious award is the Hart Trophy awarded to the league MVP.
The NHL will give out their year end awards including 'Coach of the Year', 'Rookie of the Year' and 'Most Valuable Player' on Wednesday, June 21 at their annual Awards Ceremony. Las Vegas has become the yearly venue for this ceremony and for 2017 its moved to the recently opened T Mobile Arena.
Here are the official SPORTS BETTING EXPERTS odds to win the major categories along with my analysis. I also picked who likely will win each award as well as who *should* win. They're not necessarily the same people. I didn't set odds for several awards–the Masterton Trophy for 'Dedication to Hockey' for example. I don't have a clue how you can statistically quantify dedication to hockey making it tough to price or handicap:
NHL AWARDS CEREMONY BETTING ODDS
TO WIN HART TROPHY (MOST VALUABLE PLAYER)
Connor McDavid: -650
Sidney Crosby: +300
Sergei Bobrovsky: +2500
WHO WILL WIN: McDavid
WHO SHOULD WIN: McDavid
The Pittsburgh Penguins' Stanley Cup victory (hopefully) eliminated the chance that the NHL would pull the 'fix' and give this award to Sid. I like Bobrovsky but he's here because they needed a third name on the list. No disrespect to Crosby but without him the Penguins are a decent team led by Evgeni Malkin. Without Connor McDavid the Edmonton Oilers were a bumbling laughing stock. In 2014-2015, Edmonton went 24-44-14. In 2015-2016 they showed some improvement in McDavid's rookie season with 7 more wins and 8 more points. Last season, they were a lucky break or two away from playing in the Western Conference Finals and finished the regular season with a record of 46-26-9 for 103 points. Lest we forget, Connor McDavid is 20 years old and is just going to get better. They call him 'McJesus' for a reason.
TO WIN VEZINA TROPHY (BEST GOALTENDER)
Sergei Bobrovsky: -500
Braden Holtby: +300
Carey Price: +2500
WHO WILL WIN: Bobrovsky
WHO SHOULD WIN: Bobrovsky or Holtby
There's a ton of excellent goaltenders in the NHL right now and these three are the 'cream of the crop'. A lot of similarities between the three candidates with all three of their teams disappointing in the playoffs. Bobrovsky and Holtby had almost identical stats–both goalies started 62 games with Holby putting up a 2.07 goals against average and a .925 save percentage. Bobrovsky's numbers were marginally better with a 2.06 GAA and a .932 save percentage. Price had a 2.23 GAA and a .923 save percentage meaning he doesn't have the numbers in this brutally tough race. The NHL tipped their hand on this one when Bobrovsky was nominated for the Hart Trophy. Besides, giving it to him makes sense with Price winning in 2015 and Holtby winning last year.
TO WIN CALDER TROPHY (ROOKIE OF THE YEAR)
Auston Matthews: -2500
Patrick Laine: +750
Zach Werenski: +1750
WHO WILL WIN: Matthews
WHO SHOULD WIN: Matthews
If the NHL has a bumper crop of good goalies right now they've got an even better crop of first year players. Werenski didn't get the media attention the other two did but he had the tougher task–learning to play defense in the National Hockey League. Historically, it's taken a few seasons but Werenski smashed that learning curve. Showed skill on both ends of the ice putting up league best offensive numbers for first year defensemen including goals (11), assists (36) and points (47), and all rookies with a plus-17 rating. Averaged 20+ minutes of ice time for Columbus under mercurial coach John Tortorella. Unfortunately, he won't win this because a defenseman won the Calder in 2015 and Aaron Ekblad set the bar ridiculously high in doing so.
Laine was an early frontrunner and would have won this award in most seasons. 36 goals in the NHL is no joke for any player and particularly for an 18 year old rookierookie–that's the most since some guy named Sidney Crosby scored 39 in his rookie season as an 18 year old. No one is touching the all time record for awhile–#99 put 51 goals in the net during his first NHL season at age 18. Laine is 6'5″ and is going to be an absolute monster once he learns to use that size to his advantage.
With all due respect to the aforementioned two players, this award belongs to Matthews. Matthews became so good so fast that by midseason I'd forgotten that he was a rookie. He put up impressive numbers–his 40 goals were the most by a rookie since Alex Ovechkin put up 52 in 2005-2006. His 40 goals tied for second overall in the league and he led all rookies in goals, assists and shots on goal. What was most impressive is how quickly he became a leader in the NHL and the impact he had on a Toronto team that was considered a 'few years away' from playoff contention. Team performance is likely the deciding factor–Laine and Werenski had significantly more talent and experience around them. Toronto has gone from having no capable centers to having excellent centers on their top three lines (Mitch Marner and William Nylander are #2 and #3). Look for Matthews to be wearing the 'C' sooner rather than later and bringing pride to that traditional hockey hotbed of…Phoenix, Arizona.
TO WIN FRANK J. SELKE TROPHY (BEST DEFENSIVE FORWARD)
Ryan Kessler: -150
Patrice Bergeron: +225
Mikko Koivu: +500
WHO WILL WIN: Kessler
WHO SHOULD WIN: Bergeron
I'm a big fan of forwards that can play defense and these are three of the best. Of the bunch, I'd go with Bergeron to win but no complaints if Kessler or Koivu take home the trophy. This would be Kessler's second Selke Trophy, Koivu's first and Bergeron's fourth. Only one player has won four or more Selke Trophies–Hall of Famer Bob Gainey. Not sure that the league is ready to put Bergeron on the same level just yet.
TO WIN JACK ADAMS AWARD (COACH OF THE YEAR)
Mike Babcock: -250
Todd McLellan: +300
John Tortorella: +300
WHO WILL WIN: Babcock
WHO SHOULD WIN: Babcock
All three did a great job but Babcock did the unthinkable–he got the Toronto Maple Leafs to the playoffs in his second year with the team. Torts and McLellan did what they did with a lot more talent and experience on their roster. Big props to the lineup of talented young players that GM Lou Lamoriello
has put together. Surprise that he didn't at least get nominated for GM of the Year.
TO WIN GENERAL MANAGER OF THE YEAR
David Poile: -450
Peter Chiarelli: +500
Pierre Dorion: +650
WHO WILL WIN: Poile
WHO SHOULD WIN: Poile
Not to minimize the job that Peter Chiarelli has done filling in the pieces around Connor McDavid but things became much easier for him when he selected the most talented hockey player I've ever seen. Dorion did a nice job with a perpetually underachieving Ottawa team and got them to the Eastern Conference Finals. That might have been enough were it not for the Nashville Predators' run to the Stanley Cup Finals. Poile has somehow built a team around veteran leadership while simultaneously building for the future. This is his fourth nomination and if this doesn't get him a win there's a vendetta against him.
TO WIN LADY BYNG TROPHY (MOST GENTLEMANLY PLAYER)
Johnny Gaudreau: -150
Vladimir Tarasenko: +200
Mikael Granlund: +300
WHO WILL WIN: Gaudreau
WHO SHOULD WIN: No clue
I've never really understood this award. The official NHL blurb says that the winner "combines sportsmanship, gentlemanly conduct and ability." In reality, it's given to the best player with the fewest penalty minutes. But aren't penalties 'part of the game'? There's definitely such a thing as a 'good penalty' ie: one that prevents a goal. Not sure how you can establish an inverse relationship between 'gentlemanly conduct' and penalty minutes. There's not a better all around dude in the NHL than Shea Weber and he's averaged 50 penalty minutes or so per season. Some guys that were infamous tough guys on the ice were consummate gentlemen off the ice such as Dave 'Tiger' Williams. I generally like all three of these guys but not because they don't take penalties. Here's something I did notice–8 of the last 10 winners were 5'11" or shorter so that eliminates the 6 foot tall Tarasenko. Granlund is listed as 5'10" but Gaudreau is listed at 5'9″ and based on my observation that's being charitable.
TO WIN NORRIS TROPHY (BEST DEFENSEMAN)
Brent Burns: -350
Erik Karlsson: +300
Viktor Hedman: +300
WHO WILL WIN: Karlsson
WHO SHOULD WIN: Burns
When did we all decide that 'best defenseman' means 'most offensively potent defenseman'? Offense is great and all but shouldn't actually playing defense be a component in determining 'Best Defenseman'? I have no personal beef with Erik Karlsson but I'm sick of people yammering about how he's the 'best defenseman in hockey'. They should create an award like the Selke Trophy for 'Best defensive forward' and give it to the 'Best offensive defenseman'. They could then give this award to the best all around defenseman.
Erik Karlsson won this award in 2012 and 2015. During the 2011-2012 season his Ottawa Senators were ranked #24 in goals against per game and #29 in shots against per game. In 2014-2015 they were a reasonable #13 in goals against but #25 in shots against. They were much better defensively this year with the #10 goals against per game and the #16 shots against per game. Karlsson had little to do with it.
Of the three Brent Burns should win because his team played solid defense.