NFL 2017 Regular Season Proposition Betting Odds including Super Bowl LII Futures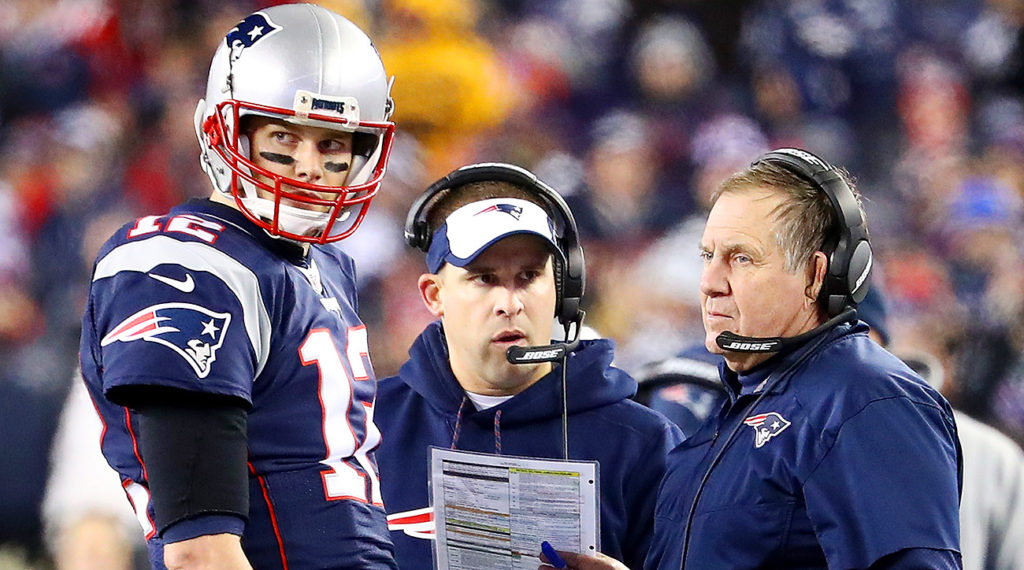 –The 2016 NFL season and Super Bowl LI is in the books and we're looking ahead to the 2017 season and Super Bowl LII.
–The New England Patriots are favored to defend their Super Bowl crown
–Dallas is the second choice in the Super Bowl LII futures odds
The New England Patriots won Super Bowl LI in overtime after a furious second half comeback. Here at SPORTS BETTING EXPERTS, however, we're already looking ahead to the 2018 NFL regular season and Super Bowl LII on February 4, 2018 at US Bank Stadium in Minneapolis. The Patriots have been installed as a +450 favorite to win Super Bowl LII with the Dallas Cowboys a +950 second choice. Every other team is priced at +1000 or higher.
PUBLIC PERCEPTION IS A HUGE FACTOR IN SUPER BOWL FUTURES ODDS
Much of the oddsmaking process for setting Super Bowl futures prices a year out is dictated by 'public perception'. Realistically, it's tough to conclude that the Patriots have a nearly 20% implied probability to defend their title (18.18% to be specific). If all 32 teams were priced at 'true odds' there probably wouldn't be a team at a shorter price than +1000 (9.09% implied probability) but the conventional wisdom of the public means that they're looking to bet on the 'proven commodity'. For that reason, the defending Super Bowl champion is usually set as the favorite to win the following year's championship unless there's a compelling reason to do otherwise. We saw such a 'compelling reason' after Super Bowl 50 with Peyton Manning's retirement and backup Brock Osweiler's impending departure as a free agent. Assuming that Tom Brady and Bill Belichick don't decide to retire overnight no such compelling reason exists here.
Public perception also influences the other high probability choices. The Dallas Cowboys are a +950 second choice as much for their huge mainstream popularity as their talent. This is a 9.52% implied probability but the reality is that a year out there's not a good reason to suggest that they have a better chance to win the Super Bowl than most of the other teams in the top third of this list. To price the top tier teams at 'true odds' would likely require that the top 10 or so be +1750 to win which is a 5.41% implied probability. The reality once again is that a sports book that offered 'true odds' would soon be out of business so the 'public perception' of the top teams drives the pricing. Even for the best teams, winning a Super Bowl isn't easy. The 1985 Chicago Bears were in my opinion the single best NFL team to ever step on a football field. The Bears won Super Bowl XX in dominating fashion and never won another. As a franchise, the Bears have only one NFC Championship since and lost Super Bowl XLI to the Indianapolis Colts.
Public perception is also at work at the low end of the qualitative spectrum. At +10000 the Los Angeles Rams and New York Jets have right around a 1% chance to win the Super Bowl (0.99%). This prompts the question 'are the San Francisco 49ers (+15000) or Cleveland Browns (+25000) really that much worse than the Rams and Jets? Probably not, at least not to any statistically significant degree. The public thinks otherwise, however, which is why the Niners and Browns are priced to reflect a 0.6% and 0.4% chance to win the Super Bowl respectively. If a sportsbook priced all four of these doormats at +10000 there would be no incentive for *anyone* to back the Niners and the Browns. The oddsmaker has to offer a 'premium' for anyone brave enough to back these teams in the form of a higher moneyline price. It's essentially the opposite of the way that top teams are 'shaded' by the linesmaker–in that case *you're* the one 'paying the premium'.
2017 NFL REGULAR SEASON STORYLINES ALREADY DEVELOPING
There are a number of compelling storylines for the next NFL regular season already developing. One of the most interesting is the Tony Romo situation in Dallas. The presumption entering the regular season was that Romo would return to his starting job once he'd recovered from injury. Instead, with the emergence of rookie quarterback Dak Prescott leading the Cowboys to a 13-3 record he's become the 'odd man out' in Dallas. A team can't justify paying a 36 year old backup quarterback over $8.5 million a season. The poised and media savvy Romo has already been offered a network analyst gig but has made clear that he's not looking to retire. That means he could end up on one of several quarterback desperate teams and that's where we'll start the 2017 NFL Regular Season Proposition betting odds.
Other big storylines include former Cleveland Browns' quarterback Johnny Manziel who is insisting that he's 'clean and sober' and wants a chance to play. There are also questions about Brock Osweiler's status as quarterback for the Houston Texans. The Texans signed Osweiler to a four year, $72 million contract before the start of the 2016 season yet he was ineffective. That has made his future in Houston cloudy–his salary means that he'll likely get another year to prove his worth but the Texans have made clear that they plan on drafting a quarterback if for no other reason to put some 'psychological pressure' on Osweiler.
ODDS TO WIN SUPER BOWL LII
New England Patriots +450
Dallas Cowboys +950
Green Bay Packers: +1000
Seattle Seahawks +1150
Atlanta Falcons +1200
Pittsburgh Steelers: +1450
Minnesota Vikings: +1750
Denver Broncos: +1750
Kansas City Chiefs: +1750
Oakland Raiders: +1800
Carolina Panthers: +2400
Arizona Cardinals: +2500
Indianapolis Colts: +2750
New York Giants: +2750
Philadelphia Eagles: +3500
Houston Texans: +3500
Baltimore Ravens: +4100
Tampa Bay Buccaneers: +4100
Tennessee Titans: +4100
Miami Dolphins: +4500
Cincinnati Bengals: +5000
Washington Redskins: +5750
Detroit Lions: +6100
New Orleans Saints: +6500
Los Angeles Chargers: +6500
Buffalo Bills: +7200
Jacksonville Jaguars: +7700
Chicago Bears: +9000
Los Angeles Rams: +10000
New York Jets: +10000
San Francisco 49ers: +15000
Cleveland Browns: +25000
2017 NFL REGULAR SEASON PROPOSITION BETTING ODDS
New England and Atlanta to rematch in Super Bowl LII: +2850
New England to beat Atlanta in Super Bowl LII: +4100
Atlanta to beat New England in Super Bowl LII: +4500
New England to miss playoffs in 2017: +450
Atlanta to miss playoffs in 2017: +350
Atlanta AND New England to miss playoffs in 2017: +950
Tom Brady to win Super Bowl LII MVP: +2500
Super Bowl LII to go to overtime: +700
Super Bowl LII to not go to overtime: -950
Which team will Tony Romo be with at kickoff of Week 1 of the 2017 NFL Season?
Denver Broncos: +350
Chicago Bears: +500
Houston Texans: +700
New York Jets: +700
Buffalo Bills: +700
Kansas City Chiefs: +750
Dallas Cowboys: +950
Arizona Cardinals: +1200
Miami Dolphins: +1600
Any Other Team: +700
Retired+2500
Will Johnny Manziel be on the active roster of any team for Week 1 of the 2017 NFL Season?
Yes: +750
No: -1000
Will Brock Osweiler be the starting QB of the Houston Texans in Week 1 of the 2017 NFL Regular Season?
Yes: -150
No: +130
Will any 2017 NFL regular season game end in a tie?
Yes: -150
No: +130
Number of tie games during the 2017 NFL regular season?
Over 1.5: +350
Under 1.5: -500
Final score of the first tie game of the 2017 NFL regular season? (No Tie = No Action)
Over 42.5: -150
Under 42.5 +130
Highest team loss total in the 2017 NFL regular season?
Over 13.5 losses: -140
Under 13.5 losses: +120
Highest team win total in the 2017 NFL regular season?
Over 13.5 wins: -120
Under 13.5 wins: +100
Number of teams with more than 13.5 losses in the 2017 NFL season?
Over 1.5: +120
Under 1.5: -140
Number of teams with more than 13.5 wins in the 2017 NFL season?
Over 1.5: +130
Under 1.5: -150
Will any team win a 2017 NFL divisional title with a winning percentage of .500 or less?
Yes: +210
No: -250
Will any team go 16-0 during the 2017 NFL regular season?
Yes: +1750
No: -2500
Will any team go 0-16 during the 2017 NFL regular season?
Yes: +1750
No: -2500
Will any team go 16-0 during the 2017 regular season AND win Super Bowl LII?
Yes: +3750
No: -10000
How many teams will finish the 2017 NFL regular season with an 8-8 record?
Over 2.5: -120
Under 2.5: +100
The 2017 NFL Regular Season MVP (aka the Associated Press MVP) will be?
A player that has previously won the MVP award: +425
A player that has not previously won the MVP award: -500
The 2018 NFL Super Bowl MVP will be?
A player that has previously won the MVP award: +1150
A player that has not previously won the MVP award: -1500
The 2017 NFL Regular Season MVP (aka the Associated Press MVP) will be?
A quarterback: -175
Not a quarterback: +150
The 2018 NFL Super Bowl MVP will be?
A quarterback: -175
Not a quarterback: +150
Will a head coach be fired during the 2017 NFL regular season?
Yes: -450
No: +300
Number of head coaches fired during the 2017 NFL regular season?
Over 1.5: -150
Under 1.5: +120
Total points scored in the 2017 regular season:
Over 11600.5: -140
Under 11600.5: +120
NFL average team points per game for the 2017 regular season:
Over 22.5: -120
Under 22.5: +100