Karpov Poikovsky Chess Tournament 2018 Round Two Betting Odds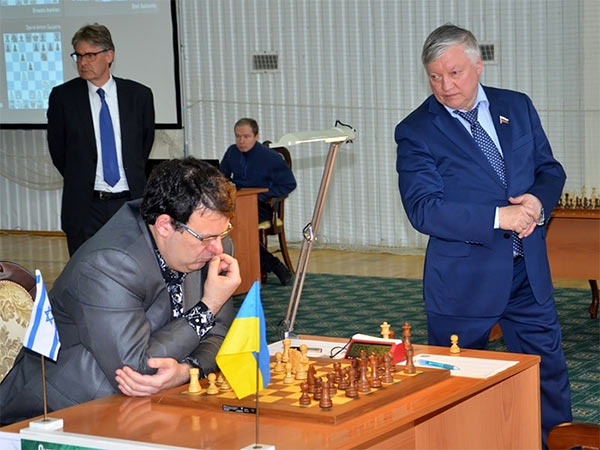 –Chess is a surprisingly popular game among bettors–particularly in Europe.
–Emil Sutovsky is the defending champion
–The tournament runs May 26 through June 6 in Poikovsky, Russia.
There are two major international chess tournaments starting later this week. Of the two, this is the lower profile event and based on FIDE scores has the weaker field. The Karpov Poikovsky Chess Tournament is taking place in Russia beginning on Saturday. The other international tournament is the Altibox Norway Chess Tournament–we'll cover that in a separate post.
The Karpov Poikovsky tournament is so named in honor of Russian chess great Anatoly Karpov. Karpov now exists in the shadow of Garry Kasparov who not only has a strong claim to being the best Russian chess player in history but the best chess player period in history. Karpov was no joke himself–won 160 tournaments during his career and had a peak FIDE rating of 2780. He spent 102 total months as the top ranked chess player in the world, second only to Kasparov. He first entered the upper echelons of world chess in the early 1970s and remained a formidable competitor well into the 1990s. A twenty year career in any type of competitive endeavor is extremely impressive. The tournament held in his honor began in 2000 and takes place annually in Poikovsky, Russia.
Emil Stuovsky is the defending champion but is only the #4 betting choice at +750. The tournament favorite is world #17 ranked Ian Nepomniachtchi and the field gets considerably weaker after that all the way down to Viktor Bologan, ranked #198 in the world.
2018 KARPOV POIKOVSKY CHESS TOURNAMENT BETTING ODDS
TO WIN 2018 KARPOV POIKOVSKY CHESS TOURNAMENT (MAY 26–JUNE 6)
Ian Nepomniachtchi: +250
Vladimor Fedoseev: +450
Boris Gelfand: +600
Emil Sutovsky: +750
Gujrathi Vidit Santosh: +750
Dmitry Jakovenko: +750
Vladislav Artemiev: +900
Anton Koroboc: +900
Vladislav Kovalev: +1500
Viktor Bologan: +2500
2018 KARPOV POIKOVSKY CHESS TOURNAMENT ROUND TWO BETTING ODDS
DMITRY JAKOVENKO VS. BORIS GELFAND
Dmitry Jakovenko: -350
Boris Gelfand: +300
Dmitry Jakovenko: +250
Draw: -225
Boris Gelfand: +1000
Dmitry Jakovenko/Draw: -3500
Boris Gelfand/Draw: -350
Dmitry Jakovenko/Boris Gelfand: +175
IAN NEPOMNIACHTCHI VS. EMIL SUTOVSKY
Ian Nepomniachtchi: -650
Emil Sutovsky: +575
Ian Nepomniachtchi: +165
Draw: -155
Emil Sutovsky: +1150
Ian Nepomniachtchi/Draw: -9500
Emil Sutovsky/Draw: -225
Ian Nepomniachtchi/Emil Sutovsky: +115
VIKTOR BOLOGAN VS. ANTON KOROBOV
Viktor Bologan: +115
Anton Korobov: -135
Viktor Bologan: +300
Draw: -115
Anton Korobov: +250
Viktor Bologan/Draw: -350
Anton Korobov/Draw: -425
Viktor Bologan/Anton Korobov: +100
VLADISLAV ARTEMIEV VS. VLADIMIR FEDOSEYEV
Vladislav Artemiev: -200
Vladimir Fedoseyev: +170
Vladislav Artemiev: +275
Draw: -175
Vladimir Fedoseyev: +525
Vladislav Artemiev/Draw: -925
Vladimir Fedoseyev/Draw: -375
Vladislav Artemiev/Vladimir Fedoseyev: +125
VLADISLAV KOVALEV VS. GUJRATHI VIDIT SANTOSH
Vladislav Kovalev: +110
Gujrathi Vidit Santosh: -130
Vladislav Kovalev: +450
Draw: -200
Gujrathi Vidit Santosh: +375
Vladislav Kovalev/Draw: -600
Gujrathi Vidit Santosh/Draw: -750
Vladislav Kovalev/Gujrathi Vidit Santosh: +175