Hell's Kitchen Season 17 with Gordon Ramsey Episode 6 Betting Odds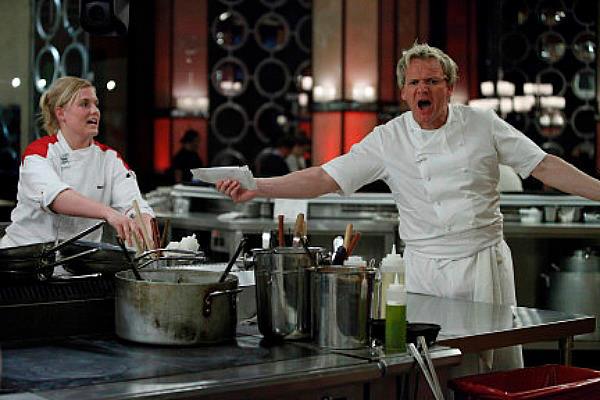 –'Hell's Kitchen' hosted by Chef Gordon Ramsay is entering it's 17th season on Fox.
–The season 17 winner will become head chef at the new Gordon Ramsay Hell's Kitchen Restaurant at Caesar's Palace in Las Vegas.
–Episode 6 of 'Hell's Kitchen' Season 17 will air on November 10, 2017 at 8:00 PM Eastern on Fox
NOTE: Episode 5 was originally scheduled for Friday, October 27 but pre-empted due to the World Series. The rescheduled episode aired on Friday, November 3.
Strange turn of events on Episode 5 but when the smoke cleared we had one more contestant eliminated and a wide open competition among the ones that remain. In fact, you can make a good case that it was a 'reset' among the remaining contestants since *both* teams did an excellent job during service–so much so that Ramsay declared them both winners for the week.
At the other end of the culinary qualitative spectrum was Josh Trovato. Trovato would have been eliminated last week but received a reprieve from Chef Ramsey who sent him to the 'Red Team' with Robyn Almodovar joining the 'Blue Team'. He might as well have gone home then and saved him a lot of hassle. Josh was summarily dismissed by Chef Ramsey mid service. Here's how it went down from the BuddyTV.com recap:
Ninety minutes into dinner service, Josh returns to the Red Kitchen as if Ramsay is just going to allow him to get back to work. "What are you doing here?" Everyone is just as confused if not more than the man who sent him away. He takes Josh into the pantry to hear him out. "I need to be here, Chef," Josh pleads. It doesn't work that easily.

"You are not ready to become my Head Chef in Vegas," Ramsay confirms. "That's it. Over. Front door!" Josh hands over his jacket and walks through the crowded dining room, making quite the walk of shame. All the while, he believes that Chef Ramsay could still call him up for a second chance. I hope someone reminded him that he was just on the All-Star season. This was the second chance.
HELL'S KITCHEN MISCELLANY
–Saw a good observation on the Hell's Kitchen Reddit making a point that I've emphasized repeatedly in the past. In this show (and I would argue most reality shows) the contestants have a pro wrestling 'gimmick' or persona that is usually an exaggerated version of their real personality. The poster also raises the suggestion that these personas might have been created by the 'Hell's Kitchen' producers much like a 'booker' will at times develop a gimmick and find the right wrestler to fill it:
The personas written for this season are almost amplified more than what they would usually be. They really honed in on the fact that the "contestants" already had somewhat of a developed character from the previous seasons, written almost as if they were personas for a pro wrestler or something. Especially Robyn, Josh and Barbie. Am I the only one who thinks this?
–A couple of contestants that are rounding into contention are Milly Medley and Nick Peters Bond. Medley isn't a huge surprise as he opened as a +900 fifth choice in my preseason 'To Win' odds but is now a +600 third choice. Unless he completely drops the ball I'll be cutting those odds in next week's update.
The other contestant is one that I'm definitely going to re-evaluate over the next week. Nick Peters Bond has a vocal fanbase on the 'Hell's Kitchen' Reddit. A poster made the very salient point that Bond has "shown the most growth in terms of attitude and skill out of all the contestants." This is a component that I will start to give more attention to going forward. He's also received high marks for his positive attitude and sense of humor. This aspect of their personality is something that the 'average Joe' might not appreciate the significance of. The stereotype of the professional chef among the 'general public' is a guy like Ramsey's 'Hell's Kitchen' TV 'gimmick'–a temperamental hothead that evokes a mixture of fear and respect among his charges. There's has been and still is some validity to this but it's definitely changing. It makes sense–a chef that has a good attitude and is proactive about helping his staff improve is a very valuable commodity. You don't have to be a genius to realize that when your team actually enjoys coming to work they're going to perform better day in and day out. To be fair, a number of associates who know him well have indicated that there's a lot more of a 'patient teacher' aspect to Ramsey's personality in real life. You can be sure that Ramsey understands this and rightfully figures that this personality trait will be especially important in the unique Las Vegas market. Anyway, the entire comment on Bond was a good one:
After Episode 4, i'm starting to think I have a new favorite in Nick. He's shown the most growth in terms of attitude and skill out of all the contestants in HK:AS and he displays a great sense of humor few chefs have managed to carry. If Milly doesn't go all the way, Nick would be the next best candidate.

Also, his friendship with Robyn is literally everything that is good with the world.
Here are the odds to win the overall Season 17 competition along with odds for Episode Six:
HELL'S KITCHEN SEASON 17 BETTING ODDS
TO WIN HELL'S KITCHEN SEASON 17
Dana Cohen: +350
Giovanni Filliponi: +500
Milly Medley: +600
Michelle Tribble: +900
Jared Bobkin: +1500
Nick Peters Bond: +1500
Jennifer Normant: +1750
Elise Harris: +1750
Van Hurd: +1750
Benjamin Knack: +1750
Barbie Marshall: +2500
Manda Palomino: +2500
Robyn Almodovar: +2500
GENDER OF HELL'S KITCHEN SEASON 17 WINNER
Male: -110
Female: -110
GENDER OF HELL'S KITCHEN SEASON 17 FINAL TWO
Male/Male: +140
Male/Female: +110
Female/Female: +175
WILL ANY CHEF WITHDRAW FROM THE SEASON 17 COMPETITION?
Yes: -180
No: +150
WILL ANY CHEF WITHDRAW FROM THE SEASON 17 COMPETITION MID-SERVICE?
Yes: +500
No: -650
HELL'S KITCHEN SEASON 17 EPISODE 6 BETTING ODDS
TO BE ELIMINATED IN EPISODE 6
Robyn Almodovar: +500
Barbie Marshall: +500
Elise Harris: +650
Manda Palomino: +650
Jared Bobkin: +700
Benjamin Knack: +1000
Nick Peters Bond: +1000
Van Hurd: +1500
Jennifer Normant: +1700
Milly Medley: +2500
Giovanni Filliponi: +2500
Michelle Tribble: +2500
Dana Cohen: +2500
No One Eliminated: +2500
TO BE BOTTOM TWO BUT SAFE IN EPISODE 5
Elise Harris: +350
Manda Palomino: +500
Robyn Almodovar: +500
Barbie Marshall: +850
Jennifer Normant: +1250
Nick Peters Bond: +1250
Jared Bobkin: +1500
Benjamin Knack: +1500
Van Hurd: +1500
Michelle Tribble: +1850
Giovanni Filliponi: +1850
Milly Medley: +2500
Dana Cohen: +2500
No One Bottom Two/Safe: +2500
WILL ANYONE BE ELIMINATED DURING SERVICE?
Yes: +180
No: -210
WHO WILL WIN SERVICE CHALLENGE?
Red Team: +150
Blue Team: -225
No One: +500
WHO WILL WIN REWARD CHALLENGE?
Blue Team: +110
Red Team: -135
No One: +400
HELL'S KITCHEN EPISODE 5 RATING
Over 1.05: +110
Under 1.05: -130
HELL'S KITCHEN EPISODE 5 SHARE
Over 4.5: +180
Under 4.5: -210
HELL'S KITCHEN EPISODE 5 VIEWERSHIP
Over 3.65 million: -130
Under 3.65 million: +110