Hell's Kitchen Season 17 with Gordon Ramsey Episode 12 Betting Odds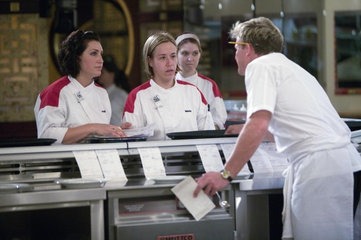 –'Hell's Kitchen' hosted by Chef Gordon Ramsay is entering it's 17th season on Fox.
–The season 17 winner will become head chef at the new Gordon Ramsay Hell's Kitchen Restaurant at Caesar's Palace in Las Vegas.
–Episode 12 of 'Hell's Kitchen' Season 17 will air on January 12, 2018 at 8:00 PM Eastern on Fox
Something of a surprise elimination on Episode 11 of 'Hell's Kitchen' as Dana Cohen turned in her jacket and left the Season 17 cast. Cohen had been the pre-season favorite and remained one of the top choices throughout. She had lost her overall favorite status but that was more of a case of other contestants improving while she remained somewhat stagnant. It appeared that she'd be one of the last ones standing–and certainly the best chance for the Red Team–but she was ultimately done in by the toxic work relationship among herself and her peers.
Here's how CelebDirtyLaundry.com described the Episode 11 denouement:
The red team returns to the dining room as Chef Ramsay rejoins them, saying everything they do from here on in, is under a microscope because he can imagine one of them running Hell's Kitchen, Las Vegas. The Red Team is split on who should go home and hasn't come to a consensus; he rubs his head in frustration. Jennifer says Dana struggled on meat and she is their first nominee, the second one Jennifer picked Michelle because she feels she can't lead them; the third nomination is Elise because Dana and Michelle feel with Elise gone they would be stronger as a group.

All three women are told to step forward and plead their case, saying the same things they say ever week, but begin to bicker right in front of Chef Ramsay, proving what the problem is. Chef Ramsay tells Michelle to get back in line. He tells Elise to get back in line and tells Dana to come to him and that honestly he couldn't wait to bring her back, but unfortunately, in her worst days he isn't feeling that leader and she isn't ready to be the head chef in Hell's Kitchen.
That brings us back to the thing I've found downright inexplicable this season–the constant bickering of the Red Team. Obviously, when strong personalities work together there's bound to be some disagreement but in most episodes the Red Team is constantly whining and talking behind each other's back outside of the kitchen. Even more problematic is the constant screaming at each other–or as Chef Ramsey termed it a "fight and bitch fest".
Now the group is even more fractious. Here's how BuddyTV described the growing schism within the Red Team:
Well, Dana drops the ball… again. The wellingtons are overcooked then under-cooked. You never know which one you'll get. Ramsay takes the women to the pantry and tells them to figure out which two all-stars to put up for elimination. The Elise-Jennifer Alliance is now in full swing. The women are split down the middle now as the alliance gun for Dana and Michelle, or "Dachelle" as Elise has named their clique.

With two against two, the Red Team stands before Ramsay with a split decision. Dana, Michelle and Elise are all asked to step forward and fight for their spot in the competition. Michelle is told to get back in line. Elise's name is called after… to step back in line!
Keep in mind this is an All Star season so all of the contestants have been down this road before and presumably know what they need to do (and not do) to get over with Chef Ramsey. Beyond that, they've all worked in kitchens and have had some measure of professional success. So why is the Red Team such a train wreck (Chef Ramsey used the term 'fragmented')? Is it a bit? Are the Red Team-ers really incapable of keeping their personal animosity in check long enough to put together a competent meal? Even McDonald's employees know not to argue with co-workers in front of customers. Are they hamming it up for TV? There's plenty of people who don't get along with their co-workers at every level of vocational endeavor. Even so, they manage to maintain enough control and professionalism to get a job done. This ethos is as important in a professional kitchen as anywhere, if not more so.
In all fairness, much can be done in the editing room to change the tenor of a reality show. And as I've said in the past, contestants that are 'quietly competent' don't make for good television. That being said, the Red Team's antics have been beyond the pale. I've wondered at times if it is a 'work' (that's a pro wrestling term referring to anything with a predetermined outcome) and the Red Team-ers have been instructed to act in a way that makes Lucy and Ethel in the classic 'candy factory' shtick look like Joel Robuchon by comparison. In any case, Chef Ramsey is aware of the mess and made it clear in Episode 11 that he can't see any of the Red Team running his new place in Las Vegas.
Here are the odds to win the overall Season 17 competition along with odds for Episode Twelve:
HELL'S KITCHEN SEASON 17 BETTING ODDS
TO WIN HELL'S KITCHEN SEASON 17
Nick Peters Bond: +200
Milly Medley: +200
Jennifer Normant: +500
Robyn Almodovar: +500
Elise Harris: +650
Michelle Tribble: +1500
Benjamin Knack: +1500
GENDER OF HELL'S KITCHEN SEASON 17 WINNER
Male: -170
Female: +150
GENDER OF HELL'S KITCHEN SEASON 17 FINAL TWO
Male/Male: +125
Male/Female: +110
Female/Female: +200
WILL ANY CHEF WITHDRAW FROM THE SEASON 17 COMPETITION?
Yes: +300
No: -350
WILL ANY CHEF WITHDRAW FROM THE SEASON 17 COMPETITION MID-SERVICE?
Yes: +950
No: -1500
HELL'S KITCHEN SEASON 17 EPISODE 12 BETTING ODDS
TO BE ELIMINATED IN EPISODE 12
Robyn Almodovar: +200
Elise Harris: +300
Michelle Tribble: +350
Benjamin Knack: +500
Jennifer Normant: +700
Milly Medley: +1500
Nick Peters Bond: +1500
No One Eliminated: +2500
TO BE BOTTOM TWO BUT SAFE IN EPISODE 12
Elise Harris: +250
Michelle Tribble: +250
Robyn Almodovar: +300
Benjamin Knack: +350
Jennifer Normant: +700
Milly Medley: +2500
Nick Peters Bond: +2500
No One Bottom Two/Safe: +5000
WILL ANYONE BE ELIMINATED DURING SERVICE?
Yes: +375
No: -750
WHO WILL WIN REWARD CHALLENGE?
Red Team: +210
Blue Team: -250
No One: +5000
WHO WILL WIN SERVICE CHALLENGE?
Blue Team: -350
Red Team: +300
No One: +5000
HELL'S KITCHEN EPISODE 12 RATING
Over 0.85 -150
Under 0.85: +130
HELL'S KITCHEN EPISODE 12 SHARE
Over 4.5: +300
Under 4.5: -350
HELL'S KITCHEN EPISODE 12 VIEWERSHIP
Over 3.25 million: -150
Under 3.25 million: +130