'Dancing with the Stars' Season 25 Episode 6 Betting Odds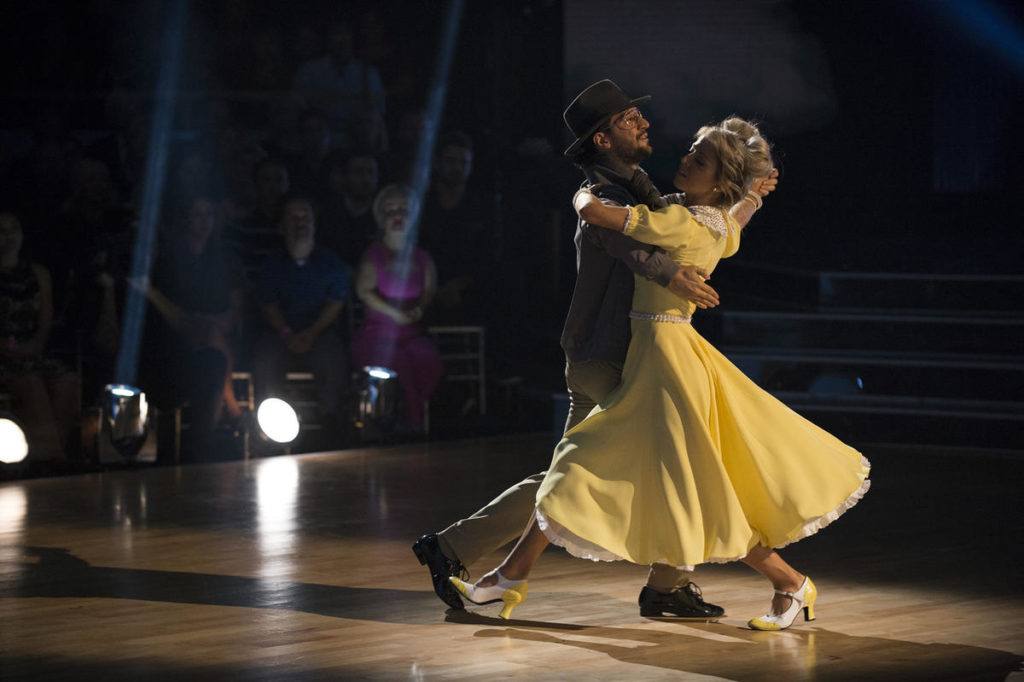 –This is the 25th season for ABC's reality show.
–NFL running back Rashad Jennings was the Season 24 winner.
–'Dancing With The Stars' Episode 6 will air on October 16, 2017.
I've observed a number of times this season that it's a waste of time for any other 'Dancing with the Stars' contestant to work the 'sympathy angle' with Victoria Arlen in the field. Nothing they can come up with will top Arlen–how do you beat "I was in a vegetative state for four years and just learned how to walk again"? This was on full display in Episode 5 of 'Dancing with the Stars' which had the theme 'Most Memorable Year'. While there were a few positive 'memorable years' the DWTS producers might as well have titled it 'Here's *my* sob story'. Again, I'm not trying to denigrate anything anyone else has been through but the fact remains that from an emotional standpoint every other contestant is laying a flush on the table while Arlen is holding a four of a kind.
After the previous episode which had no elimination in the aftermath of the Las Vegas shooting this episode was fairly eventful. Derek Fisher was finally eliminated. I had 'D-Fish' as the first contestant to get shown the door this season and his elimination is hard to argue with looking at the scores. He's got the third lowest average score (20.0) but despite him turning in his best score of the season (23) he hasn't shown much improvement week to week. So 'D-Fish' is gone and Nick Lachey might be next to follow him out the door. It's hard to believe how tentative and uncomfortable he looks. It's even harder to believe that at least one sportsbook had him installed as the pre-season favorite based on this tenuous logic: Nick was in a 1990's 'boy band' called 98 Degrees. 1990's 'boy bands' used to dance around on stage. 98 Degrees had a fair amount of popularity. Ergo, Nick knows how to dance, will be comfortable in front of a crowd and have a lot of fan support. To be fair, there were many in the general public that had the same rationale but they're not in the business of taking bets.
In other developments–Terrell Owens continues to improve and is starting to display the swagger and charisma he had on the football field. Jordan Fisher was awarded the first '10' score of the season and finished with the highest overall score this season (29). Maks Chmerkovskiy returned to the show after missing last week due to 'personal reasons' which may or may not have been heat with his celebrity partner Vanessa Lachey. We also learned that Frankie Muniz has taken more shots to the dome than Sidney Crosby. Nick Lachey clearly cannot catch a break right now–he talked about how happy he's been married to his current wife and what does he get for it? He gets trolled by Jessica Simpson fans. Wait, she still has fans?
Here's the Episode Five contestant rundown:
EPISODE FIVE CONTESTANT REPORT CARD
Here's a look at each dancer's performance in the previous episode including an update on the competitive dynamic and what it means for the betting odds.
VICTORIA ARLEN: Victoria Arlen continued her solid performance with 9's across the board. The 27 score was the second highest behind 'J-Fish' and his 29. Now has the 4th highest average score (tie) at 22.4. I think 'being able to walk again' qualifies for a 'Most Memorable Year'.
NIKKI BELLA: A better week for the future Mr. John Cena. Her 'Most Memorable Year' sob story was the neck injury she suffered awhile back that almost left her paralyzed. The operative term there is 'almost' and she returned to the WWE ring 7 months later. In a six person pack of contestants earning a 24. Right in the middle of the field in a 7th place tie with a 20.8 average score.
DEREK FISHER: Fisher got a 23 which is his highest score on the season but the second lowest on the show. It's also his last score of the season as he was eliminated. Used his daughter's eye cancer as the 'Most Memorable Year' story.
JORDAN FISHER: 'J-Fish' continues to shine with the first '10' of the season and a season high total score of 29. Talked about his mom's struggles with drugs and being adopted by his grandparents. A sad story no doubt but lest we forget he could still use his legs the whole time unlike *some* contestants. If you think it's a lock that 'J-Fish' wins this season I'll remind you of a very important point: In the past, contestants with functional 'real world' dancing experience have often started strong but quickly reached the apex of their potential. Meanwhile, contestants that bumbled through the first few dances start improving by leaps and bounds (eg: David Ross last year).
NICK LACHEY: Nick was my favorite to be eliminated but somehow survived despite the lowest score of the episode at 22. Nick needed a big performance and didn't get one. It's starting to look like he's not capable of one. Starting to have that 'walking dead man' look about him. His 'most memorable year' was a positive one–his marriage to Vanessa Lachey. This may have been his best dance of the year but if that's true and he only got a 22 for it things don't look good. My top choice to be eliminated this week.
VANESSA LACHEY: Vanessa scored a 24, one point higher than last week. Might be hitting the peak of his abilities. The a 'chemistry issue' with her partner Maks Chmerkovskiy is still hanging over her going forward. The 'party line' is that Chmerkovsiy is dealing with a 'personal issue' and sat out last week. Her 'Most Memorable Year'was the birth of her third son who was delivered prematurely at 29 weeks.
FRANKIE MUNIZ: Frankie improved on last week's score (21) but was part of that big six person pack with a 24. We also got some more backstory on Frankie–he says he had 9 concussions during his racing career as well as a 'mini-stroke'. Apparently, he doesn't remember starring in 'Malcom in the Middle' which at the time made him one of the most bankable young stars in Hollywood. Not in any immediate danger, but looks like a mid pack finish for Frankie.
TERRELL OWENS: Don't sleep on T.O. The former NFL monster wide receiver got 8's across the board for a 24. Sure, he might be part of the aforementioned 'big pack' but unlike the rest of the bunch he's heading in the right direction. Very emotional dance honoring his late grandmother who raised him. T.O. shed some tears afterwards and both judges and fans loved it. If we continue to get charismatic 'good T.O.' he might pull into contention for a strong finish, if not the win. If T.O. is focused and working hard to improve he'll be a handful for the other competitors as he's on another level athletically from the rest of the field. Judge Carrie Ann Inaba made a similar point saying: "I saw poise, I saw a newfound elegance. It elevated everything."
SASHA PIETERSE: Sasha Pieterse turned a 24 which puts her in that six person middle pack but does represent a five point improvement over last week. Again, not to minimize her personal struggles but a 'hormonal imbalance and engagement' isn't going to beat 'vegetative state'. Running out of time to make a move though she is getting herself into better shape physically. Currently has the #6 overall average score (21.2). She's not in immediate danger but could be soon unless she shows strong improvement.
DREW SCOTT: Drew Scott pulled himself out of the bottom three with a solid performance and a heartfelt shoutout to his home town of Las Vegas last week. He finished with a 23 then and topped that with a 24 here. That puts him in the middle half dozen on this show and raises his overall average score to 20.8. Scott is solidly mid-pack now but could be this year's David Ross if the improvement continues. At the very least, he's no longer in immediate danger. Props to him for having a positive 'Most Memorable Year' as he talked about 2007 when he gave up on his acting ambitions but started '
LINDSEY STIRLING: Stirling is a rock star. I don't mean literally (though she is that too) but figuratively–she has that 'it factor'. Carrie Ann Inaba once again summed it up: "There is such a unique artistry to you." Her 'Most Memorable Year' was a sad one–her dad died of cancer last year–but she absolutely nailed the dance and had at least one judge in tears. Judge Bruno Tonioli said her dance was: "Gorgeous and magical…moving and inspiring". Len Goodman–who has a 'heel judge' gimmick–said she needed more Viennese Waltz, praising the imagination and emotion in her dance but suggesting that the fundamentals weren't there. He's the same type of person that dismisses Jimi Hendrix as a 'poor technical guitarist'.In any case, she finished with a 26 for the third highest score of the week though it was down a point from last week's 27. Boxing analyst Larry Merchant once summed up why George Foreman got a world title shot during his comeback: "There are many champions, there are only a few stars." Lindsey Stirling is a star in a field of celebrities. Still my choice to win.
Here's the betting odds for Season 25 of 'Dancing with the Stars' along with some odds on Episode 5. Big shake up in the 'To Win' numbers this week:
DANCING WITH THE STARS SEASON 25 BETTING ODDS
TO WIN DANCING WITH THE STARS SEASON 25
Lindsey Stirling: +200
Jordan Fisher: +250
Victoria Arlen: +500
Frankie Muniz: +850
Drew Scott: +850
Terrell Owens: +850
Vanessa Lachey: +1850
Nikki Bella: +1850
Sasha Pieterse: +2500
Nick Lachey: +5000
TO WIN DANCING WITH THE STARS SEASON 25
Victoria Arlen/Jordan Fisher/Lindsey Sterling: -250
Any other contestant: +210
DANCING WITH THE STARS SEASON 25 EPISODE 6 BETTING ODDS
WHO WILL BE ELIMINATED IN EPISODE 6?
Nick Lachey: +150
Sasha Pieterse: +350
Terrell Owens: +450
Drew Scott: +750
Nikki Bella: +750
Vanessa Lachey: +1500
Frankie Muniz: +1500
Victoria Arlen: +2500
Lindsey Stirling: +5000
Jordan Fisher: +5000
No One Eliminated in Episode 6: +7500
WHO WILL BE ELIMINATED IN EPISODE 6?
Derek Fisher/Terrell Owens/Nick Lachey: -250
Any other contestant: +210
JUDGES' HIGHEST SCORE IN EPISODE 6
Jordan Fisher: +200
Lindsey Stirling: +225
Victoria Arlen: +500
Frankie Muniz: +1000
Sasha Pieterse: +1000
Drew Scott: +1000
Terrell Owens: +1000
Vanessa Lachey: +2500
Nikki Bella: +2500
Nick Lachey: +5000
JUDGES' HIGHEST SCORE IN EPISODE 6
Jordan Fisher/Victoria Arlen/Lindsey Stirling: -250
Any other contestant: +180
JUDGES' LOWEST SCORE IN EPISODE 6
Nick Lachey: +150
Nikki Bella: +350
Vanessa Lachey: +350
Frankie Muniz: +700
Sasha Pieterse: +700
Terrell Owens: +1500
Drew Scott: +1500
Victoria Arlen: +5000
Lindsey Stirling: +7500
Jordan Fisher: +7500
JUDGES' LOWEST SCORE IN EPISODE 6
Nikki Bella/Nick Lachey/Vanessa Lachey: -350
Any other contestant: +300
OVERALL SCORING PROPOSITION ODDS
NUMBER OF '10' SCORES TO BE AWARDED IN EPISODE 6
0: +400
1-3: +300
4-7: -250
8+: +1000
NUMBER OF '9' SCORES TO BE AWARDED IN EPISODE 6
0: +1500
1-3: +750
4-7: +450
8+: -250
OVERALL AVERAGE SCORE FOR EPISODE 6 WILL BE?
Over 24.5: -150
Under 24.5: +130
THE LOWEST SCORE OF EPISODE 6 WILL BE
Over 22.5: -130
Under 22.5: +110
THE HIGHEST SCORE OF EPISODE 6 WILL BE
Over 28.5: -130
Under 28.5: +110
TV RATINGS PROPOSITION ODDS
EPISODE 6 KEY DEMO (18-49) RATINGS
Over 1.35: -150
Under 1.35: +130
EPISODE 6 KEY DEMO (18-49) SHARE
Over 5.5: +130
Under 5.5: -150
EPISODE 6 TOTAL VIEWERS
Over 9.25 million: -120
Under 9.25 million: +100
EPISODE 6 NIELSEN RANKING (10/16/17 through 10/22/17)
Over 10.5: -125
Under 10.5: +105