Cubs, Orioles Evenly Matched As Series Kicks Off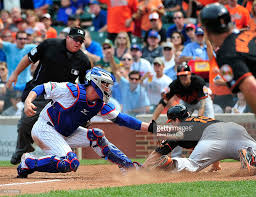 Who: Chicago Cubs v. Baltimore Orioles
When: Friday July 14th, 2017 7:05PM EST
Where: Oriole Park at Camden Yards—Baltimore, Maryland
Both the Orioles and the Cubs, who are defending World Series Champions, have had less than a stellar start to this year's campaign. Both teams currently find themselves a few games below .500, and are in need of a much better second half of the season than their respective first halves. For both teams, the story is really the same; neither of them have been consistent in any sense of the word.
The Cubs are now 5.5 games off the division lead, while the Orioles sit 7.5 games back of the Red Sox. This interleague series will be a nice start to the second half of the season, and hopefully one that sets both these sides on the right track.
Joe Maddon, manager of the Cubs, put his side's performance into perspective when he said, "We've never been able to get on a roll, and with that comes that edgy kind of feeling. We've underachieved offensively, and our starting pitching hasn't been as good as we thought. We've been playing from behind a lot. It's hard to create edginess under those circumstances."
Game Overview and Analysis
On the mound for the Cubs (-110) will be Mike Montgomery (1-6 3.75 ERA). Montgomery, who is really a closer, has been starting for the Cubs since June. During that timeframe he has been somewhat effective, despite his record not showing that. Though he has some nice statistics against the Orioles from last year, all of the scoreless innings he pitched came as a closer. Now that he has been thrust into the starting role, it will be interesting what he brings to the table against Chicago. In Montgomery's last outing, for example, he gave up 7 earned in just over 2 innings.
For the Orioles (-110) the starting pitcher will be Kevin Gausman (5-7 5.85 ERA). Gausman has been somewhat effective as well, but he, like the Orioles in general, has been less than consistent. While one day he can pitch 6+ innings without giving up any runs, another day will see him not even make it 5 innings en route to giving up 5 runs. Just like the case has been with Baltimore all season long up to this point, you quite simply do not know what team is going to step onto the field.
As for how this game is going to pan out, it is tough to say simply because the sides are so identical to one another. Having the All-Star Break will mean that both teams are well-rested and might even imply that the pitchers have the advantage. I think the Orioles are the more competent offensive side in this matchup, especially when you consider the fact that Montomgery is not even a natural starting pitcher.
Betting Prediction
As far as who you should take in this one, I am looking at the Orioles' moneyline (-110) as listed by Bovada. Like I said above, I think the Orioles bats are the superior of the two. Having been rested for the past week, I truly think they will emerge victorious. What's more, Mike Montgomery is not a starting pitcher so I do not think he will have much luck against the hard-hitting O's.
The over/under listed by Bovada for this one is a whopping 10 runs (-110/-110). Despite me thinking that Montgomery might get hit around, I think the most logical wager to place would be on the under (-110). Also like I said above, the All-Star break allowed the players to take a rest they have not had since before the season began. With that in mind, I think the period of rest will help pitchers much more than it will offensive batters. Even if Montgomery does have a poor day and the Orioles do win, I have a difficult time envisioning this score exceeding 10 runs. What's more, the value on the under is great and as close to even money as you are going to get.
Finally, there is the point spread. On Bovada, the spread sees Baltimore listed at +1.5 runs (-165). Seeing as I expect the Orioles to walk away from this one with a victory, they should be able to cover the 1.5 run spread with not too many issues. The -165 odds do not offer you much in the way of value, but if you are following the previous tips this is a good way to maximize your potential winnings. When it comes down to it, this game features an historic closer against a starting pitcher that is more than capable of outputting a solid performance. With that in mind, I think you have to give the advantage to Baltimore. Montgomery is no slack, but he is not accustomed to pitching for more than a handful of innings, and I think that will show when these two teams take the field tonight.