Cubs Heavily Favored Heading Into San Francisco Series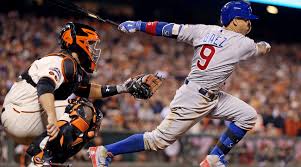 Who: Chicago Cubs v. San Francisco Giants
When: Monday August 7th, 2017 10:00PM EST
Where: AT&T Park—San Francisco, California
The Cubs are holding onto a slim lead atop the NL Central, and are doing everything they can to keep Milwaukee off their backs. After all, if they want any shot of repeating as World Series Champions, they will likely have to win their tight, hard fought division.
The Cubs may presently be atop the division, but the fact of the matter is that they are far from safe. They have lost their last 2 series at Wrigley, and are not looking much better on the road. Against the Giants, who are 36 games off the pace in the NL West, the Cubs will be looking at a perfect opportunity to extend their lead. What's more, it will present them with a good opportunity to get into a groove, something that really hasn't happened since the second half of the season began a few weeks ago. Apart from winning 3 of 4 against city rival White Sox, the Cubs have looked very poor against teams that are also considering themselves to be playoff contenders. While that will be worrisome, it is a bottom-feeder that the Cubs have to contend with in this series.
For the Giants, the remainder of the season will be to see what players fit into the organization's future, and which players still need work. In truth, the Giants are a young team with a lot of promise, but have simply not been able to capitalize on any of that promise this year. At more than 30 games behind the division leader Dodgers, the Giants have known that they have just about no chance to make the playoffs since the very early days of May. They will have an opportunity to play spoiler in this series, and force the Cubs off the division lead.
Game Overview and Analysis
As you might expect, the Cubs (-185) are favored in both this game and series despite them being on the road. Part of the reason they are such heavy favorites in the series opener is because Jake Arrieta (10-8 3.88 ERA) will be taking the mound. Though it took him some time to find his groove, Arrieta is back to being one of the best pitchers in the NL. Though he is 2-2 in his last 5 games, he has only given up more than 2 runs on one occasion, and in that outing against Pittsburgh he only gave up 3 earned runs.
The problem facing Arrieta on Monday night will be the fact that his offense has not been able to provide pitchers with all that much support. In fact, over their last 5 games the Cubs have won just once, amd have scored more than 5 runs twice. If Arrieta can get any sort of support from his offense, I do not think the Cubs will have much trouble taking care of the Giants. If his offense continues to struggle, this game and series may end up being much more closely fought than anyone would have anticipated.
For the Giants (+160), it will be Matt Moore (3-11 5.80 ERA) who will be taking the mound. As if his record did not speak for itself, Moore is having a less than stellar season. Putting his poor season into perspective is the fact that, over his last 6 games, Moore has gone 0-3. In all 6 games, and across Moore's entire season, he is having the same problems the Cubs have been having in recent weeks. It seems as though each and every time he steps onto the mound, his offense cannot muster more than a few runs. The Giants are a very poor team, and it seems as though even the best pitchers would have a tough time emerging with a winning record.
Betting Prediction
As far as the moneyline wager you should go with, I think you have to take the Cubs (-185). Bovada may have odds that will not net you all that much money, I have a tough time envisioning a scenario where the Giants' bats can get ahold of Arrieta's pitching. Arrieta matches up extremely well against the team from San Francisco, and I think they will have trouble getting on base, let alone scoring.
The over/under on Bovada is listed at an even 8 runs (-110/-110). I think that this game will easily exceed that 8 run tally because I think the Cubs are going to hit Moore all over the park. Though neither of these teams have exactly a recently hot track record when it comes to scoring, I think the Cubs are going to open this series with a bang.
The point spread sees the Cubs listed as -1.5 run favorites (-115), and I think this is a safe bet as well. Hands down, I think the Cubs will win this game quite easily. I also think that they will score a lot of runs in the process.