'American Idol' Season 16 Finals Week 3 Betting Odds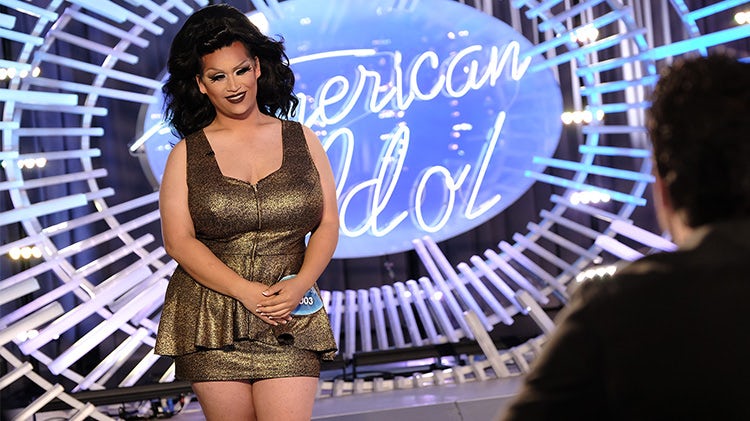 –This is the 16th season for the long running reality show.
–'American Idol' was on Fox for the first 15 seasons, this is the show's first season on ABC.
–'American Idol' Season 16 Finals Week 3 airs on Sunday, May 6 at 8:00 PM Eastern/5 PM Pacific.
Well, we've got another American Idol storyline that doesn't have to do with Katy Perry's somewhat contrived 'wardrobe malfunctions' and it's an ugly one. In my preview of the current season of 'Dancing With The Stars' I gave this qualification on openly gay figure skater Adam Rippon's chances to win:
I'd like to think that 'Middle America' has reached the point that Rippon being openly gay won't be an issue. Sadly, I'm not sure that's the case.
The viewership of 'American Idol' did a great job of underscoring this point by voting to eliminate singer Ada Vox, who was in the opinion of many (myself included) the best singer in the field and a strong favorite to win. I had her as a +250 favorite to win the whole thing. The problem is that the 'she' was actually a 'he'. Kevin Fallon at The Daily Beast explains:
After jaw-dropping performances of "And I'm Telling You I'm Not Going," "Creep," and "House of the Rising Sun" earlier in the season, Ada raised his own bar. Though still delivering a stellar performance Sunday night, he perhaps noticeably faltered in attempting to clear that bar again. Meanwhile his less-talented competition managed to run right underneath it, unnoticed, to the next round of competition.

Ada Vox was the first drag queen to make it to the Top 10 of American Idol, and would have been the first gay or gender non-conforming contestant to ever win an amateur reality TV talent competition. It's a distinction that many critics watching the show felt he deserved, and the amount of social media attention he received indicated he might accomplish.
Fallon puts it a lot more charitably than I will when he explains what happened:
But there seemed to be a disconnect between those raves and the actual votes from Idol's audience, an audience that historically leans conservative and toward Middle America (as many of these talent competitions do). After steamrolling through the rounds of competition that judges Katy Perry, Lionel Richie, and Luke Bryan controlled, Ada fell to the bottom twice when the public took control of voting, including his elimination this week.
He concludes:
All that said, there's a difference between a show that showcases performers who are already celebrities, and a show meant to launch the career of an unknown person, one who is attempting to do so while being true to their identity. There's a powerful message that crowning a person who identifies that way unapologetically could send. We're just waiting for one of these shows to send it.
Fallon is also a lot kinder than I am with Clay Aiken, who has become something of a modern day Jim Nabors. Despite Aiken's insistence that 'justice was served' that's a tough sell. It validates the theory that as the media landscape becomes more digitized, decentralized and fragmented that the traditional analog era TV networks and their programming attracts an ever decreasing 'lowest common denominator'. The TV ratings for the current incarnation of 'American Idol' are solid but let's keep this in perspective–we're talking about a show that at its apex attracted over 31 million viewers a week. The latest performance show brought in 8.77 million viewers. The bottom line–'flyover country' in the United States is still too closed minded, backwards thinking and downright ignorant to accept anyone that doesn't fit their version of 'propriety' no matter how talented they might be. It's also not a surprise that 6 of the 7 remaining contestants are almost comically white. I've redone the 'odds to win' to reflect the reality of middle America. That means that the remaining African-American contestant is out of luck as is 'Jurnee' since the flyover country knuckledraggers surely won't approve of someone having just one name. It ain't natural!
Here are the updated odds to win 'American Idol' Season 16 along with some Finals Week 3 props:
AMERICAN IDOL SEASON 16 BETTING ODDS
TO WIN AMERICAN IDOL SEASON 16
Gabby Barrett: +150
Cade Foehner: +350
Catie Turner: +350
Caleb Lee Hutchinson: +750
Maddie Poppe: +750
Jurnee: +750
Michael J. Woodward: +1500
WILL JUDGE KATY PERRY EXPERIENCE A WARDROBE MALFUNCTION' BETWEEN THE START OF THE MAY 6 EPISODE AND THE END OF THE SEASON?
Yes: +300
No: -350
Perry must experience a 'wardrobe malfunction' that is mentioned on air between the beginning of the May 6 'American Idol' broadcast and the end of the season.
WILL ABC RENEW 'AMERICAN IDOL' FOR THE 2018-2019 TV SEASON?
Yes: -210
No: +180
AMERICAN IDOL SEASON 16 FINALS WEEK 3 BETTING ODDS
AMERICAN IDOL SEASON 16 TO MAKE TOP 5
Will Gabby Barrett make the Top 5?
Yes: -600
No: +450
Will Cade Foehner make the Top 5?
Yes: -500
No: +410
Will Caleb Lee Hutchinson make the Top 5?
Yes: -250
No: +210
Will Jurnee make the Top 5?
Yes: +210
No: -250
Will Maddie Poppe make the Top 5?
Yes: -350
No: +300
Will Catie Turner make the Top 5?
Yes: -600
No: +450
Will Michael J. Woodward make the Top 5?
Yes: +210
No: -250
AMERICAN IDOL SEASON 16 FINALS WEEK 3 PROPOSITION ODDS
WILL JUDGE KATY PERRY EXPERIENCE A 'WARDROBE MALFUNCTION' IN FINALS WEEK 3?
Yes: +450
No: -600
WILL JUDGE LUKE BRYAN EXPERIENCE A 'WARDROBE MALFUNCTION' IN FINALS WEEK 3?
Yes: +2500
No: -5000
WILL JUDGE LIONEL RICHIE EXPERIENCE A 'WARDROBE MALFUNCTION' IN FINALS WEEK 3?
Yes: +2500
No: -5000
Judge must experience a 'wardrobe malfunction' that is mentioned on air during the May 6 'American Idol' broadcast
FINALS WEEK 3 MAY 6 EPISODE KEY DEMO (18-49) RATINGS
Over 1.75: -150
1.75 or lower: +130
FINALS WEEK 3 MAY 6 EPISODE KEY DEMO (18-49) SHARE
6 or higher: -250
Under 6: +210
FINALS WEEK 3 MAY 6 EPISODE TOTAL VIEWERS
Over 8.5 million: -130
Under 8.5 million: +110
FINALS WEEK 3 MAY 6 EPISODE NIELSEN RANKING (4/30/18 through 5/6/18)
Over 9.5: -180
Under 9.5: +150