Altibox Norway Chess Tournament 2018 Round One Betting Odds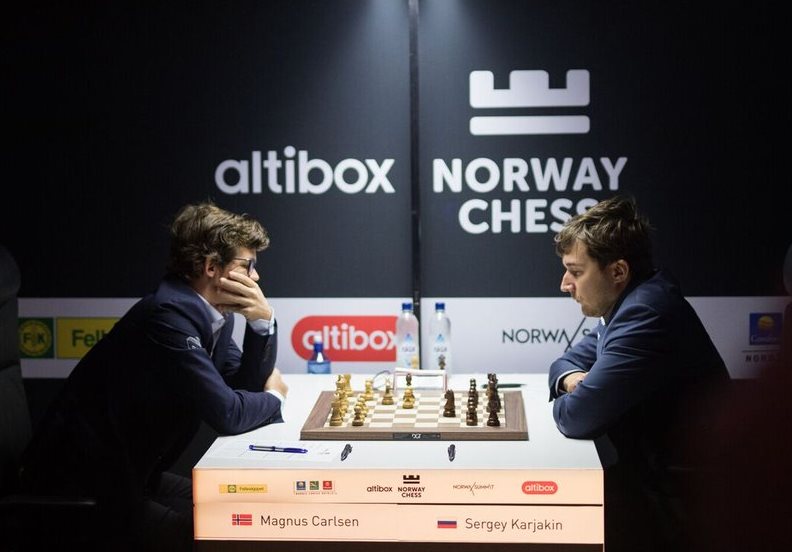 –Chess is a surprisingly popular game among bettors–particularly in Europe.
–Levon Aronian is the defending champion
–The tournament runs May 27 through June 8 in Stavanger, Norway.
The Altibox Norway Chess Tournament has been held every year since 2013 in Stavanger, Norway and has been sponsored by Norwegian Cable TV/Internet services conglomerate Altibox since 2016. The tournament has always been known for having an extremely strong competitive field with the world top ten well represented. Last year, for example, at the time the field was announced it comprised all ten of the world's best players. Altibox proudly proclaimed it as the strongest chess tournament in history though by the time it began two of the players had dropped out of the top ten. Still, it had eight of the top ten which is still a formidable field.
World Champion Magnus Carlsen is the favorite here though he struggled badly at the 2017 Altibox Norway event. Carlsen spent much of the tournament at the bottom of the table and finished with 4 points, leaving him 1/2 point out of last place. He did win the Blitz Tournament last year adding to his victories in 2014 and 2016. Carlsen won the Classical tournament in 2016 but the defending champion this year is Levon Aronian, currently ranked #12 in the world. The winners since 2013 are as follows:
ALTIBOX NORWAY CHESS TOURNAMENT WINNERS:
2013–Sergey Karjakin
2014–Sergey Karjakin
2015–Veselin Topalov
2016–Magnus Carlsen
2017–Levon Aronian
The Altibox Norway Chess Tournament runs from May 27 through June 8. Here are the betting odds to win as well as odds for all five first round matchups:
2018 ALTIBOX NORWAY CHESS TOURNAMENT BETTING ODDS
TO WIN 2018 ALTIBOX NORWAY CHESS TOURNAMENT (MAY 27–JUNE 8)
Magnus Carlsen: +250
Fabiano Caruana: +500
Levon Aronian: +500
Sergey Karjakin: +700
Maximie Vachier-Lagrave: +850
Shakhriyar Mamedyarov: +850
Liren Ding: +1000
Wesley So: +1000
Viswanathan Anand: +1500
Hikaru Nakamura: +1500
2018 ALTIBOX NORWAY CHESS TOURNAMENT ROUND ONE BETTING ODDS
HIKARU NAKAMURA VS. LIREN DING
Hikaru Nakamura: -135
Liren Ding: +115
Hikaru Nakamura: +400
Draw: -250
Liren Ding: +550
Hikaru Nakamura/Draw: -950
Liren Ding/Draw: -700
Hikaru Nakamura/Liren Ding: +200
MAGNUS CARLSEN VS. FABIANO CARUANA
Magnus Carlsen: -275
Fabiano Caruana: +215
Magnus Carlsen: +225
Draw: -165
Fabiano Caruana: +700
Magnus Carlsen/Draw: -1500
Fabiano Caruana/Draw: -315
Magnus Carlsen/Fabiano Caruana: +125
MAXIME VACHIER-LAGRAVE VS. SHAKHRIYAR MAMEDYAROV
Maxime Vachier-Lagrave: +205
Shakhriyar Mamedyarov: -225
Maxime Vachier-Lagrave: +750
Draw: -250
Shakhriyar Mamedyarov: +325
Maxime Vachier-Lagrave/Draw: -500
Shakhriyar Mamedyarov/Draw: -1750
Shakhriyar Mamedyarov/Maxime Vachier-Lagrave: +185
VISWANATHAN ANAND VS. LEVON ARONIAN
Viswanathan Anand: -175
Levon Aronian: +150
Viswanathan Anand: +425
Draw: -325
Levon Aronian: +750
Viswanathan Anand/Draw: -2000
Levon Aronian/Draw: -775
Levon Aronian/Viswanathan Anand: +250
WESLEY SO VS. SERGEY KARJAKIN
Wesley So: -175
Sergey Karjakin: +150
Wesley So: +425
Draw: -325
Sergey Karjakin: +850
Wesley So/Draw: -2100
Sergey Karjakin/Draw: -750
Sergey Karjakin/Wesley So: +250